By Yvonne Feld of Tried and Tasty
You know what I love about smoothies? You can have them all year long! Want to know what else I love about smoothies? How easy they are to make in your Blendtec blender. My husband and I use our Blendtec several times a day. It's so easy to use. It's so easy to clean.
With smoothies, do you find that every smoothie recipe you see has either strawberries or bananas? Or both? Don't get me wrong, I love strawberries and they are in fact my favorite fruit; however, sometimes I just want to have something different. Way different. Have you ever thought about blending blueberries and red grapes together in a smoothie? I certainly hadn't. While I was rummaging through my freezer I decided they would be the perfect pairing. A little bit tart, a little bit sweet, and a whole lot of yummy goodness. Not only that – have you seen how gorgeous this blueberry grape smoothie is? The most beautiful frosty purple color. YUM!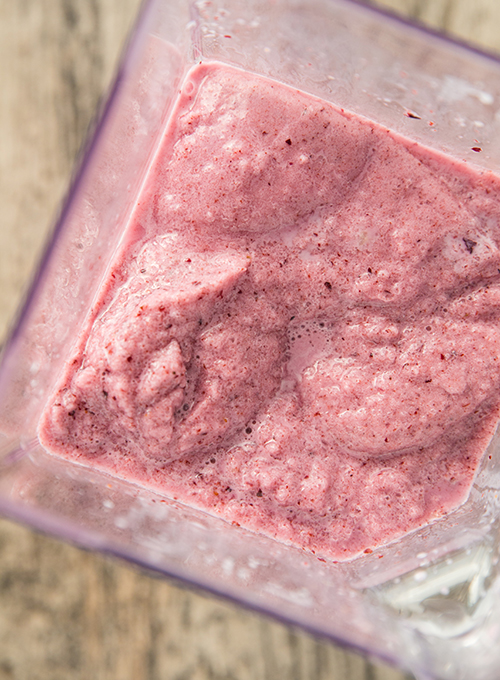 The best part about this combo is that not only would you be blending up a delicious smoothie, but you'd also be blending a tall glass of health benefits to accompany. I found that blueberries have been associated with many health benefits, including: maintaining healthy bones, lowering blood pressure, managing diabetes, warding off heart disease, improving mental health, healthy digestion, AND weight loss and satiety (according to Medical News Today: http://www.medicalnewstoday.com/articles/287710.php).
How's that for a list of reasons you want to add blueberries into your diet? I further learned that grapes also have some special components that make them even more essential to our health, giving them "super food" status. Keep in mind more research is needed before any of these health benefits can be said to be conclusive, but grapes have been associated with reducing the risk of the following conditions: high blood pressure, allergies, diabetes, and even acne (according to Medical News Today: http://www.medicalnewstoday.com/articles/271156.php).
Put the two together and voila! The perfect way to start, end.. or jump-start your day! You can also try out this Simple Grape Smoothie.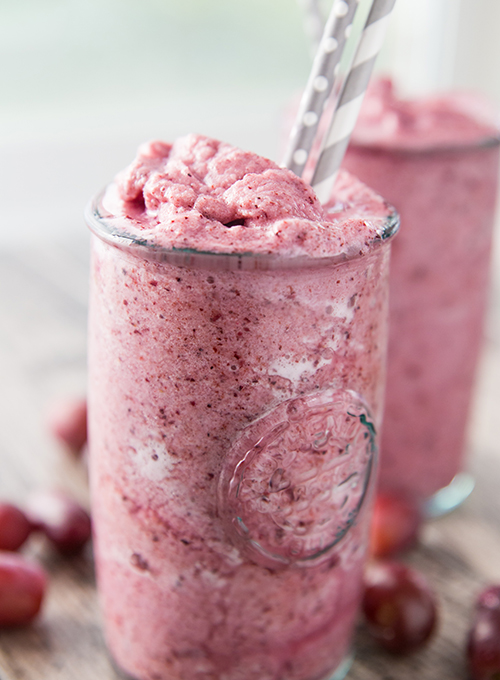 Blueberry Grape Smoothie
Ingredients
½ cup white grape juice
½ cup plain yogurt
1 cup blueberries
1 cup red seedless grapes
2 cups ice
Directions
Add all ingredients to your Blendtec Wildside+ jar and secure lid.
Select "Smoothie" or blend on a Medium Low speed for 10 seconds, then a Medium High speed for 30 seconds.
About the Author
When she's not at work or spending time with family or friends, chances are you'll find Yvonne in the kitchen wearing an apron and a smile. Her passion for cooking and baking is endless and her appetite for trying out new and tasty recipes is unquenchable! In fact, that's why the name of her recipe website is TriedandTasty.com. Yvonne slices, dices, and sautés her way through an abundance of new recipes on a regular basis and delivers only the best to her site's treasured visitors.
---
4 comments
---
---