Blood Orange-Strawberry Coconut Smoothie
By Amanda Paa of Heartbeet Kitchen
Although I'll always be a berry girl, the bright oranges and yellows of winter citrus at the co-op drew me in hard this time of year. Organic tangerines, kumquats, grapefruit, meyer lemons…their colors just screamed happiness amongst the greys and blues of winter. I couldn't wait to turn them into wonderful treats with my Blendtec.
I used blood oranges for this recipe, which bleed a gorgeous magenta hue and are less tart than other varieties. Paired with strawberries and coconut, this smoothie took my mind to a Caribbean island, sipping a creamy frozen drink on the beach.
Lately I've been adding a secret ingredient to my smoothies: coconut butter! Have you tried it yet? Coconut Butter is made from the meat of the coconut, rich and buttery, and it adds a nice, silky smooth creaminess to the smoothie. But that's not the only reason to use coconut butter.
It's rich in lauric acid, which boosts immunity and destroys harmful bacteria, viruses, and funguses.
It boosts your metabolism, helping improve digestion and increasing energy levels.
It's packed with healthy fats, giving you satiety and also providing some of the creaminess in this smoothie.
I've enjoyed this Blood Orange-Strawberry Coconut Smoothie both as a nourishing breakfast and an afternoon energy boost. I added a few tablespoons of vanilla protein powder to make even more filling. The kids will love this naturally sweet sipper that will introduce them to new flavors.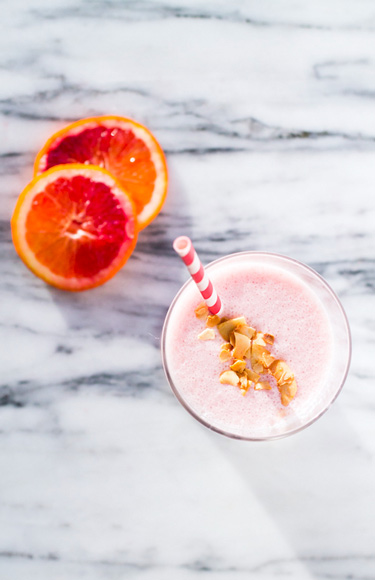 Blood Orange-Strawberry Coconut Smoothie
Serves 2
Ingredients
2 cups coconut milk (from refrigerator section in grocery store)
2 cups strawberries, fresh or frozen
2 blood oranges (one juiced, one peeled and halved)
2 tbsp coconut butter (or nut butter)
2 tbsp vanilla protein powder
5 ice cubes (double if you are using fresh, unfrozen strawberries)
Toasted coconut flakes for garnish
Directions
Add ingredients to your Blendtec in order listed and press the smoothie button. If your Blendtec doesn't feature a smoothie button, blend on Medium Low or Medium for 10 seconds, then Medium High or High for 30 seconds. Serve cold and enjoy!  
About the Author Amanda is a passionate tastemaker and self-taught cook whose creations are inspired by fresh market finds and seasonal ingredients. She hopes her blog, Heartbeet Kitchen inspires others to cook without expectations or judgment, as the beauty of creating in the kitchen should be fun and unique to everyone. You can also follow her on Twitter, Facebook, Instagram and Pinterest.
---
5 comments
---
---