By Natalie Dalpias of The Creative Mom
A while back, my brother shared some banana bread with me that was SO moist, dense, and delicious. Right then I knew I needed that recipe. When he told me he made the bread with his BLENDER, I didn't believe him. I thought there was no way you could make bread batter with a blender—but boy I was wrong! Not only can you make bread with a Blendtec blender, but also it's SUPER easy and quick.
Since I learned about making bread batter with my Blendtec, I have put it to the test and have fallen in love with making all sorts of things like pancake batter, crepes, and even brownie or cake batter! This banana bread recipe is one of my very favorites—and I can whip it up in just a few minutes. No more mashing bananas, sifting flour, or whisking batter to try to get the lumps out.
My Blendtec takes care of all of that for me. It's quick, easy, and a lot less messy than any bread recipe I've ever used. I usually whip up a few batches when I make it so I can deliver a hot loaf of bread to my neighbors or grandparents (and still keep a loaf for myself). This recipe is a crowd pleaser. I hope your family loves it just as much as mine does!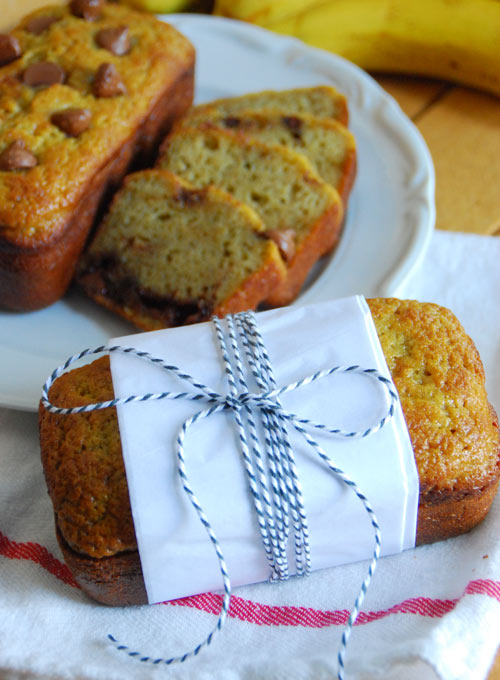 Banana Bread
Ingredients
2 ripe bananas (approx. 1 cup, mashed)
1⁄2 cup low-fat vanilla yogurt
3⁄4 cup granulated or turbinado sugar
1⁄4 cup coconut oil
6 eggs
1⁄2 tsp vanilla extract
11⁄2 cups all-purpose or whole wheat flour
1 tsp baking soda
1 tsp kosher salt
½ cup walnuts (optional)
½ cup chocolate chips (optional)
Directions
Preheat oven to 350° F.
Add bananas, yogurt, sugar, oil, eggs, and vanilla to WildSide+ jar. Secure lid and select Batters/Dips, or blend on a Medium to Medium-Low speed for 30 seconds.
Add flour, baking soda, and salt to jar and secure lid. Press Pulse 3–5 times or until dry ingredients are incorporated; do not over-blend.
Add chocolate chips or walnuts if desired, and press Pulse twice to blend.
Pour batter into greased loaf pan. Use 1 (one) 9-x-5 inch loaf pan and bake for 50–60 minutes. Or use 4 (four) mini 5-x-3 inch loaf pans and bake for 25–30 minutes.
---
28 comments
---
---