Balsamic Vinaigrette Dressing
Sometimes we're so busy with the turkey and pies that we forget about the salad dressing. Instead of heading to the store, make your own balsamic vinaigrette. It's a cinch to combine these ingredients in your Blendtec blender and keeps out chemicals and preservatives - that's something everyone can get behind!
Balsamic Vinaigrette Salad Dressing
INGREDIENTS
1/2 cup olive oil

1/3 cup balsamic vinegar

1 clove garlic, quartered

1 small squirt of dijon mustard

1 tbsp honey, optional

salt, pepper and basil to taste
DIRECTIONS
Add all ingredients to a Twister, Mini WildSide or FourSide jar and secure lid.

Blend on "Batters" cycle or a Medium speed for 30 seconds.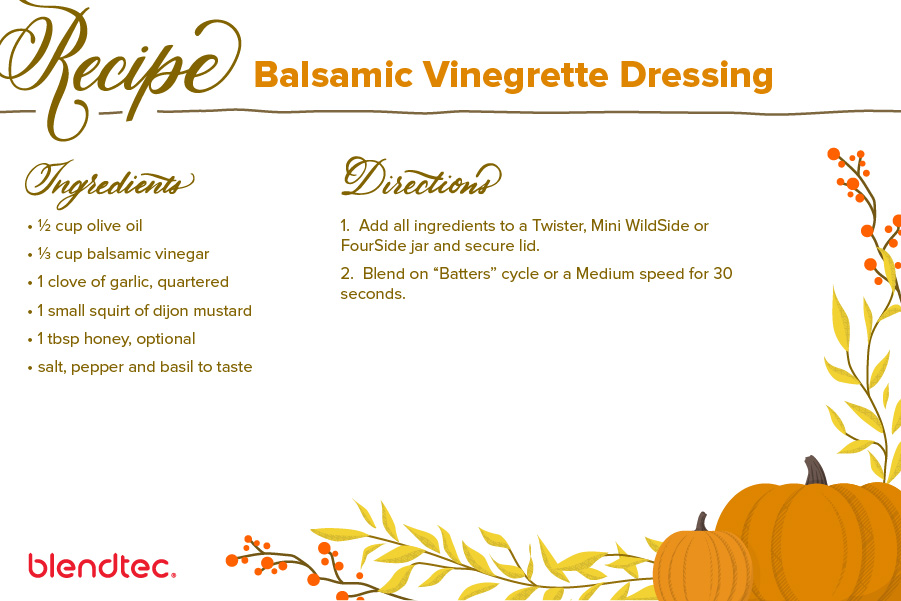 Balsamic Vinaigrette Dressing Recipe Card »
Meet the Blogger
This week we caught up with Wellness Mama who was happy to share her delicious recipe for balsamic vinaigrette dressing. We were also able to sit down and learn a little bit more about what some of her Thanksgiving traditions are, and her love of food
.

Katie, the "Wellness Mama" is a wife and mom of six, as well as an award-winning blogger, author, podcaster and real food crusader. Her mission with WellnessMama.com is to provide simple answers for healthier families through practical tips, real food recipes, natural beauty and cleaning tutorials, natural remedies and more. WellnessMama.com | Facebook | Twitter | Instagram | Google+ | Pinterest
What are your 3 go-to ingredients for a recipe? The ingredients I use vary a lot! I try to mix things up and use a wide variety of seasonal ingredients each week.  During the holidays, I use a lot of almond flour, apples, and homemade coconut or pecan milk (that I make in the blender).
 What is your food "guilty pleasure"? My guilty pleasure, especially this time of year, is homemade chocolate or fresh strawberries dipped in fresh whipped cream with a dash of orange zest. I'm also loving the pomegranates right now!
 Do you entertain on Thanksgiving? I definitely entertain on Thanksgiving! My husband and I are both the oldest in our families, and were the first to get married and start a family. About ten years ago, I hosted my first Thanksgiving in our tiny 600 square foot apartment- for 20 people! It has only gotten easier since then! This year, I'm hoping to host the extended family again and have some new recipes to try out, including a chestnut stuffing with some of the chestnuts from my parent's yard.
 What is your favorite cooking memory as a child? Hmmm…. That's a tough one! I actually didn't get to cook much as a child, and developed my love for cooking as an adult. I do have some really fond memories of making cookies with my great aunt, and making fresh bread with my mom.
 What is your favorite holiday treat? I love making homemade Wassail. It is a traditional German drink that was passed down on the German side of our family. It is a blend of apple and cranberry juices with spices and it simmers in a crock pot all day long. It makes the house smell incredible and is such a satisfying warm drink. My kids also always demand my homemade refined sugar free pecan pie for every holiday.
Follow Wellness Mama on her social channels to learn how you can win a Blendtec blender! Want the chance to win an extra Blendtec jar? Post your holiday celebrations with the hashtag #PartyWithBlendtec and you might be one of our lucky winners.
---