By Maddie Pasquariello of East Coast Health
Certain signs of fall in the northeast are pretty hard to miss: patches of leaves changing colors, pumpkins dominating the produce aisle, trading in an all-white summer wardrobe for sweaters and plaid shirts, and apples everywhere you look. As a member of a year-long CSA (Community Supported Agriculture) share, I'm always looking for new ways to consume the fresh fruits and vegetables I get every week.
In early September we got a bag of beautiful, dappled green apples of all shapes and sizes. While the rest of my family mulled over tart and pie options, I decided that I wanted to incorporate them into an autumn-inspired juice or smoothie bowl. I wanted this smoothie to be different from the other ones I typically make, and incorporate spices that are reminiscent of the season. I rarely add apples to smoothies because I like to eat the peel, and most blenders aren't great at processing it.
I decided to give it a try in the Blendtec, peel and all. After playing around with a couple different recipes, I settled on one I really love. You can use any type of apple for this; green apples will make the smoothie a bit more tart, and red or pink lady apples will make it sweeter.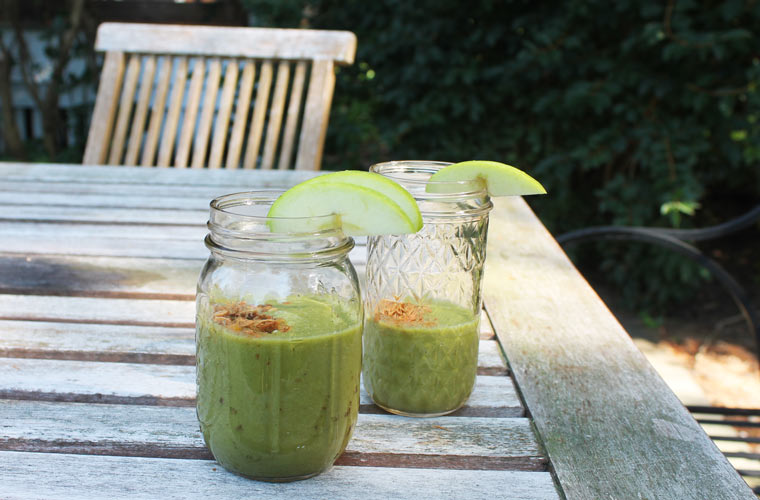 Apple Cinnamon Smoothie
Ingredients
½ cup almond milk
½ head of romaine
1 tsp cinnamon
1 green apple, cored and roughly chopped
1 frozen or fresh banana
¼ avocado
Directions
Blend romaine and almond milk on a low speed until thoroughly combined.
Add cinnamon and blend for a 2–3 seconds.
Add the rest of the ingredients and press Smoothie. (If your Blendtec doesn't have a Smoothie button, blend on a Low speed for 10 seconds, then a Medium to Medium-Low speed for 10 seconds, then Medium to Medium-High speed for 40 seconds.)
Top with a sprinkle of cinnamon and garnish with fresh apple slices.
---