We collected our favorite blender soup recipes to warm up to! As the last of the golden-brown leaves cling desperately to the trees and the suns spends less and less time in the sky, it's getting pretty obvious that fall is on its way out.
But don't fret; winter may mean cold temperatures and icy roads, but it also means Holidays, family, and—perhaps best of all—soup! But before you rush out to the store and stock up on cans of Campbells Chicken Noodle, consider making your own soup this year. It's not actually all that difficult; in fact, you can even make soup in a blender! Here are five blended-soup recipes from around the web that are sure to keep you warm while the temperature drops.
5 Blended Soup Recipes
1. Red Pepper and Sweet Potato Soup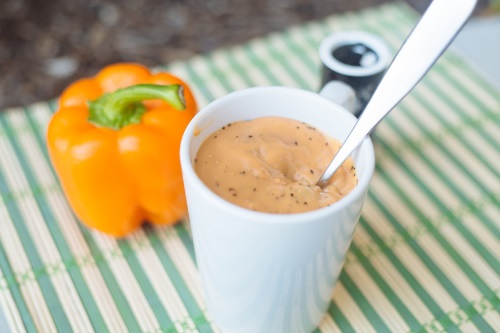 The sweet potato is like the holiday-obsessed cousin of the regular potato; its unique taste makes it perfect for winter get-togethers, and it's been a staple of holiday super-meals in the United States for about as long as the country has existed. This recipe—courtesy of Food.com—allows you to tap into that history in the form of a delicious soup that's perfect for every occasion, from dinner-parties to quiet nights at home.
Ingredients
1 ½ tbsp olive oil
1 ½ onions, sliced
8 garlic cloves (minced)
3 red bell peppers (sliced)
1 sweet potato (peeled and in small cubes)
4 cups vegetable broth
3 bay leaves
1 tsp salt
1 tbsp butter
Directions
Heat the oil in a pan until hot.
Saute onions and garlic in the oil for about 10–15 minutes on medium heat, or until the onions are soft and lightly browned.
Add bell peppers and saute for another 10–15 minutes, until the peppers are soft and everything is lightly browned.
Add cubed sweet potato, vegetable broth, bay leaves, salt, and butter. Simmer for 10–15 minutes or until the sweet potato is soft.
Remove the bay leaves and blend the soup until mostly smooth.
2. Easy Blender Tomato-Basil Soup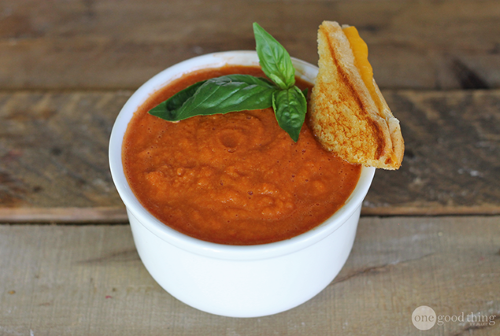 For pure soup goodness, you just can't beat tomato soup. Of course, tomato isn't normally the most exciting soup around, and rather than taking the time to make their own, many chefs will simply settle for what they can get out of a can. That's a shame, because we've located a tomato soup recipe that's not only easy-to-make, but one that will also make you re-examine everything you thought you knew about boring-old tomato soup. Special thanks to Jillee at Onegoodthingbyjillee.com for sharing!
Ingredients
8–10 tomatoes (halved)
2 medium onions (quartered)
4 cloves garlic 2–3 tbsp olive oil
⅓ cup sliced fresh basil salt and pepper (to taste)
Directions
Place the tomatoes, onions, and garlic, and add the oil. Season with salt and pepper, stirring to coat.
Place the oiled and seasoned vegetables on a baking tray and roast them in an oven for 30 minutes at 400°F.
After 30 minutes, remove the vegetables from the oven and allow them to cool for a few minutes.
Place the vegetables, along with the sliced basil, in a blender. Blend it on the highest setting until smooth (if it seems as though the soup is too thick, add a small amount of water or vegetable broth to thin it out).
Add salt and pepper to taste.
3. Perfect Potato Soup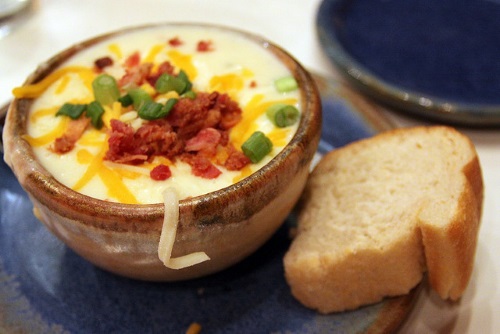 Full of pure flavor while also being filling enough to stand on its own, potato soup has been a popular meal choice for centuries. Of course, given that it's been around for so long, there are any number of variations on the potato soup theme, and some of them are downright lackluster. This recipe puts every other potato soup recipe to shame, which is why its creator—Ree at Thepioneerwoman.com—calls it perfect.
Ingredients
6 slices thin bacon (cut Into 1-inch pieces)
1 whole medium onion (diced)
3 whole carrots (scrubbed clean and diced)
3 stalks celery (diced) 6 whole small russet potatoes (peeled and diced)
8 cups low sodium chicken or vegetable broth 3 tbsp all-purpose flour 1 cup milk ½ cup heavy cream ½ teaspoon salt, more to taste Black pepper to taste ½ tsp cajun spice mix 1 tsp minced fresh parsley 1 cup grated cheese (any kind)
Directions
In a soup pot over medium heat fry bacon pieces. Remove cooked bacon and pour out grease, but do not clean out pot.
Replace the pot on the medium-high heat. Add onions, carrots, and celery. Cook for approximately 2 minutes, stirring to prevent ingredients from burning. Add diced potatoes. Season with salt, pepper, and cajun spice mix . Allow to cook for 5 minutes.
Add broth. Bring to a gentle boil and cook for 10 minutes or until potatoes are tender. In a separate bowl, whisk together the flour and the milk, and then add the flour-milk mixture to the soup. Allow the soup to cook for 5 more minutes.
Remove most of the soup (up to ⅔ of the total) and place it in a blender. Blend until completely smooth. Add it back to the pot and stir.
Allow the soup to reheat while stirring in the cream and parsley (reserving a small amount of the parsley for garnish).
Taste for seasonings, adding more where needed.
Serve garnished with parsley, grated cheese, sour cream, and bacon pieces.
4. Roasted Poblano-Cream Soup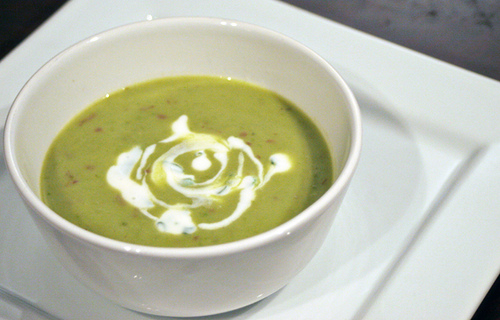 Soup is great, but it's not always the most exciting meal choice. This recipe aims to change all of that. Not only is Roasted Poblano-Cream Soup a delightfully south-of-the-border treat, but it also carries with it a certain unpredictability. After all, poblano peppers can easily range from mild to super-spicy, so be prepared for either possibility! Special thanks to Lori at Allthatsplatters.com for the recipe.
Ingredients
1 ½ pounds fresh poblano chilies (also known as pasillas)
2 tbsp butter (¼ stick)
1 ½ cups white onion (chopped)
1 garlic clove (chopped)
5 cups chicken stock or canned low-salt chicken broth
¼ cup chopped fresh cilantro
¼ cup chopped fresh parsley
1 tablespoon chopped fresh mint
¼ cup (or more) whipping cream
Directions
Hold individual chilies over a gas flame or broiler, turning the chili so as to blacken it on all sides. Place chillies in a paper bag and allow them to sit for 10 minutes (to steam). Peel and seed the chillies, and then roughly chop them.
In a large pot over medium-high heat, melt the butter, and add the onion and garlic. Saute until the onion is tender. This may take about 5 minutes.
Add chilies and continue to saute for another 60 seconds. Add stock to pot and bring to boil.
Reduce heat and simmer until chilies are very tender. Mix in cilantro, parsley, and mint.
Allow soup to cool slightly, and then pour it into a blender (you may have to do this in several batches). Blend soup until smooth, and then return soup to the pot.
Mix in ¼ cup cream and use salt and pepper to season to taste.
Add additional cream if needed to combat spice.
5. Hearty Vegetable Chowder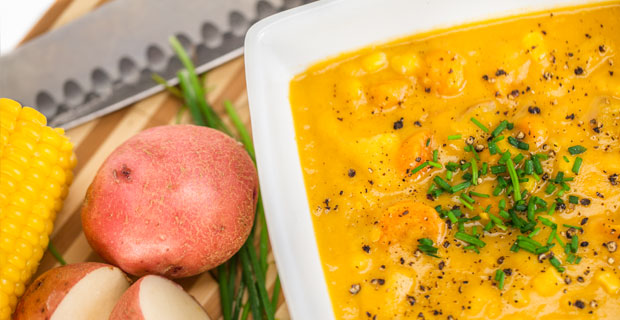 If you love the texture and taste of cream soups, but aren't as excited about the inevitable calories, have we got a treat for you. This soup, which is one of our own, manages to be creamy and delicious, while still keeping the calorie count down to a measly 152 calories! It's perfect for vegetarians, dieters, or anyone who loves a cozy bowl of soup on a cold day.
Ingredients
1 tbsp butter
1 clove garlic, quartered
½ medium onion, roughly chopped
2 cup frozen corn kernels
2 cup vegetable broth
⅛ tsp ground white pepper
¼ tsp kosher or sea salt
¼ tsp fennel seeds
½ tsp chili powder
1 cup red potato, baked
1 cup frozen carrot coins
Directions
Heat butter in 3-quart saucepan. Add onion and garlic, and sauté until tender.
Add broth, 1 cup corn, pepper, salt, fennel seeds, and chili powder; bring to a boil, and then simmer for 10 minutes.
Add soup to FourSide or WildSide+ jar and secure lid. Select "Soup" setting. Add potato, and press "Pulse" 5–7 times or until desired texture is reached.
Transfer soup back to saucepan, and add carrots; heat until corn and carrots are tender.
MORE SOUP RECIPES:
---
3 comments
---
---