Vegan Pumpkin Cinnamon Rolls
By Natalie Hixson of Strive for Progress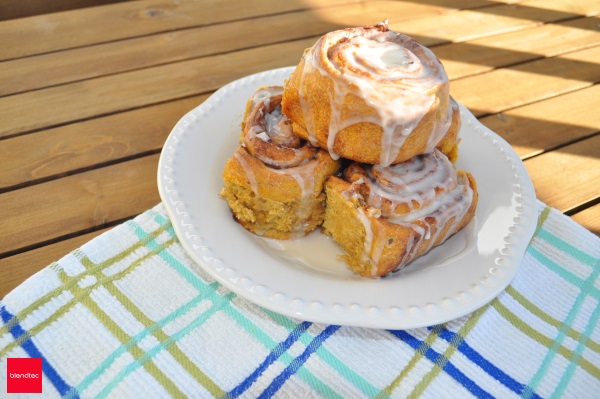 Imagine for a moment waking up to the smell of warm buttery cinnamon rolls and hot coffee. The aroma makes it difficult to stay in the warm, soft sea of sheets and blankets. Your sense of smell has shared the secret to your tummy, and you hear it growl longingly for that delightful roll of cinnamon goodness! You lay there savoring the smell, imagining yourself eating one.
Then reality kicks you in the gut. You remember you can no longer indulge in this "cinnful" treat after finding out that you are intolerant to egg and your daughter is allergic to dairy. So you skip the cinnamon rolls and force oatmeal down your throat while others around you dine on the ooey-gooey delight.
This is my life.
When autumn hit our hometown, so did my longing for warm comfort food. I was no longer satisfied by smoothies or oatmeal. It was time to create a recipe that would satisfy the taste buds and not churn the tummy. The results? Only the BEST cinnamon rolls I have ever had (including the non-vegan kind)! I must have read ten different allergy-friendly cinnamon roll recipes before I finally came up with my own that rocks the cinnamon roll world. I hope these satisfy you as much as they do my family. They are soft and gooey, and you would never know they were vegan! Enjoy!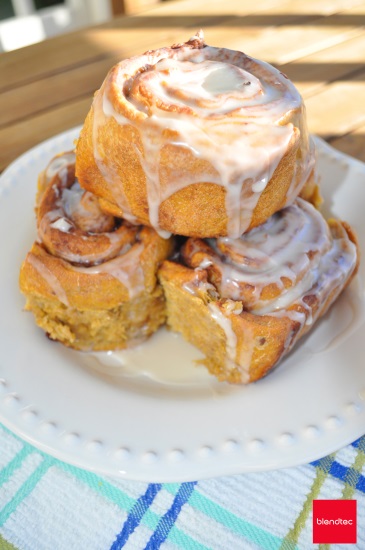 Vegan Pumpkin Cinnamon Rolls
Ingredients
Dough
4½ tsp yeast (2 packages of yeast)
5 cups all purpose flour
1 teaspoon salt
2 tsp cinnamon
¼ tsp ginger
¼ tsp ground cloves
¼ tsp nutmeg
2 tbsp agave nectar (or honey)
⅔ cup warmed milk of choice (I used coconut almond milk)
1 tbsp grapeseed oil (or butter)
1 tbsp ground flax meal plus 6 tbsp water (or 1 egg)
1 can (15 oz) pumpkin puree
Filling
½ cup agave nectar (or honey)
1 tbsp cinnamon
½ tbsp vegetable shortening, (I use spectrum butter flavor)
¼ cup each of raisins and pecans, optional
Directions
Pour flaxseed and water into Blendtec jar and blend until most of the seeds are broken up. I used the "Whole Juice" then "Ice Crush" buttons.
In mixer bowl, mix pumpkin puree, oil, milk and flaxseed meal together.
In a separate bowl, mix together the dry ingredients.
Pour the dry ingredients into the mixer bowl a little bit at a time and incorporate with the wet ingredients. Turn the dough out onto the counter coated with some of the remaining flour. Knead the remaining flour into the dough until it is used up and you have a smooth, elastic dough.
Put the dough into a bowl coated with cooking spray and lightly spray the top of the dough. Cover with plastic wrap and set in a warm place to rise. Let it rise until doubled, about 1 hour.
Combine the honey, cinnamon, shortening, chopped pecans and raisins (if using) in a small bowl, set aside. Transfer the risen dough to a work surface, and pat or roll it into a 16" x 12" rectangle. Spread the mix over the dough.
Roll the dough into a log the long way. Cut the roll into even slices (I got 12 rolls). Place slices in a greased 8 inch square baking pan sprayed with cooking spray. Cover and let rise until almost doubled, about 45 minutes. Bake at 350 for 30-40 minutes until they turn golden brown across the center.
Remove from oven and let cool about 15 minutes. Drizzle with your favorite frosting or eat plain. YUM!
About the Author Natalie Hixson loves finding new ways to make life fun, simple and balanced. She owns two businesses with her husband as well as homeschools her three daughters in Bozeman, Montana. She motivates and inspires the overwhelmed mom entrepreneur at www.striveforprogress.com.
---
7 comments
---
---