Vegan Cauliflower Alfredo Sauce
By Amanda Paa of Heartbeet Kitchen
If you're anything like me, you'll be scraping every last bit of this vegan cauliflower Alfredo sauce out of your blender (easily done with Blendtec's awesome Spoonula) because it's so, so good. Smooth and velvety as could be, it gets tons of flavor from roasted garlic and a little nutritional yeast.
And here's another win for Blendtec's wide base and jar. I've never had a blender that made it so easy to get every last bit out of it! There's very little—if any—wasted food. Which is always a good thing, especially when what you've made is a keeper.
Most people would never know that this Alfredo sauce doesn't have lots of cheese (and calories) as they're accustomed to. And the best part is it's even easier to make because you don't have to mess with stirring up a roux (a thickener with flour and butter). In this recipe, it's the magic of nutrient-dense cauliflower and cashews.
I'm always amazed at the power of cauliflower for making things like a grain-free pizza crust or faux rice. And now pasta sauce! For the Alfredo, you'll simmer the cauliflower and cashews in vegetable broth, softening them so that they're ready for a spin in the Blendtec. If you've never roasted garlic before you're in for a treat.
Roasting takes away the sharp bite and gives it a mellow sweetness. And then the cashews—they're the secret thickener, no dairy in sight even though the sauce is a snowy, silky white. It's definitely good for you, but more importantly, it tastes amazing. You can make this recipe a day ahead of time if you're hosting a dinner party, and it will last for up to four days in the refrigerator.
That makes it perfect for quick and easy weeknight meals when the little ones are hungry or you've had a busy day and need something healthy and delicious. I love to put the sauce on linguine, sweet potato gnocchi, or a quick store-bought pizza crust, topped with spinach, olives, and tomatoes. For a paleo meal you could serve it drizzled over roasted chicken and butternut squash. The options really are endless!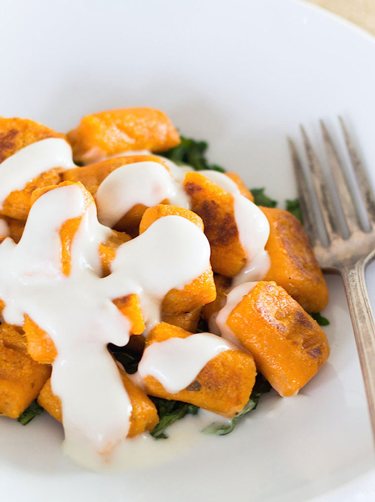 Vegan Cauliflower Alfredo Sauce
Makes about 2 cups
Ingredients
6 cloves garlic, unpeeled
½ tablespoon olive oil
⅓ cup raw cashews (40 grams)
2 cups cauliflower florets (210 grams)
1¾ cups vegetable stock
1 tsp nutritional yeast
¼ teaspoon white pepper
½ teaspoon salt
Your pasta of choice (I used Gluten-Free Sweet Potato Gnocchi)
Directions
Preheat oven to 375°F.
Rub oil into unpeeled garlic cloves and wrap in tinfoil. Roast for 30–40 minutes, until garlic is soft and can be pushed out of its skin.
Meanwhile, add cashews, cauliflower, and vegetable stock to a medium saucepan. Bring to a boil, then add nutritional yeast, pepper, and salt. Simmer for 20 minutes and carefully add ½ of mixture to your Blendtec (make sure this includes at least one cup of the stock.) Press the Soup button. If your Blendtec doesn't feature a Soup button, blend on High for 90–180 seconds.
When the garlic is done roasting and you have squeezed the cloves out of their skin, add them to the Blendtec along with remaining cauliflower mixture. Again, press the Soup button to blend. Taste and adjust with salt as needed.
If you want it thinner, you can always add a little water, 2 tablespoons at a time.
Serve warm over pasta or polenta.
About the Author
Amanda is a passionate tastemaker and self-taught cook whose creations are inspired by fresh market finds and seasonal ingredients. She hopes her blog, Heartbeet Kitchen inspires others to cook without expectations or judgment, as the beauty of creating in the kitchen should be fun and unique to everyone. You can also follow her on Twitter, Facebook, Instagram and Pinterest.
---
10 comments
---
---