Vanilla Chia Pudding - Green Smoothie Parfait
By Niner of niner bakes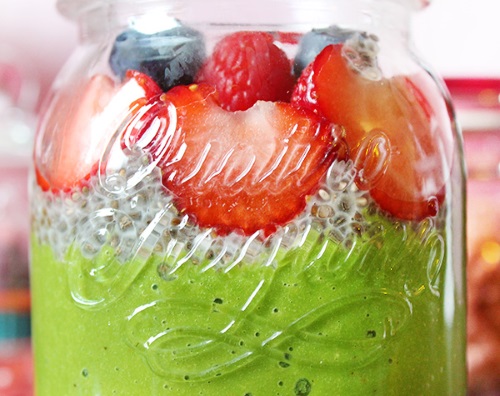 Hello everyone! This is Niner from niner bakes, and I will be sharing a sweet green smoothie parfait with you today! It contains the best ingredients, including the superfood chia seeds! I love chia seeds and I use them in my smoothies and cereal every day! In case you've never used them, give them a try. 
Chia seeds are rich in Omega-3 fatty acids and high in fiber, which helps lower cholesterol levels. They are rich in antioxidants, which helps protect the body from free radicals. They are also gluten-free and can be used as a replacement for eggs. I usually feel fuller when I have chia seeds in my breakfast or smoothie. The texture is wonderful and so yummy!
Paired with a green smoothie and fresh fruit, it is a delightful treat. Your body will thank you big time for incorporating this into your diet. I hope you will enjoy your chia seeds experience with this recipe. The green smoothie is very thick and creamy, which is important when making layer desserts. Runny and thin smoothies will not work as well because the layers might fade into each other.
Vanilla Chia Pudding - Green Smoothie Parfait
This recipe requires some advanced preparation, as the vanilla chia pudding will need to sit overnight in the refrigerator.
Ingredients 
Vanilla Chia Pudding (Make this a day ahead)
3 tablespoons Chia seeds
1 cup of plant based milk of your choice such as almond, soy, rice, hemp (I used coconut-rice milk)
Sweeten with agave and add 1 tsp of vanilla extract for more flavor
Directions
Make this a day ahead
In a medium bowl, add all ingredients and let it sit in your fridge overnight. It will be a gel like consistency!
Thick & Creamy Green Smoothie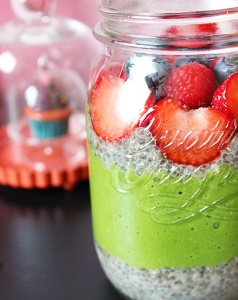 Ingredients 
1 cup of water or milk
1 to 2 handfuls spinach
2 big leaves from turnip cabbage (Kohlrabi)
4 – 7 leaves of beet greens very small handful of carrot green
1 frozen banana
½ avocado
10-12 grapes
1 orange
1 kiwi
Rice syrup or agave to taste
Directions For this recipe I am using the Blendtec Wildside+ Jar (Total Blender Classic): up to 36 oz (total volume approx. 90 fl oz)
Place all of your greens and liquid (a little less, you can always add more later) in your blender and blend until very smooth and creamy.
Add all other ingredients besides the rice syrup and blend until smooth and creamy. Tweak flavors to taste, adding the rice syrup or any other sweetener.*
To serve, pour in a mason jar or glass and enjoy! Make sure to leave some for the vanilla chia pudding!
*With every recipe you are blending, I recommend tasting and tweaking it as you go. Feel free to tweak/sweeten your smoothies until you are satisfied with the outcome.
How to assemble your Vanilla Chia Pudding - Green Smoothie Parfait
Layer any jar/glass/mug starting with the vanilla chia pudding.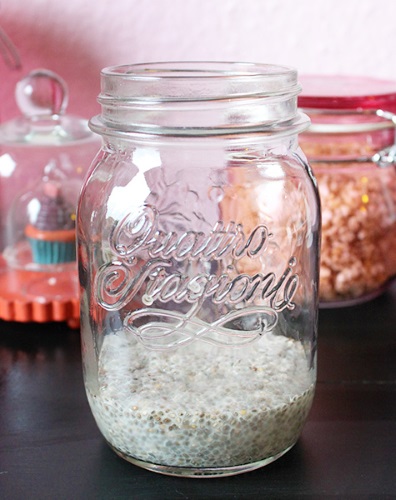 Next, add a layer of the creamy, thick green smoothie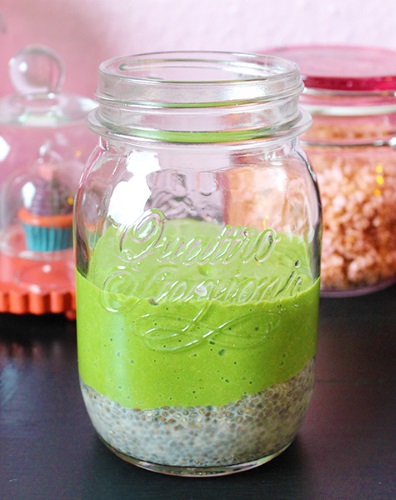 Add another layer of chia pudding and top with fresh fruit (I used strawberries, blueberries, and raspberries) to make it even more delicious.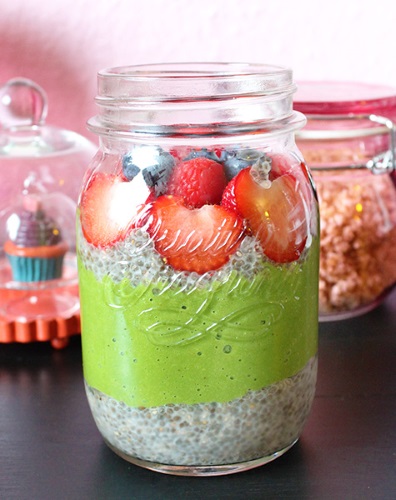 About the Author
Hi everyone, I'm Nina but everyone calls me niner! On
www.ninerbakes.com
I blog about cake pops, cupcakes but most importantly: healthy things such as Green Smoothies, Matcha green tea treats, superfoods, vegan dessert and more! I am super excited and very thrilled that I partnered up with Blendtec, my favorite brand! I will be writing guest blogposts on Blendtec's blog and I hope you'll enjoy each and every one of them. A blessed day to you! –Niner
Please feel free to follow me on social media
---
2 comments
---
---