By
Johnna Perry
of
In Johnna's Kitchen
Like many people, I love a hearty meal in the evening.  But, also like many people, I don't always have the time to prepare a time-consuming meal from scratch. 

My Ultimate Alfredo Sauce

is a great solution, making a comfort food dish in mere minutes! 
This sauce, which doesn't use any dairy or gluten, has the traditional rich and creamy texture of Alfredo sauce.  Thanks to sunflower seeds and pine nuts blended to perfection in the
Blendtec
, this sauce is delicious atop your choice of pasta. Spiralized zucchini make wonderful noodles to pair with this sauce and is even quicker than cooking pasta.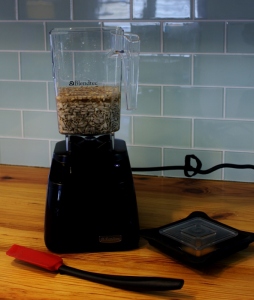 The primary ingredient in this sauce is raw sunflower seeds that have been soaked in water overnight.  Soaking the sunflower seeds softens them, as well as activates the enzymes in the dry seeds, bumping up the nutritional profile.  It also reduces the amount of phytic acid, an enzyme prohibitor, so all of the good stuff in the seeds is more easily absorbed in your tummy.  When soaking the seeds, you may notice a slight green tint to the water.  This is chlorogenic acid, an antioxidant, and is not a bad thing at all.  However, when it is introduced to alkalizing ingredients, it can create a green color.  While this sauce does not turn green, using sunflower seeds in baked goods can result in a pretty, yet unexpected, green color.  Don't let that stop you, though—they  are packed full of wonderful nutrients and great flavor! This sauce can be a raw vegan dish. If you prefer a warm sauce, allow your Blendtec to process until the sauce is warm.  I prefer mine at room temperature over raw zucchini noodles.  My husband likes the sauce warm over zucchini noodles that have been heated in a stir fry pan for a few minutes. I've also served this with brown rice pasta at a dinner party and it was so well-received that our guests suggested I make an extra batch to send home with them.  While they were joking, it would have been possible to make another batch in under 5 minutes.  Few would ever guess a rich, creamy Alfredo sauce could be so easy to make!  
Ultimate Alfredo Sauce
Ingredients: 1 ½ cups raw sunflower seeds, soaked for 24 hours ⅓ cup raw pine nuts, plus extra for garnish 2 cups filtered water ⅓ cup fresh squeezed lemon juice 4 cloves garlic 1 teaspoon sea salt 1 teaspoon freshly ground black pepper ¼ teaspoon nutmeg Directions: Soak sunflower seeds in water overnight.  Drain and rinse when you are ready to make the sauce. Place all ingredients into the Blendtec.  Select "Sauces" cycle. If it needs more blending, run at a medium speed until smooth and creamy. Serve over your choice of noodles. Store any leftover sauce in a glass container in the refrigerator.  Keeps for up to one week.   Recipe by Johnna Perry.  Johnna is a Certified Living Foods Chef and Nutritional Education Trainer. In the kitchen, Johnna develops healthy recipes for real people who enjoy having real fun while eating real food. When not in the kitchen, Johnna can be found traveling around the globe in search of the perfect plant-based, gluten-free meal.  Johnna shares her recipes and travels on her blog,
In Johnna's Kitchen
, as well as in culinary classes. You can find Johnna on
Facebook
,
Twitter
and
Instagram
.