By raw Chef Chaya-Ryvka of

The Living Vision
A few days ago, I went into Cafe Gratitude (in Berkeley, CA) with a craving for a frothy, creamy, warm tea of some sort. Sometimes I just want to be served, and I want to be served the foods that I feel great about putting into my body. This rainy Wednesday was one of those days. Perusing the menu, I came across a drink called "I am Golden"—a warm drink made from steamed almond milk, turmeric and raw honey. Yum! This sounded exactly like what I wanted. There's been a lot of buzz about turmeric around the health food and raw food communities, from pictures of fresh turmeric being juiced on Facebook to turmeric drinks showing up in the refrigerated section at the health food store. I decided it was about time I try this
"golden goddess"
for myself and see what all the buzz was about.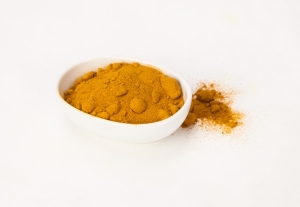 Without knowing more about turmeric other than it's a well-known anti-inflammatory, I tried this drink not knowing what it would taste like, feel like, or what I would think of it in general. To my delight (and even with choosing to be honey and sweetener free) the flavor was deeply soothing. After drinking it, I felt a sense of magnetism coursing through my veins— there was just something about it! The deep golden color had an uplifting and dare I say "magical" affect itself. It's not every day that one gets to drink something with such a brilliant color (which speaks to its extremely high antioxidant content). When I got home, I did some further investigating into turmeric's health properties, and what I found is truly astonishing. Turmeric is now a supplement I use daily rather than a spice I use occasionally. Some of the potential uses and health benefits I learned about Turmeric include (references at bottom of post):
It is known as an anti-inflammatory of the intestinal tract, helping people with a wide array of inflammatory diseases such as:

Arthritis
Fibromyalgia
Skin disorders such as psoriasis and eczema

Acts as powerfully as many OTC pain relievers
A powerful immune booster
A powerful antioxidant
Supports neurological function
Supports good sleep
A liver detoxifier
Promotes bile flow
Supports healthy lymphatic flow
A blood sugar regulator and metabolism booster supporting healthy weight management and weight loss
All this being said, turmeric has been proven very difficult for our bodies to absorb through the intestinal tract. However, in 1998 there was a study done at a medical college in India about the effects of using black pepper with turmeric. The findings were that 16 parts turmeric to 1 part black pepper made the turmeric 2,000 times more absorbable by our bodies—AMAZING! Like the recipe posted below that I created for a vegan golden milk elixir, many of the golden milk recipes out there call for just a pinch of black pepper to support our bodies in absorbing turmeric's health giving properties. Make sure not to skip that essential step. It does not make the drink spicy, but if you like it spicy you could add a bit more than a pinch or even add a bit of cayenne pepper to add a kick! I call this golden milk an elixir because of the combination of so many powerful superfoods. You could make this as simple as adding your favorite milk, turmeric, a pinch of black pepper and sweetener of choice if you so desire.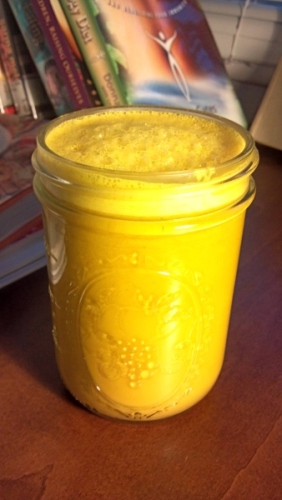 Turmeric Vegan Milk Elixir
1-2 servings 2 tsp coconut butter or extra virgin coconut oil 1 tsp hemp seeds 2 tsp goji berries 1 tsp Organic Turmeric* Powder 1/16 tsp or a pinch black pepper 2 cups warm to hot water, cinnamon tea, green tea, or other herbal infusion of choice. I have used a strong green tea in the morning for an invigorating drink or a cinnamon tea at night for a soothing tea. 1-2 tsp of your favorite sweetener, optional. My preference is unsweetened, but if I were to sweeten it I would choose a local raw honey. Blend on high in your Blendtec until all ingredients are well emulsified. Serve and enjoy the creamy, frothy goodness and feel the vitality of these superfoods surging through your body. *Note: Turmeric may cause your jar to yellow.*   About Raw Chef Chaya-Ryvka: Chaya-Ryvka of
www.theLivingVision.com
is a raw food Chef  & most well known as a Gourmet Raw Food Pastry Chef. Her five star desserts have attracted students from around the globe, and brought her to cater events like the wedding cakes for Angela Stokes and Matt Monarch's RAW union wedding festival. Chaya-Ryvka's extensive raw food training includes many years spent as  personal assistant to Elaina Love of Pure Joy Planet , apprentice to Mathew Rodgers of Coracao Confections, pastry chef & bakery supervisor for Northern California's premier Raw Food Restaurant - Cafe Gratitude. References:
Top 10 Evidence -Based Health Benefits of Turmeric and Curcumin
Dr. Andrew Weil: Turmeric Health Benefits
Health Benefits of Black Pepper and Turmeric