Feeding Tube Awareness Week
For some people, using a feeding tube is a part of daily life. Feeding tubes can provide nutrition support for those unable to consume enough healthy foods to sustain health, growth, or optimal nutrition status. A feeding tube can also provide complete nutrition for those unable to chew, swallow, or use the upper part of their GI system. As a registered dietitian, I have calculated nutrient needs for many people who use feeding tubes. While calorie, protein, carbohydrate, total energy, vitamin, and mineral needs vary based on diagnosis, health status, times of growth, and other factors, meeting these needs is crucial for achieving and maintaining optimal health. Nutrition for tubies (people who use feeding tubes) comes in two forms: (a) a commercially manufactured formula and (b) blenderized food. Manufactured formulas are optimal in hospitals and long-term care facilities and when feeding tubes are needed only short-term. When a feeding tube is needed long-term and when approved by a physician and dietitian, using blenderized food is a great option. Using real food to provide nutrition can be more economical than buying commercially manufactured formulas. Additionally, home-blended formulas provide greater nutrient variety in the diet. Before switching to blenderized foods, it's vital to consult with a nutritionist to ensure the foods provide adequate protein, carbohydrates, fat, and total calories, along with a balance of vitamins, minerals, and adequate fluids. When food is used to provide complete nutrition for tubies, the food must be blended extremely well so the tube doesn't become clogged and cause complications.
Blendtec's home-use blenders
 are powerful enough to pulverize regular foods to the point that they can be used in a feeding tube without complications.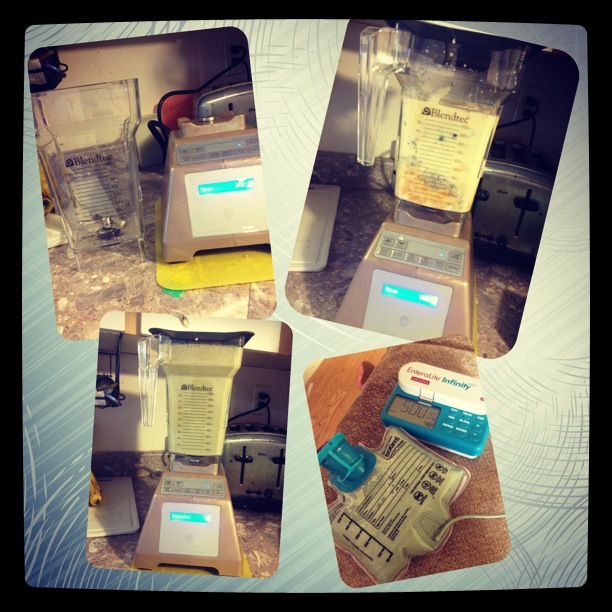 Tube Feeding
Photo Courtesy of Bobbi Taylor
Many people around the world use Blendtec blenders daily to meet the nutritional needs of tubies. One example is Kenny, who was born August 20, 2009, at 32 weeks gestation. After many long days and nights wondering if everything was going to be okay, Kenny's family was finally able to take him home. But the challenges weren't over. In his first year, Kenny was diagnosed with quad spastic cerebral palsy, cortical visual impairment, hydrocephalus, and infantile spasms. Despite all this, Kenny, who is now 3½ years old, enjoys life. Homemade tube food has been the best option for Kenny, and using a Blendtec blender has made it easier for Kenny's mom to prepare the formulas and to include a greater variety of nutritious foods, helping Kenny become healthier. To learn more about Kenny and his progress, you can visit his Facebook page:
Kenny's Journey and Stem Cells
.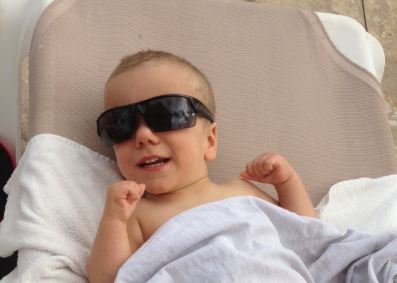 Kenny Enjoying Life
Photo Courtesy of Bobbi Taylor
[/caption] Ensuring tubies receive balanced nutrition is essential, and Blendtec's employees feel privileged to play a small role in this process by offering
high-powered blenders
that pulverize whole foods into healthy tube foods.   References: P. Q. Samour and K. King, 
Handbook of Pediatric Nutrition,
3rd ed. (Sudbury, MA: Jones and Bartlett, 2005). L. K. Mahan and S. Escott-Stump,
Krause's Food and Nutrition Therapy,
 12th ed. (St. Louis, MO: Elsevier, 2008).
---
12 comments
---
---