Sugar Free Chocolate Smoothie
By Gwen Brown of Gwen's Nest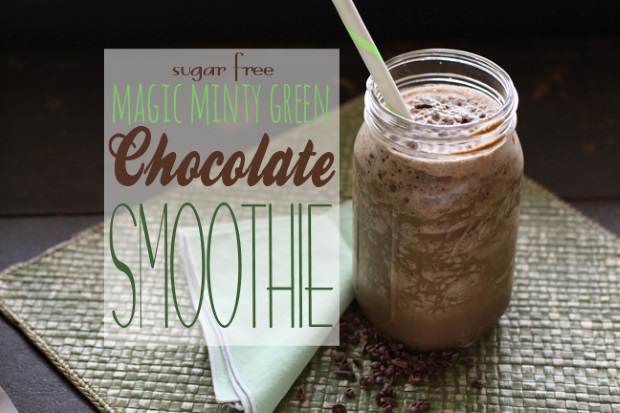 Maybe you're starting the year by turning over a new leaf—and increasing the greens in your diet. Green smoothies are a great way to get your greens, but many of the recipes are loaded with sugary fruits to cover the green flavors, which can really spike your blood sugar. And sometimes, you just really want something CHOCOLATE!
The great news is that you can have the best of everything with this mint chocolate smoothie. It tastes just like a chocolate smoothie, and you'll never believe that this odd list of ingredients blends into a delicious sugar-free, protein packed veggie smoothie! My kids are the biggest skeptics when it comes to my sugar-free concoctions, but they still come running when they hear me fire up the Blendtec. In an effort to defend my treat, I told the truth: "This has spinach in it...and COTTAGE CHEESE!"
They looked suspiciously at the delicious smoothie in my hand. My brave teenager chose to take a taste anyway, and clued everyone in on the deliciousness. "I don't even care WHAT it's got in it...it's awesome! I want some!" Thankfully, this recipe makes a HUGE batch, so they all got to try a cup. It's the perfect greens- and protein-packed, sugar-free afternoon snack to get you through to dinner.
If you don't have to share, you can make a half batch or freeze the rest in popsicle molds or an ice cube tray to re-blend the next day with a bit more almond milk. So go fire up the Blendtec and make this incredible mint green chocolate smoothie today! This is a low-carb, sugar-free recipe. If you're a Trim Healthy Mama, this is a FP recipe.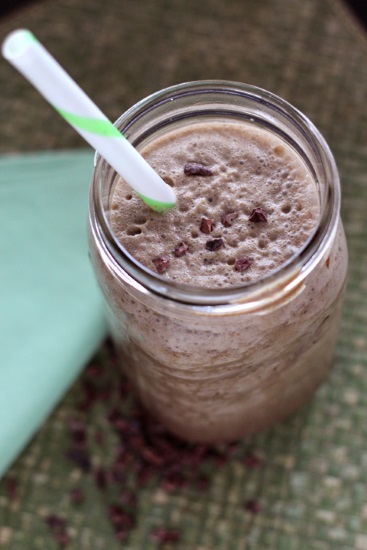 Sugar Free Chocolate Smoothie
Ingredients*
Yields 2 large two-cup servings
½ cup cottage cheese
⅔-1 cup fresh clean spinach leaves (or 1/2 cup frozen), organic recommended
⅓ cup cocoa powder
1 cup unsweetened almond milk
½ tsp vanilla extract
¼ cup carton egg white**
Sugar-free sweetener to taste; for example: 1 scoop stevia, 2 packets sweetener, or 1 tablespoon erythritol
¼ tsp mint extract or 2 drops pure grade mint essential oil
1-2 tbsp cacao nibs for crunch (optional)
Directions
Add all ingredients in order listed. If you want a nice crunch to your shake, reserve the cacao nibs.
Press "smoothie" on your Blendtec, or Blend on Medium Low (speed 3 or 4) for 10 seconds, then Medium High (speed 6 or 7) for 30 seconds. This will create a beautiful, smooth, whipped texture.
Add cacao nibs for a delicious crunch.
Enjoy!
* You can sub most of the ingredients to work with your dietary restrictions. You can use any unsweetened milk substitutes to keep the carbs very low. I don't have any ideas for a dairy-free version, but if any of you allergen-free geniuses have a great sub, tell us in the comments!
** If you'd prefer to use a pastured egg, then sub one whole egg for the pasteurized carton egg whites. This will add a negligible amount of fat per serving.
About the Author
Gwen is a food lover, natural health enthusiast, and research geek. She blogs at Gwen's Nest sharing home remedies, healthy recipes, creative ideas, and her health and weight loss discoveries.
---
2 comments
---
---