Smoky Sweet Potato & Bacon Soup
By Michelle Smith of the whole smith's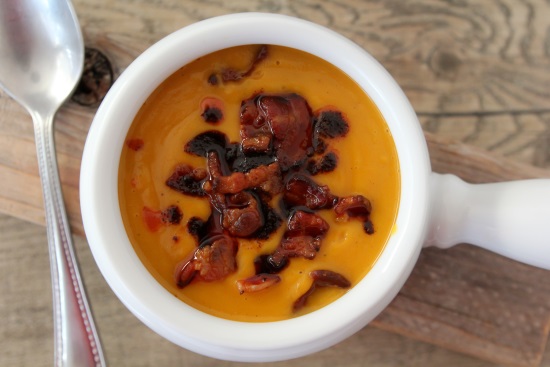 The weather is changing and that means it's time to start getting our soup on! Soups are one of my favorite healthy and easy dinners to feed my family. It's amazing just how many veggies and flavors you can fit into one pot. Few things are better on a cold day than sitting down at the dinner table to a nice warm bowl of soup.
Also, soups can be easy on the budget with a large batch lasting for several meals. One thing I've noticed on my way to soup perfection is that for some recipes there's a fine line between soup and baby food. You don't want to just boil or steam up a vegetable, puree it, add some chicken broth, and call it soup. But I think I've cracked the code, my friends. First off, it's all about maximizing and enhancing your flavors. And the easiest way to enhance the flavors of your main ingredients is to roast them. I just love the smoky, sweetness that roasting brings out in vegetables. And for this recipe, roasting the sweet potatoes, onions, and garlic takes this soup to the next level.
The next step in elevating your soup is choosing spices that complement your main ingredients. I pre-seasoned the vegetables prior to putting them into the oven, using two of my favorite smoky seasonings: chili powder and smoked paprika. The combination of these seasonings is perfect for sweet potatoes. The final step in pumping up the flavor in this soup is what I like to call the "flavor swirl"— a tiny bit of buttery goodness that's loaded with flavor, drizzled over the top.
Smoky Sweet Potato & Bacon Soup

Ingredients
3 large sweet potatoes
1 sweet onion
4 cloves of garlic
8 slices of bacon
1 tbsp smoked paprika
1 tbsp chili powder
6 cups chicken broth
Salt, pepper Olive oil
For flavor swirl
½ stick butter
½ tbsp smoked paprika
1 tbsp chili powder
½ tbsp maple syrup
Directions
Preheat oven to 400° F.
Peel the sweet potatoes and dice them into 1-inch pieces.
In a single layer arrange sweet potatoes in baking dish (you will probably need two baking dishes).
Quarter onion and add to a separate roasting pan. Add garlic cloves to onion.
Drizzle olive oil over sweet potatoes, onions and garlic, coating well.
Sprinkle sweet potatoes, onions and garlic with salt and pepper to taste and toss to coat. Sprinkle smoked paprika and chili powder over sweet potatoes only, toss to coat.
Bake each dish at 400°F for 30 minutes.
Cut bacon strips into bite-size pieces and cook on medium-high until crispy.
Remove bacon from grease and set aside.
After vegetables have roasted for 30 minutes, toss them to ensure even cooking and return to oven for 20 more minutes.
Meanwhile, add two cups of chicken broth to your

Blendtec

. Once the vegetables are done roasting, add them to the chicken broth in your Blendtec and press "Soups."
Pour the sweet potato mixture into large stockpot. Add the remaining chicken broth and bring to a simmer.
Simmer soup for 10 minutes and add bacon.
Combine all flavor swirl ingredients in a small saucepan and heat until thoroughly melted. Serve soup in a bowl and drizzle the flavor swirl on top.  
About the Author
Michelle is a professional food photographer and blogger at the whole smiths. She is passionate about the food we eat and serving up healthy, wholesome food for the whole family. Focusing on simple and affordable paleo dishes, the whole smiths strives to make clean eating approachable to everyone. When she's not running after her two children she enjoys running (by herself), yoga and fashion.
---
3 comments
---
---