Q&A with Tom Dickson - Part 1
Hello everyone! I'm Tim, the public relations manager at
Blendtec
, as well as Tom Dickson's Senior Aide. I work with Tom closely; we travel together and do the 
Will It Blend?
YouTube videos. Tom plays a big role in his company. He loves Blendtec and his employees, who work so hard to keep things running smoothly. All of us employees know Tom—we're like a big family. But not many of our customers know much about this amazing man. I decided to have a little Q&A with Tom so you can get to him a bit better. Let's get started.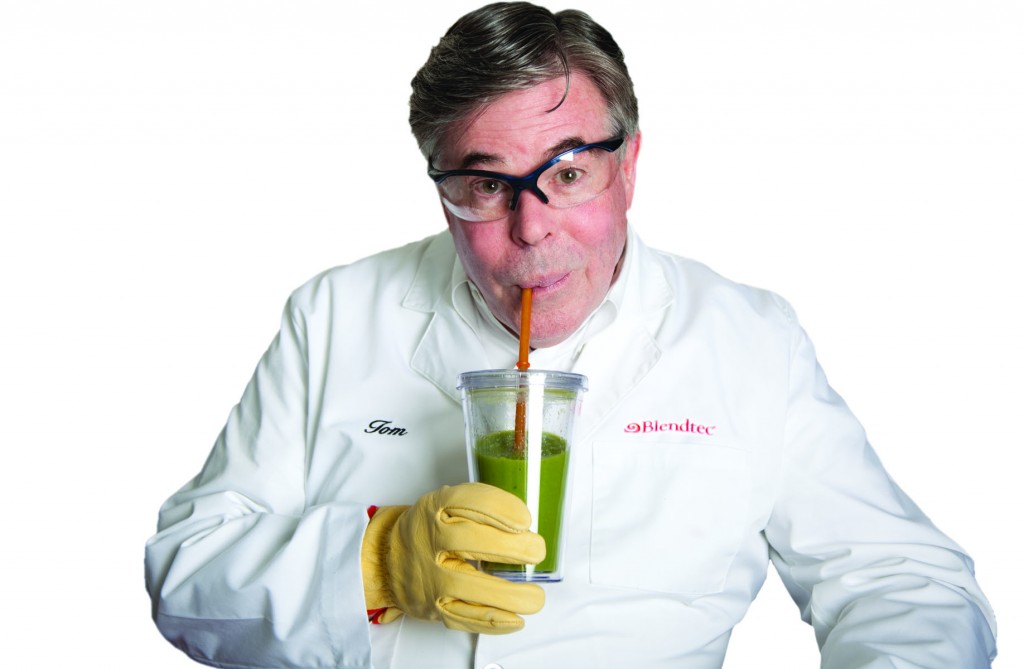 Tom Drinking a Green Smoothie
Me:
What is the most important business decision that you have ever made?
Tom
: We made a commitment early on to have the highest-quality products without sacrificing a good environment for our employees. Supporting our local economy and employee base is at the top of our priority list. In return, we have a wonderful and loyal employee force who truly care about what they do.
Me:
 Do you have a personal philosophy that you apply to your work?
Tom
: Have fun at what you do. Surround yourself with the best people. Set your course and lead out. Share the wealth and be grateful.
Me:
 What inspired you to become an inventor?
Tom:
My biggest inspiration was trying to solve basic problems that I saw in many different applications. My goal has always been to help people through my inventions.
Me:
 What's the
one
thing you wish you'd known before you started in business?
Tom:
That is a hard question. The one thing I wish I had done before going into business, and the one piece of advice I give to young entrepreneurs, is to have kept my day job longer. I had a family and was in charge of supporting them. We made it through the first few years just fine, but having a solid stream of income while starting a new business is important.
Me:
What are your most effective work habits?
Tom:
I am probably most well-known for my positive attitude even in the middle of very challenging circumstances. This is probably my defining characteristic.
Me:
Who do you most admire? Why?
Tom:
I admire those who have passion in what they do. If you believe in your product or your business, then have passion to drive it forward. Any successful entrepreneur understands this.
Me:
 Who is the most important person in your business? Why?
Tom:
Every employee plays a very important role in the continued success of Blendtec. If I had to pin down the most important roles in the company I would have to narrow it to two: Sales/Marketing and Engineering. Engineering so that we continue to manufacture the most advanced, 
powerful blenders
in the world. Sales/Marketing so that we can tell the world all about them.
Me:
Is there anything you know about running a business now that you wish you had known when you first started Blendtec?
Tom:
I have always been grateful to be surrounded with good mentors who have led me through the challenges in the business world. My advice would be to become acutely aware of your strengths and weaknesses. Do what you are best at, and surround yourself with experts in those areas where you struggle.
Me:
 What's your best tip for managing people?
Tom:
The goal of the manager is to bring out the best in people. The best tip I can give is to treat others how you would want to be treated. This is hard sometimes, and that is why asking for forgiveness is equally important when we have not conducted ourselves with ideal behavior.
Me:
 How do you relax?
Tom:
Visiting and spending time with my 35 grandkids.
Me:
 Tell me about your family.
Tom:
Blending it up has more than one meaning in my family. With a blended family, I have 11 kids and 35 grandkids. My grandkids bring me more happiness than any of my inventions possibly could.
Me:
Describe yourself in three words.
Tom:
Passionate, committed, caring.
---
4 comments
---
---