Peanut Butter Shake with Strawberry Jelly Swirl
By Jennifer Sanders of Kidoing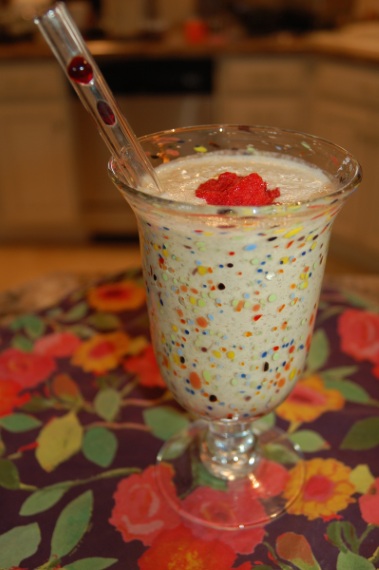 Smooth peanut butter…a little salty. Strawberries…a little sweet. We all know these ingredients are the perfect combination. Decades of children (and adults!) have enjoyed peanut butter and jelly sandwiches.  But sometimes the mood strikes for a shake instead of a sandwich. For a creamy and rich drink that's perfect as a snack or dessert, all you need to do is gather a few ingredients and grab your Blendtec blender. This shake is highly adaptable and full of nutritious ingredients providing you with protein, fiber, omega 3s and various minerals.  While you can use your choice of milk, when our family went dairy-free, this was one of the first shakes I made with nondairy milk.  The frozen banana and chia seeds make it thick and creamy, just like you would find in a milkshake made with ice cream.
Peanut Butter Shake with Strawberry Jelly Swirl
Peanut Butter Shake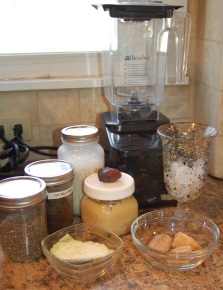 Serves 2-4
Ingredients
1½ cups milk of your choice (I use almond milk or homemade hemp milk)
⅓ to ½ cup peanut butter (I use peanut butter I make in my Blendtec Twister jar using organic roasted and salted peanuts) - or any other nut/seed butter of your choice
½ cup chickpeas, steamed cauliflower or savoy/napa cabbage
1 frozen banana (cut into thirds or sliced before freezing works best)
1 tbsp chia seeds
1 tsp vanilla extract (alcohol free) or 1/2 of a vanilla pod or 1/2 tsp pure vanilla powder
1 date or to taste (dried and pitted; I use Medjool)
1 cup ice cubes
Directions Using your Blendtec Wildside+ jar, add ingredients in this order:  milk, peanut butter, chia seeds, vanilla, date, chickpeas and frozen banana.  Blend on the "Smoothie" setting.  After machine stops, add the ice cubes and blend manually for about 20 seconds, beginning with speed 1 and working up to speed 4.  Pour the peanut butter shake into your favorite glass. You can also add the strawberry jelly swirl below for a true PBJ shake! Note: If you use unsalted peanut butter, you may want to add a pinch of salt.
Strawberry Jelly Swirl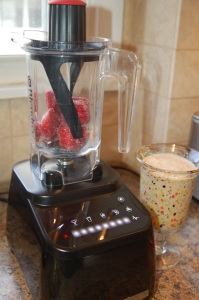 Ingredients
1 cup of fresh or frozen strawberries
1 date or to taste depending on sweetness of strawberries (optional; dried and pitted; I use Medjool)
1 tsp of chia seeds (optional; provides a more jelly-like consistency)
Directions Using your Blendtec Twister jar, add the strawberries and date.  If you are using frozen strawberries, you may want to add 1/4 c water before adding the strawberries and date.  Blend for about 50 seconds, beginning with speed 1 and working up to speed 4. Twist the lid on the jar counter-clockwise until you reach a creamy consistency. (If you use frozen strawberries, congratulations! You just made strawberry ice cream!).  Pour the strawberry mixture into your peanut butter shake and use your straw or a spoon to gently mix in. Enjoy!
---