By Sarah Tyau of Our Life is Beautiful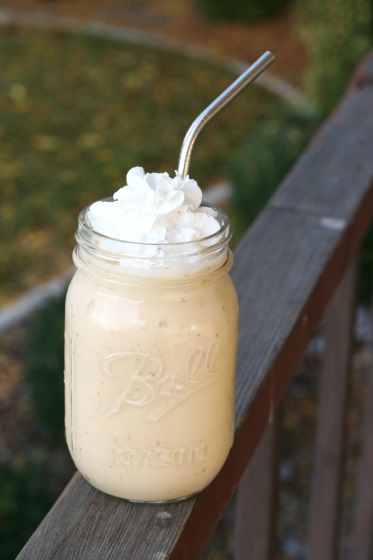 One of my favorite fall family traditions is to throw peach milkshake parties every year when the peaches are in season. We gather with friends and play games as we sip on our peach milkshakes. We usually do this until late into the night, with second and sometimes even third servings of this delicious treat! This milkshake is thick, creamy, with just the right amount of sweet and a tangy kick. 
Sweet and sour is a great combination in foods, and this peach shake is no exception. Skinning the peaches is optional. I didn't skin them the first time I made them and it was perfect, so I don't dare deviate from the recipe I've come to trust and love. The sugar is also optional if you prefer your shakes sweet. Peaches may be out of season for the year, but I have tried this with frozen peaches found at grocery stores and it was still very delicious.  So don't let the lack of fresh peaches stop you from trying out the recipe now!  You'll be so glad you did, and it's sure to be a big hit.
Peach Milkshake Recipe
Ingredients
3 peaches, pitted (skinned is optional)
½ cup buttermilk
½ tsp almond extract
4 very large scoops of vanilla ice cream (I use almost half of a half-gallon)
3 tbsp sugar, optional
Directions Add all ingredients to blender. Blend until smooth.  
About the Author
Sarah is the founder of OurLifeisBeautiful.com, a popular website about sewing, motherhood and fashion.  She doesn't sugar-coat her life and is honest about the ups and downs of being a stay at home mother to 3 little kids while trying to pursue her other dreams and ambitions.  She has been featured in several sewing magazines and has won awards and design contests.
---