Getting children involved in food preparation is a great way to not only create memories with them, but also to teach your children many important things such as food safety, healthy eating, and confidence in the kitchen.
Food safety is something that is important for everyone to know because food borne illnesses can be very bad and there are several ways to get your children involved. Help your children to remember to wash their hands often. When cooking, if they touch anything that is unclean, they should wash their hands before touching food again. You should also teach them about proper handling of hot pots and pans. You can also use this opportunity of cooking together to teach them knife safety. Chopping and peeling foods can be a good job for older children who can properly handle a knife.
When preparing the food for cooking, try having your child pick out two different cutting boards (having two different colors is helpful). Then show them that raw meats should go on one cutting board and other foods should go on the other cutting board. Use the different colors to remember which cutting board is for which type of food. This is a good opportunity to discuss foodborne illnesses and cross-contamination.
As the food cooks, you can ask your child to be involved in determining when the food is done. Give them a thermometer and tell them to pretend they are scientists examining the food. They have to make sure the food is the correct temperature in order for it to be considered done. This is especially important for meat. Teach them to be careful of hot objects and how to read the thermometer. You can also use the thermometer to help them learn about keeping certain foods cold enough to stop the growth of bacteria. The children can test the food in your refrigerator and tell you whether it is cold enough.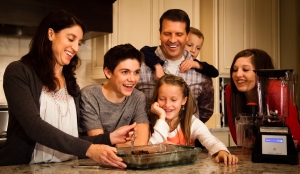 Cooking with your children is also a good way to teach them about healthy eating. Talk to them about the importance of eating a lot of fruits and vegetables. Show them different ways to prepare the fruits and vegetables. You can also teach them about proper proportion sizes and the different nutrients their bodies need. By having children get involved in the preparation of new or unusual foods, especially fruits and vegetables, they may be more likely to eat the new dishes because they have seen what goes into them. When at the grocery store, try having your children pick out some produce to try for dinner that night. When children have positive cooking experiences they will gain more confidence in and out of the kitchen. Children who learn to cook at a young age are more likely to continue cooking their own meals as opposed to eating out often. This will lead to a healthier lifestyle for them as children and later as adults. They will have the skills they need to cook healthy foods in their home.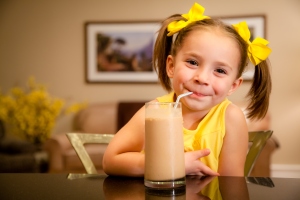 Other ideas to get your kids in the kitchen
Young children can be in charge of finding ingredients in the refrigerator and then placing them on the counter.
Young children can help in clean-up while you teach them about proper sanitation and washing.
Children who are too young to use a knife or other utensils can clean the fruits and vegetables in a sink.
Try having the children combine dry mixtures with a spoon.
Children can help measure out and pour ingredients. You can measure an ingredient, and they can dump it into the bowl.
Let young children tear up the lettuce for a salad or sprinkle a little seasoning onto vegetables.
Kids will love to mash up potatoes, so pull out the masher and get them started.
More benefits to children's involvement in cooking

It encourages kids to try new and different foods.
Kids feel they are contributing to the family.
It is a chance for parents and children to spend quality time together.
This can get children away from less productive activities such as watching TV or playing on the computer.
Learning to cook is a skill that children can use for the rest of their lives.
People who learn to eat and prepare healthy foods at a young age are more likely to do the same as adults.
---