Juicing is very popular, and many people wonder what the difference is between whole juicing and traditional juicing. In simple terms, whole juicing does not remove the pulp, and traditional juicing removes all of the pulp.
When you remove the pulp, you miss out on essential fiber and other nutrients. If you're interested in whole juicing, your Blendtec blender is a perfect product to use—it even has a preprogrammed button for it! If you're new to juicing, here's a very simple carrot juice recipe to start out with.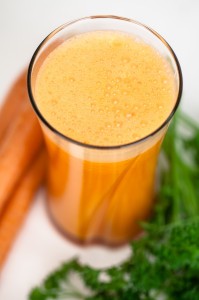 2 c water
2 c carrots, roughly chopped
1 tbsp fresh lemon juice
1 tsp fresh ginger, peeled
¾ c ice cubes
Add ingredients to FourSide or WildSide+ jar in order listed. Secure lid and select "Whole Juice." After you've tried out the carrot juice, give some of our other
whole juice
recipes a try.

Remember that whole juices will separate over time because the pulp/fiber has been blended up. To prevent separation, add chia seeds to the jar before blending.
---
3 comments
---
---