Homemade Blue Cheese Dressing Recipe
By Tiffany of Don't Waste the Crumbs
My dad is a die-hard, blue cheese dressing fan. It's been his dressing of choice for more years than I can remember, and the type of salad makes no difference. Chopped Asian, southwestern chicken or spinach and strawberries - it's always topped with blue cheese dressing.
While my family and I stopped buying salad dressings a couple years ago (thanks to the long list of unhealthy ingredients), we made an exception for blue cheese dressing. It was easy to toss together a simple balsamic vinaigrette, but to master the creamy, cheesy, tangy, rich flavors of the blue cheese dressing? That was a serious undertaking.
Finally, I spent a weekend experimenting with various blue cheese dressing recipes. I devised a recipe based largely on what I already had in the fridge and took it to the only person I knew who was truly an expert on blue cheese dressing: My dad.
He dipped a carrot, gave some feedback, and I added some lemon juice. He tasted again, gave more feedback and I added more salt and lots of pepper. After the third taste, the recipe was considered done. So good in fact, that he asked if he could keep the dressing and requested that I make it for our next big family holiday dinner!
Here is the blue cheese dressing recipe, in all its deliciousness. It's been taste-tested, dad approved and made with nothing but simple, healthy ingredients.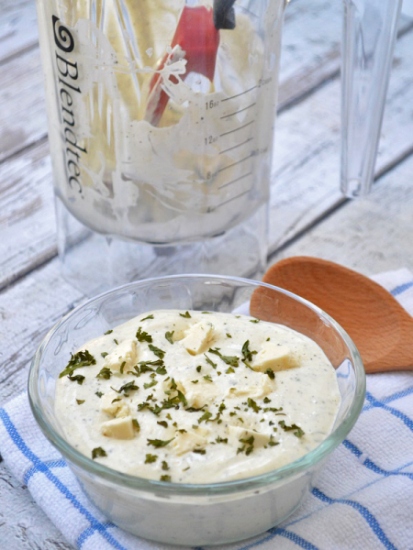 Homemade Blue Cheese Dressing Recipe
INGREDIENTS
¾ cup Greek yogurt
2 tsp yellow mustard
2 Tbsp lemon juice
4 oz blue cheese, divided
½ tsp salt
½ tsp pepper
½ tsp garlic powder
½ tsp dill
1 tsp Worchester sauce
DIRECTIONS
Place all ingredients except 2oz blue cheese in a Blendtec Twister Jar. Process on speed 4 for 15-20 seconds, or until the mixture is smooth. Twist the Twister lid counterclockwise during blending.
For a chunky dressing, crumble the remaining cheese and mix into the dressing with a spatula. For a smooth dressing, add the remaining blue cheese and process on speed 4 again for 5-10 seconds.
If the dressing is too thick, thin with 1-2 Tbsp half & half or milk.
About the Author 
Tiffany is a frugal foodie – passionate about feeding her family healthy food, while being a good steward of her family's finances. She's a homeschooling mother of two, loving wife to one and a child of God blessed in more ways than she can count. She shares her enthusiasm for affording real food without going broke, and documents her baby-sized strides at Don't Waste the Crumbs. Join Tiffany on Facebook, Pinterest or Google+ for encouragement and small, simple steps to healthier living.
---