Many Blendtec customers often ask, "Can I grind grains in my Blendtec?", "At what speed?", "How many cups?". So we put together some tips to help you know what kinds of grains you can put in your jar, how much, and at what speed, and for how long. Not only can you grind grains, but you can also crack grains, which is great for making your own hot cereals.
Cracking Grains: Cracking whole grains for hot cereals helps to shorten the cooking time and gives you all the nutritional benefits of the whole grain. Use the manual controls (Speed Up, Speed Down, and Pulse) to crack grains. The grind will not be an even cracking but is semi-uniform. Crack grains to desired degree of fineness. If a finer cereal is desired, blend longer. Remember the longer the machine runs, the finer the consistency of the cereal, up to the point that it turns to flour.

Cooking grains is similar to cooking rice. Add the dry grain in a pan with water or broth, bring to a boil and simmer until the liquid is absorbed. Grains can vary in cooking times depending on the grain variety and the age of the grain.
If the grain is not as tender, simply add more water and continue cooking. If the grain seems done before all the liquid is absorbed, simply turn off the heat and drain excess water.
Whole Grain Flours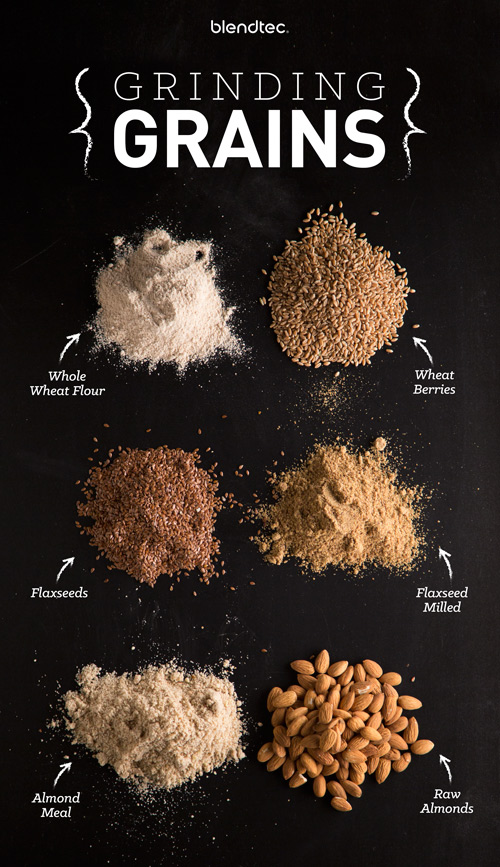 Grinding Grains: Grind fresh whole grains and legumes, packed with nutrients, and turn them into healthy whole grain flour. Making bread from start to finish is quick, easy, healthy and preservative-free, with a nuttier and fuller flavor. To lengthen the shelf life of freshly ground flour, store in an airtight container in the freezer and bring to room temperature before use.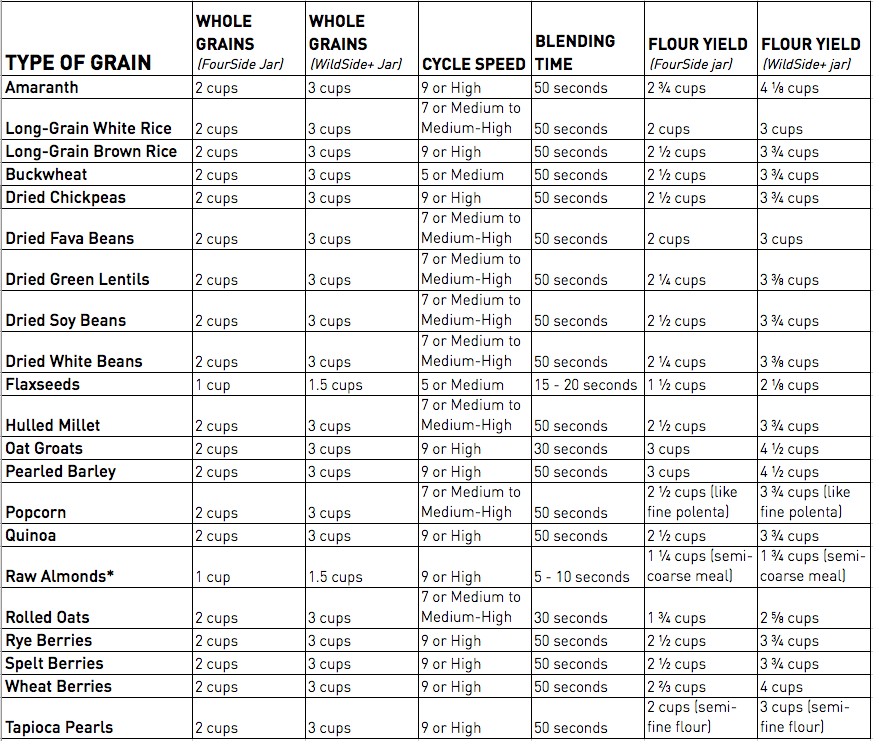 * Do not over-blend almond meal otherwise the nuts will release their oils and may result in almond butter. Try adding 1 teaspoon of cornstarch or arrowroot powder before blending the almonds to prevent clumping as it absorbs some oil exuded from the almonds. To have a more consistent almond meal texture after blending, use a metal mesh sieve to separate more fine almond meal from the coarse almond pieces.
Note: When grinding hard grains, legumes or beans, it may pit the jar interior resulting in a "fogged" appearance. Please remember cosmetic alternations are not covered under your jar warranty.