You've likely heard Kermit the Frog's lament that "it's not easy being green." Have you ever thought that it's not easy eating green? Here at Blendtec, green is one of our favorite food colors—because of the great taste of green foods and because of the many health benefits (for example, check out why you should include spinach in your diet). Maybe you associate green with broccoli and aren't a fan of that fiber-packed veggie.
That's okay—I readily admit that I loathe avocados and avoid them like nothing else. But I do love many other green foods. Here's a sampling of the possibilities: artichokes, asparagus, brussels sprouts, cabbage, celery, cucumbers, green apples, green beans, green grapes, green peppers, honeydew, kale, kiwi, limes, pears, peas, spinach, sprouts, and zucchini. And don't forget about flavorful herbs, which have many health benefits of their own.
If you're still a bit skeptical about eating green—or just looking for some new ideas—check out these recipes, which cover everything from main dishes to snacks to treats for your skin!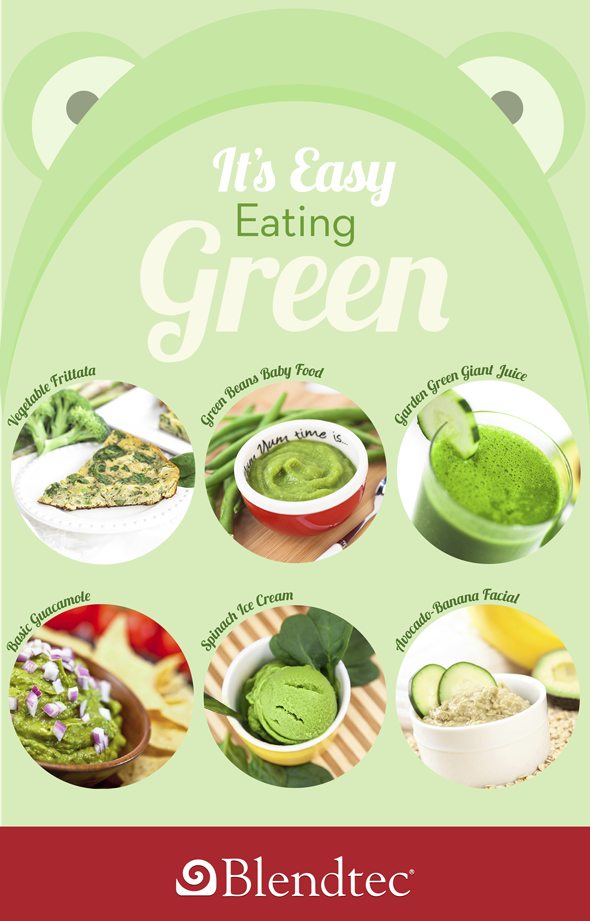 Meal Ideas
Whole Wheat Spinach Pasta
Potato-Spinach Cakes
Vegetable Frittata
Avocado Soup
Broccoli-Cheddar Soup
Gazpacho
Raw Asparagus Soup
Velvety Spinach Soup
Drinks
Garden Green Giant Juice
Green Flaxy
Green Pineapple Paradise
Jolly Green Smoothie
Parsley-Passion Green Smoothie
Peaches and Cream Green
Strawberry-Lime Slush 
Snack Time
Basic Guacamole
Guacamole
Basil-Pistachio Pesto
Walnut-Parsley Pesto
Creamy Spinach Dip
Savory Appetizer Cheesecake
Treats
Pineapple-Cilantro Ice Pops
Spinach Ice Cream
Fudgesicle Frosty
Baby Food
Green Beans Baby Food
Steamed Peas Baby Food 
Skin Care
Aloe-Cucumber Freshener
Avocado-Banana Facial Exfoliating Mask