By Michelle Smith of the Whole Smiths
There's something about crepes that everybody loves, they're so versatile! Maybe it's the fact that you can make them savory OR sweet. You can keep them light with sparse toppings or load up the toppings and make into a meal. There's something for everyone and every occasion.
Before I gave up gluten in my diet, I loved crepes. They were my go-to Sunday brunch selection. Sometimes I went with the savory and sometimes I went with the sweet. However, after I gave up gluten I released my thoughts of ever enjoying crepes again. But then I realized that the more I learned to recreate my favorite treats gluten-free that I could do the same with crepes!
This gluten-free crepe recipe has been a long time coming. I've been wanting to create a gluten and grain free crepe and a homemade chocolate hazelnut spread for quite some time now, but it just seemed to keep getting pushed to the back of the line. Finally, I realized enough was enough, it was time to get serious and make this happen.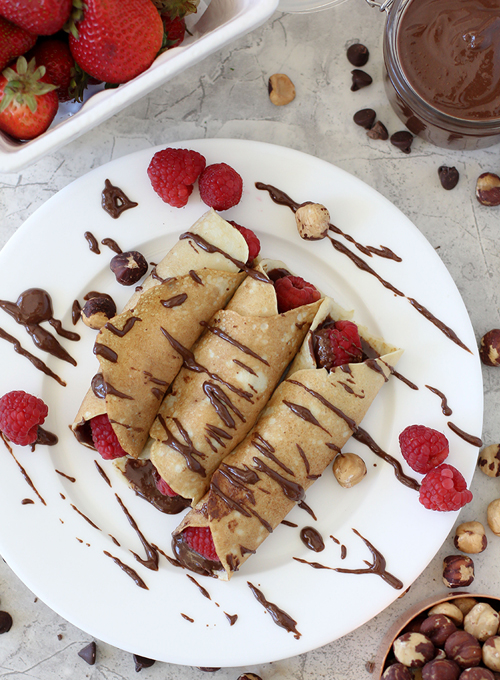 I also realized that it would be the perfect recipe to collaborate with Blendtec on as my Blendtec was on double duty creating both the crepe batter itself and the hazelnut spread. Something that I found incredibly valuable in using my Blendtec to make the crepe batter was that it eliminated any lumps in the batter. Crepe batter is supposed to be thin and completely smooth, there's no room for lumps or bumps and the power of my Blendtec completely eliminated any.
When making your crepes, take care in flipping them as the batter and crepe will be just as delicate as any traditional crepe. I like to find the thinnest spatula possible to gently slide under prior to flipping. Then, with a quick flip of the wrist, turn it over and continue to cook for an additional minute.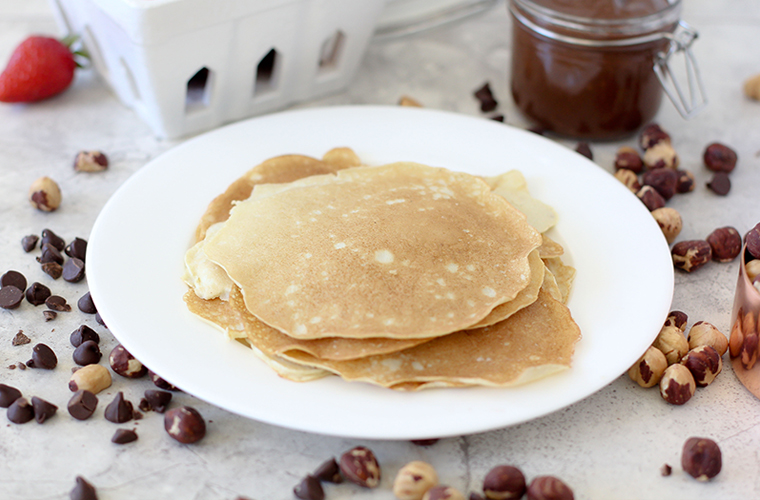 Gluten-Free Crepes
Ingredients
1 cup almond milk
5 eggs
2 tbsp coconut flour
1 tbsp tapioca flour
1 tsp coconut oil + additional for pan
Pinch of coconut sugar
Instructions
Combine all ingredients into your Blendtec WildSide+ jar and blend on medium speed until fully incorporated.
Grease a non-stick pan with a bit of coconut oil and heat on medium.
Once hot, pour a small amount of crepe batter onto pan and let sit until small bubbles form.
Using a spatula, very carefully flip crepes and cook an additional minute until golden brown.
Enjoy this versatile gluten-free crêpe batter and head over to my blog, the Whole Smiths for the Chocolate Hazelnut Spread to complete your perfect crepe!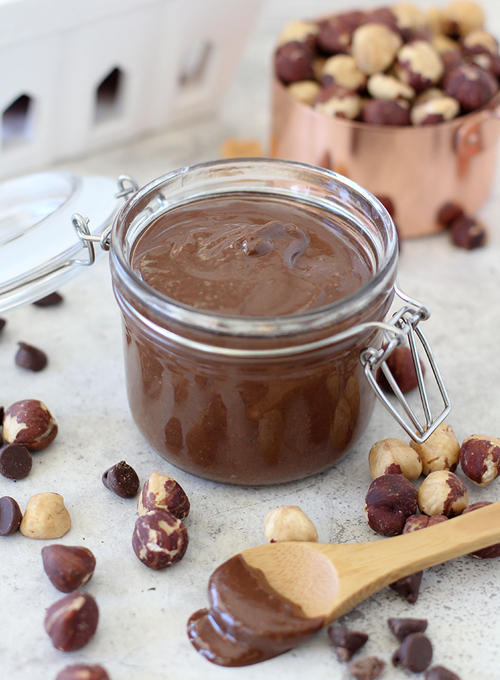 ---