Federal Circuit Court Upholds Blendtec's $24M Patent Infringement Award
Utah-based blender company grateful for resolution in 7-year dispute.
OREM, UTAH – September 10, 2012.  
The Federal Circuit of Appeals on Thursday upheld Blendtec's $24 million willful patent infringement award, rejecting Vita-Mix Corp.'s appeal of the damages that a Utah federal court ordered Vita-Mix to pay its rival for selling blenders that infringed two of Blendtec's patents.
"This decision sends a strong message to those who would attempt to profit from the labor and ideas of someone else. Truly it's a win for America's visionaries, innovators, and entrepreneurs, who build dreams, create jobs, and positively impact the economy," says Tom Dickson, founder and CEO of Blendtec, who invented the revolutionary WildSide™ jar, which was the subject of the case.
"As we close this chapter, we extend our heartfelt gratitude to the many individuals—patent examiners, judges, jurors, attorneys, and many others—who devoted their time and effort to protecting intellectual property rights and produced a fair and accurate outcome."
In the ruling issued September 6, Federal Circuit Judges Pauline Newman, Alan Lourie, and Sharon Prost affirmed the US District Court's earlier ruling that Vita-Mix had knowingly and irreparably harmed Blendtec by intentionally copying the company's WildSide* jar—a five-sided container that blends more quickly and completely than other containers.
The affirmation should bring to a close the protracted legal efforts by Utah-based Blendtec to protect its intellectual assets, upholding the lower court's $24 million damages award—one of the largest patent infringement awards in the history of Utah.
Innovator versus Imitator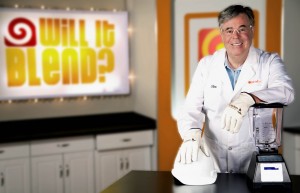 Tom Dickson, Blendtec founder and CEO, as well as inventor of the WildSide Jar
Since 1991, Blendtec has pioneered high-powered blender technology for use in commercial and residential settings. In 2001 Blendtec introduced the WildSide jar, designed with a distinctive fifth side. Competitor Vita-Mix noticed. After attempting—and failing—to devise a competitive jar of its own, Vita-Mix decided to willfully copy Blendtec's design. District court documents cite former Vita-Mix employees, such as Scott Hinckley, Vita-Mix's marketing director at the time, who wrote the following in an email about a customer:
"They absolutely LOVE the new Blendtec container. This is an example of how it stacks up to ours: In our machine: 2 drinks take 30 seconds. 3 or more are impossible. In Blendtec's new container: 4 drinks in 15 seconds." Jonathan Katz, the director of engineering at Vita-Mix at the time, testified that "although Vita-Mix considered other, design-around concepts, it ultimately chose to continue its infringing design."
An Appeal without Merit
Throughout the legal process, the evidence was reviewed by numerous individuals, including the trial jury, seven federal judges and four patent examiners—all of whom were unanimous in their support of Blendtec's case.
The Federal Court of Appeals concluded, "We have considered Vita-Mix's remaining arguments and conclude that they are without merit.…The judgment of the district court is affirmed."
For the full text of the opinion of the US Court of Appeals for the Federal Circuit, see http://www.cafc.uscourts.gov/sites/default/files/opinions-orders/11-1244-1484-1512.pdf. 
*The WildSide jar is no longer available for purchase. Please check out our new and improved WildSide+ jar, or our Vita-Mix jar replacement - Rebel+ Jar.
---
31 comments
---
---