Exclusive New Twister Jar Handles Thickest Blender Recipes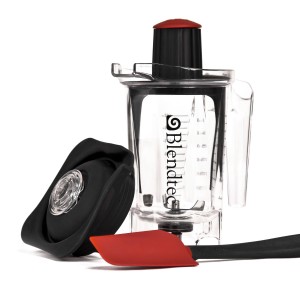 The new Twister jar comes with the Twister lid, Gripper lid and Spectacula.
Blendtec® announces the availability of its latest innovation to the commercial blending world: the Twister™ jar.
Designed for blending the thickest recipes, the Twister jar serves the needs of a foodservice industry that's on the lookout for new ways to cater to customers' evolving tastes. With the Twister jar, eateries and commercial kitchens can now quickly and easily make hummus, nut butters, cream cheese spreads and other ultrathick menu items that are inexpensive to create, delicious to eat and highly profitable to sell.
The Twister jar can make warm, creamy peanut butter in less than 30 seconds and is fully compatible with all commercial Blendtec blenders. The secret is the Twister jar's unique, patent-pending Twister lid, which features tines that run along the inside of the jar. As the blade forces ingredients onto the sides of the jar, the user twists the Twister lid to scrape the sides, pushing the ingredients back into the blending vortex.
"Up until now, really thick recipes were difficult, slow and required lots of stopping and scraping," said Tom Dickson, Blendtec founder and CEO. "The Twister jar technology is an industry first. It's another example of how Blendtec really does define the cutting edge in foodservice blending."
Eateries around the country are already using the Twister jar to satisfy strong customer demand for fresh, healthy alternatives to processed spreads and nut butters. And the new jar allows the foodservices industry to create these menu items in small serving sizes on demand, reducing unused food waste significantly. Made of Eastman Tritan™, the Twister jar is BPA free and NSF certified.
---
3 comments
---
---