More and more I'm seeing recipes calling for oat flour instead of wheat flour. The reasons for this are simple: oats have higher fiber, are a whole grain, and have a lower glycemic index and carb count than regular wheat flour. Plus, oat flour can be gluten-free! So it's a win-win-win! I first saw oats being used in a low-glycemic pancake recipe from the book Trim Healthy Mama. They were so good that I started to experiment on my own with more recipes for oat flour.
Since then, I've baked a good bit with oat flour, and I've found that it makes a nice, soft cakelike finished product, and is great in breakfast breads and muffins.  I share some of my favorite sugar-free oat flour recipes over on Gwen's Nest, including banana cream cake and berry breakfast cake. I wouldn't choose oat flour for recipes where you want a crunchy crust or the stretch and rise that gluten gives to bread, but it's wonderful for breads, cakes, and muffins. But where in the world do you find oat flour?
Thankfully, if you've got a Blendtec blender, you're seconds away from a batch of freshly ground oat flour. All you need is a canister of your favorite oats. I usually have the old fashioned style on hand, but the quick-cook will work just as well.  If you're gluten-free, be sure to use gluten-free oats.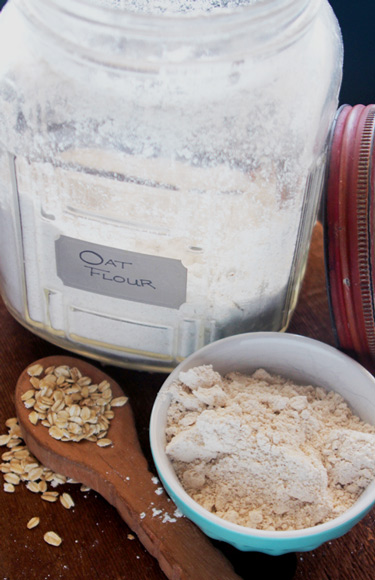 DIY Oat Flour
Ingredients
1 cup oats, any kind (old fashioned, steel cut, or quick-cook)
Directions
Add oats to your Blendtec jar.
Turn Blendtec on full power and grind until a flour consistency is achieved.
You can use your oat flour right away, or store it in an airtight container for future use.
I usually make several batches and fill up my jar so I have plenty on hand at any time. Oat flour breakfast cakes have become some of our favorite weekend breakfast treats!  
About the Author
Gwen is a food lover, natural health enthusiast, and research geek. She blogs at Gwen's Nest sharing home remedies, healthy recipes, creative ideas, and her health and weight loss discoveries.
---