By Michelle Smith of the whole smith's
There are so many things to love about the holiday season. The sounds of Christmas music, the feel of the cold weather, seeing all of the beautiful Christmas lights. But maybe—just maybe—one of the greatest parts of the holidays are the tastes. Wouldn't you say? I mean, c'mon, there's so much goodness in all of that gingerbread and pumpkin going on.
But perhaps my favorite holiday flavor of all is eggnog. I guess it's fair to say I'm eggnog-obsessed. Once eggnog ice cream started popping up on the shelves a few years ago, it was all over. Now I've started seeing eggnog breads, cookies, and chia puddings popping up all over the place. I'm in eggnog heaven come December!
There's just one slight problem: I just can't tolerate much dairy these days. So what's a girl to do? While I usually avoid dairy products, I make exceptions for the exceptionally delicious items, like eggnog. However, over Thanksgiving when I had (ok, more like I guzzled!) a glass of eggnog, I lay in bed that day with my stomach reeling and protesting. So I determined to create a dairy-free version of this holiday favorite. It needed to be thick and creamy like the original but without any coconut flavor. The final mix of eggs, almond milk and coconut milk seemed to be the magic combination.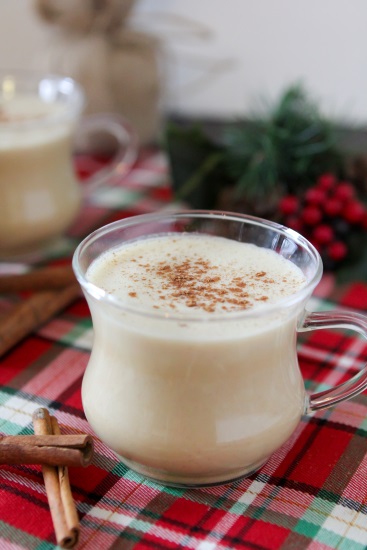 Dairy-Free Egg Nog
Ingredients
1 can of full fat coconut milk
5 egg yolks
⅓ cup coconut sugar
½ tsp vanilla extract
¾ cup almond milk
1 tsp pumpkin pie spice
⅛ cup maple syrup
Instructions
Place all ingredients into your Blendtec and blend on the "Smoothie" cycle until creamy and frothy. Enjoy!
This recipe is a perfect base for making this Egg Nog Chia Pudding.
About the Author
Michelle is a professional food photographer and blogger at the whole smiths. She is passionate about food and serving up healthy, wholesome food for the whole family. Focusing on simple and affordable paleo dishes, the whole smiths strives to make clean eating approachable to everyone. When she's not running after her two children she enjoys running (by herself), yoga and fashion.
---
3 comments
---
---