By Jessica Gatlin of My Baking Heart
I'm always on the lookout for a quick and easy dish. With my Blendtec, I can quickly whip up a protein smoothie to sip on during my morning commute or a warm, filling soup for that night's dinner. I'm also a sucker for Mexican food, but all the fats and grease that come along with a plate of enchiladas is enough to make me sick.
So, I came up with this flavorful and healthy Creamy Taco Soup to fulfill those Mexican cravings. The best part about this recipe is that it makes enough for an entire week of lunches or dinners. I just prepare everything on a Sunday afternoon and refrigerate the soup until I'm ready to eat. It makes a perfect meal when paired with a green salad or chips and salsa!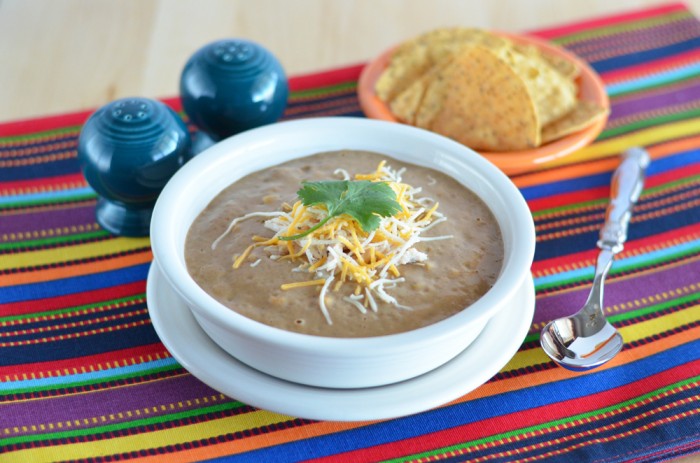 Creamy Taco Soup
Servings: 6-8
Ingredients:
2 (5.3 oz) containers plain, nonfat Greek yogurt
1/2 c reduced-sodium chicken broth
1 (15 oz) can Navy beans, rinsed and drained
1 (15 oz) can black beans, rinsed and drained
1 (4 oz) can diced green chilies
1 (15 oz) can diced tomatoes, drained
2 tbsp fresh-squeezed lime juice
1 clove garlic, minced
1/2 tsp onion powder
1 tsp dried oregano
1/2 tsp smoked paprika
1/2 tsp ground ancho chili powder
3 tbsp fresh cilantro, plus extra for garnish
2 tsp Mrs. Dash Fiesta Lime Seasoning Blend
1 c fresh corn kernels
1 lb shredded, cooked chicken breast
1 c shredded Colby-Jack cheese, for garnish
Directions:
Place yogurt, broth, Navy and black beans, green chilies, tomatoes, lime juice, garlic and all spices (through the Mrs. Dash seasoning blend) in your Blendtec, and blend on the 'Soup' setting.
Once the soup has blended, pour it into a large stockpot set on medium-high heat.
Add the corn and shredded chicken to the soup and continue to cook for 15-20 minutes, stirring occasionally.
Portion the soup into 6-8 bowls, topping each with chopped cilantro and shredded cheese, if desired. Serve immediately.
  You can find more great recipes from Jessica at
mybakingheart.com
or follow her on
Facebook
and
Twitter
.
---
1 comment
---
---