Fried Crab and Cream Cheese Wontons
By Rachael Yerkes of Eazy Peazy Mealz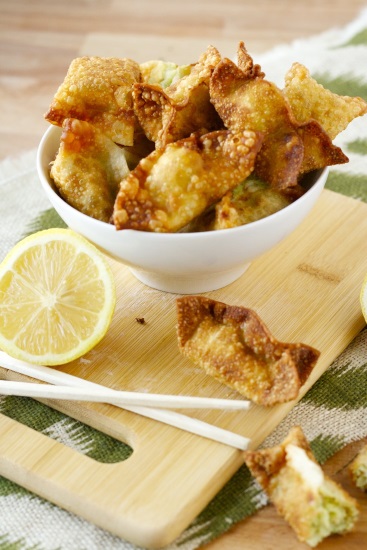 When it comes to Chinese food, I don't mess around. I have a huge obsession with a local Chinese restaurant, but it is getting a little tough on the wallet to eat there as much as I would like. So I have been forced to put my culinary skills to the test in trying to recreate some of our favorite dishes.
Have you ever been asked what your favorite dish is at a restaurant, and all you could think was "All of them"? Well, that is how I feel, so I tried to narrow it down to figure out what to make. Sometimes I order the 5 Tastes Shrimp, or maybe the Lemon Chicken, sometimes the Lo Mein, sometimes the Beef and Broccoli; it just depends on my mood. But one thing we ALWAYS order is the Fried Crab and Cream Cheese Wontons.
Fried Crab and Cream Cheese Wontons are a must-have appetizer, so I decided to try my hand making them at home—with my Blendtec! And I am so glad I did. They are totally scrumptious, and beyond easy to make!
Fried Crab and Cream Cheese Wontons
Ingredients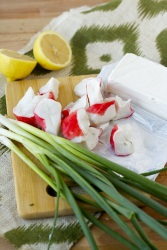 Wonton wrappers (I just buy the premade ones, you can usually find them near the produce section of the grocery store)
Water Oil (for frying)
Filling
8 ounces cream cheese (softened)
3 green onions (cut off the little hairy ends)
1 lb imitation crab
1 tsp garlic salt
1½ tbsp milk
Directions
Put the cream cheese, onions, garlic salt, milk, and half the crab in your blender and hit the "dips" button to blend. Then add in the rest of the crab, and pulse it a few times so it blends and shreds the crab meat, but does not totally decimate it.
Note: This is a personal preference for texture. I like the inside to have a little bit of the meat in a "chunk" form, but if you do not care, you can just blend it all so it is a smooth, creamy texture.
Dip your finger into some water and wet the edges of your wonton wrapper. Place ½–1 tbsp of the filling in the center, and crimp the edges together.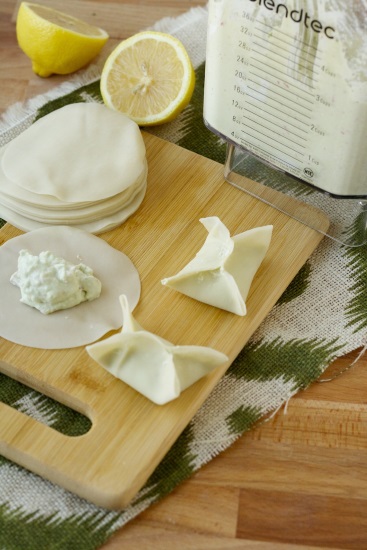 Heat oil in a deep pan or fryer to about 375°F. Fry at 375°F until the wonton wrapper is golden brown (2-3 minutes)
*Note: This recipe makes A LOT—you will use the whole package of wonton wrappers, making about 48, which is great for a party, but maybe not for everyday eating.
You can freeze these after they have been made (but before frying) and use at a later time. Or you can keep the filling in an airtight container for up to a week in the refrigerator.
And one of the things that really brings the flavors to life is this lemon dipping sauce. It can also be made in the blender, and is very simple. To find the recipe head on over to Eazy Peazy Mealz  (http://wp.me/p3cgQ3-1JL)!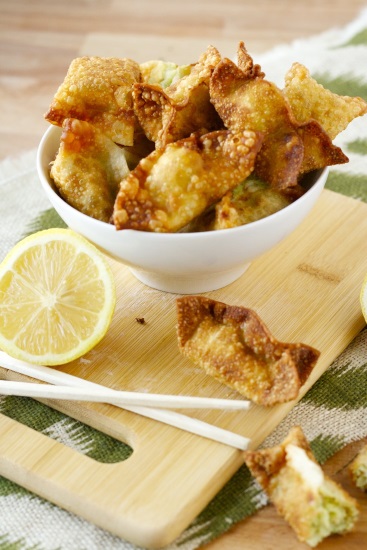 About the author
Rachael cooks over at Eazy Peazy Mealz (http://www.eazypeazymealz.com). She thinks families should eat together, but knows how hectic evenings can be. She has 4 kids of her own, and loves fast, easy, and fun meals. She particularly loves freezer meals, slow cooker meals, and 30-minute meals, but indulges in sweet treats, and other fun recipes too! Her philosophy is: Food should taste great, without the hassle! And so she offers Deliciously Simple meals the whole family will enjoy.
---
1 comment
---
---