Cooking Thanksgiving Dinner the Easy Way (i.e., the Blendtec Way)
Thanksgiving is my favorite time of year—family members gather, and wafts of comfort food permeate my home. One of my favorite aromas is rolls as they are baking, a scent that can't be imitated in a spray. You can buy pumpkin spice or sugar cookie room spray, but the essence of bread is only captured when baked.
Naturally, I make rolls in my Blendtec blender; it takes less time and effort than traditional mixing and gives me more family time, which is what this holiday is all about. But I use my blender for so much more than making dough. By using my blender, I can serve delicious holiday food—on time—for family and friends.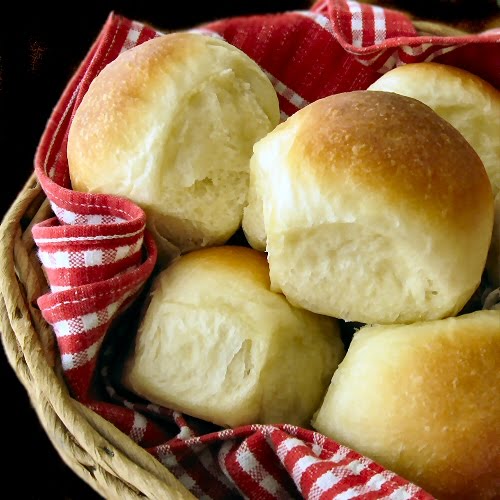 Dinner Rolls
Courtesy of the Other Side of Fifty Blog
I often use family recipes, like Grandma's date pudding. She would use one bowl to soak the dates and then another bowl to make the pudding. But I blend her recipe in seconds and tenderly think that she would marvel at how Blendtec technology would have saved her so much time.
The evening before Thanksgiving, I make pumpkin and pecan filling in my blender and then prep the turkey and stuffing for an all-night bake. Turkey goes in when desserts come out. I also make fresh orange and cranberry relish the night before so the flavors meld overnight, enhancing the taste. There is nothing better than a hot roll with a little relish—yum!
On Thursday, right after breakfast I make the rolls so they have plenty of time to rise and will be piping hot when the last-minute guests arrive. As the dough rests in my blender jar to rise, I peel potatoes and prep other veggies (yams, carrots, cauliflower or brussels sprouts, depending on requests from family). The potatoes sit in water until 40 minutes before we sit down.
Other veggies I steam or bake. I make gravy as smooth as silk in my blender. People think I'm a great gravy maker, and now the secret is out…I blend the gravy so there are no lumps!
Next I use my blender to whip up balsamic vinaigrette for a fresh green salad. The rolls come out of the oven, we carve the turkey and then we're set to give thanks for the bounties of life.
Of course, we leave some room in our stomachs for pie, and I whip fresh cream in my WildSide+ jar as the perfect topping for the delicious pies made the night before.
After the feast is over, only a few dishes are in my sink because my Blendtec simplified food prep and made clean up quick—again saving me time. Family is happy, I'm happy and football begins! Enjoy your feast!
---
1 comment
---
---