By
Natalya Drozhzhin
of
Mom's Dish
Thanks to my family's European roots, crepes made up a big part of our family dishes. Nowadays, crepes seem to win people's appetites everywhere. They are versatile and can be made with different fillings while providing a filling meal.
This recipe is a great way to use up leftover chicken, while providing a fancy, satisfying dish.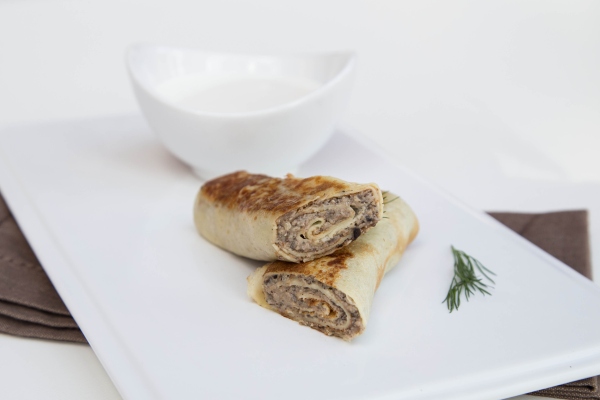 Chicken Mushroom Crepes
Crepe: 3 large eggs 1 cup flour 2 cups milk 1 tsp salt 3 tbsp light olive oil Filling: 1 lb cooked chicken (left over or baked) 2 lb fresh mushrooms 1 small yellow onion ½ cup chicken broth 1 cup grated Mozzarella To prepare the crepes: Into your
Blendtec blender
, place eggs, flour and salt; blend on low to combine. Add milk and oil, blend on low again to combine ingredients together. Preheat a lightly oiled frying pan, over medium heat. Lift up the frying pan with one hand while using the other hand to pour in crepe batter about ¼ cup crepe batter. Shift the pan from side to side to cover the bottom. Cook each crepe until both sides are light brown. Turn crepes by lifting corners, using a spatula. To prepare the filling: Dice onion and mushrooms into one-inch pieces. Sauté mushrooms and onion, until golden brown. Place cooked chicken, mushrooms & onion mixture, and chicken broth into the blender and blend it together until texture is smooth. Transfer the mixture into a bowl and stir in mozzarella cheese. Spread the filling evenly onto each cooked crepe, then fold over the sides and roll it up. Repeat until you run out of ingredients. Serve crepes warm. Sour cream makes a great dipping sauce for these crepes. To reheat, you may use a buttered skillet, microwave, or an oven.