Build Your Own Milkshake Bar
By Rebecca Lindamood of Foodie with Family
We are officially one day away from the official start of summer (Saturday, June 21). It's time to get your sundresses out of the storage bins, dust off your fishing poles, and fire up your grill. It's also time for outdoor activities, fresh produce, and entertaining family and friends. Entertaining doesn't have to take on epic proportions of preparation work to be memorable. Some of the best parties I've ever attended or thrown focused on simple dishes that gave ample time for visiting with loved ones.
I'm talking REALLY simple, folks—as in deli meats on a tray, sliced bread, condiments, and a pickle tray; baked potatoes with a plethora of toppings in bowls; cheeses, fruits, crackers, and a variety of mustards and honeys; fresh, crusty bread with several jars of jam. . . these are the get-togethers I remember fondly.
Do you see the commonality in each of those parties? It's the build-your-own aspect! It's truly a please- them-all scenario. The host or hostess puts some effort into providing options for everyone, lays them out, and lets everyone construct the dish the perfect dish for her or himself.  It's win-win.
The sure-fire party maker I'm sharing with you today is a Build Your Own Milkshake Bar. It's simple, but guaranteed to make everyone at your party ooh and aah.  
Here's how: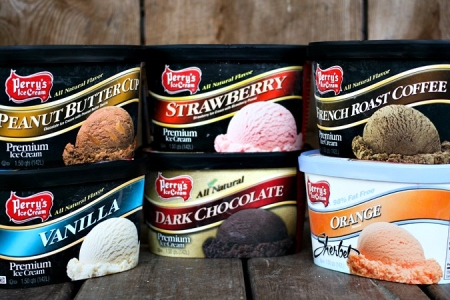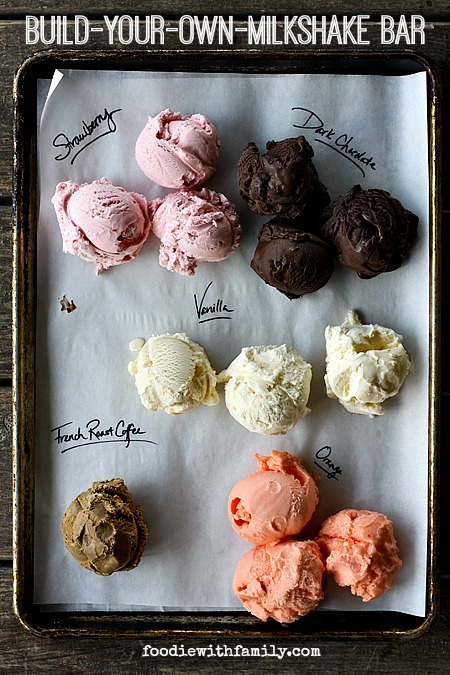 Buy a variety of ice cream flavors and pre-scoop them for ease. Arrange them by type on a parchment-lined cookie sheet and freeze until very firm. It's a nice touch if you can find out your guests' favorite ice cream flavors ahead of time. Accommodate dietary restrictions by having a separate tray for special ice creams (such as vegan, nut-free, lactose-free, etc.) to avoid any issues. When you're ready to party, place the tray on another tray that is filled with ice sprinkled with salt. This helps lower the freezing temperature of water, which makes the ice stay frozen longer.
Pour your milk into a glass jar or pitcher with a lid and a jar of strongly brewed, chilled coffee, and set them in a bucket or bowl of ice to keep cold. You can even put out chilled Guinness beer, rum, Grand Marnier, bourbon, or other "adult" beverages for a more grown-up milkshake. Keep it up high if there are kiddies around though!
Provide a variety of add-ins: Brownies, cookies, cake, chocolate, butterscotch, caramel, coffee, strawberry syrups, fruits (strawberries, blueberries, raspberries, peaches, bananas, or pineapple chunks), frozen and crushed candies (malted milk balls, Snickers, M&Ms, Butterfinger bars, etc.), marshmallow crème, and whipped cream are just a few ideas.
If you have a spare jar for your

Blendtec

, this is the time to break it out. You can wash one while the other is being used.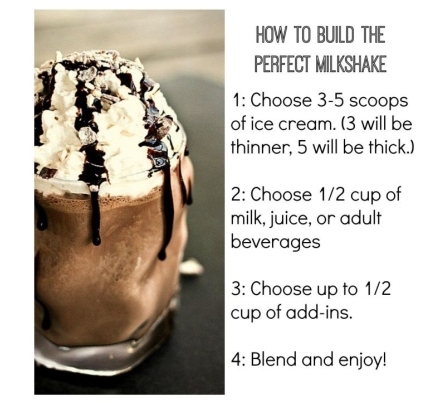 Provide some printed milkshake recipes for folks who aren't feeling creative. Blogs are a great resource for these! You can also provide a guideline for building your own concoction. The image above is a handy-dandy printable for you to use.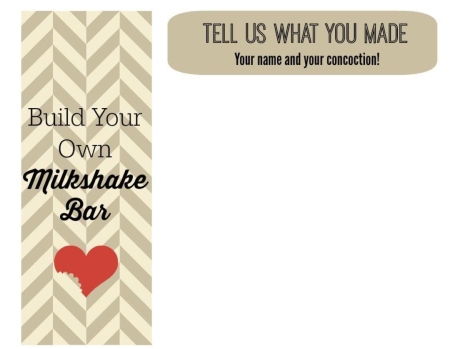 Print out the image above for party goers to write their name and the concoction they whipped up next to it. If you're really on top of things, you can add this to a scrapbook of the party or email it to everyone who attended. Memories!
Encourage guests to pour a few little samples for others of their milkshake by putting small paper cups (like Dixie cups) near the blender. It's more fun to share!
What's your favorite combo for a milkshake?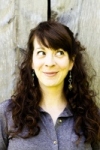 Rebecca, a.k.a. Foodie with Family, is a mom of five perpetually hungry boys, wife of her biggest culinary fan, chicken and dog wrangling mega-nerd who cooks for the love of food and family. She believes in all foods in moderation (except for chocolate) and making great food simply. Her background as a cooking instructor and culinary professional is reflected in her instructional style.
---
3 comments
---
---