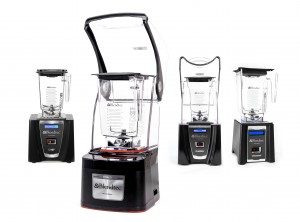 The Stealth, Q-Series, SpaceSaver, and Chef blenders are covered under the new, expanded Blendtec warranty. Professionals have long relied on the quality, innovation, and performance of
Blendtec's commercial
blending equipment. Now the company has introduced another distinctive benefit of owning their machines: 3-year motor base warranties that include all genuine parts and factory labor, with no cycle-count restrictions. These industry-leading warranties apply to the new
Blendtec Stealth
™, as well as all
Q-Series
™ (including ABC models),
SpaceSaver
®, and
Chef
® blenders sold in the United States. The improved warranties are retroactive to products purchased on or after January 1, 2012. "We sell the best blenders in the industry, and now they have the best warranties," said Tom Dickson, Blendtec founder and CEO. "We've achieved a level of product quality and reliability that supports warranties that simply can't be found anywhere else." Blendtec services all of its US equipment right at the factory in Orem, Utah, which ensures exceptional quality and a much faster response time for customers.
Warranty Details
The following warranties (against manufacturing or material defects) apply to Blendtec Stealth, Q-Series, SpaceSaver, and Chef blenders sold in the United States: • Motor base: 3 years parts and labor, no cycle-count restrictions • Sound enclosure: 3 years • Jar (all commercial versions): 1 year • Blade: Life of the jar • Drive socket: Life of the machine The new Blendtec warranties are the strongest, most comprehensive
commercial blender
warranties available—and further demonstrate the company's commitment to the quality and workmanship of its products. By contrast, other commercial blender warranties come with limitations and fine print and often include cycle restrictions or require service through a third party rather than from the factory. Even some so-called 3-year warranties from other manufacturers only provide parts and labor coverage for the first year, leaving the burden of the labor costs for the final 2 years on the customer.
Service Plus™ for Long-Term Security
Along with the improved warranties, Blendtec continues to offer its revolutionary Service Plus program, which provides long-term security to users of the Stealth, Q-Series, SpaceSaver, and Chef blenders in the United States. Provided at no additional cost, the Service Plus program is a lifetime replacement plan that allows customers to purchase a replacement motor base at steeply discounted rates in the event of an out-of-warranty motor failure. This program drastically lowers the lifetime ownership costs of Blendtec blenders and virtually eliminates downtime for foodservice providers.
Effective Dates
Blendtec's new warranties are now in effect and are retroactive for all covered blender models purchased on or after January 1, 2012. As with all warranties, the Blendtec warranties cover manufacturing and material defects and do not cover equipment failures due to abuse, neglect, modification, and improper maintenance.