If you're looking for something you can give Mom this Mother's Day that is easy, fun, and sure to make her smile from ear-to-ear....have I got an idea for you! Whip up a batch of these luxurious bath bombs - - little nuggets of fizzy goodness that will infuse Mom's bath with energizing bubbles and pamper her skin! They're quick and easy to make in your Blendtec and once you "package" them in a cute mason jar, you have a gift fit for a QUEEN...or more importantly, a MOM!  Happy Mother's Day!  
Homemade Bath Bombs For Mom
Dry Ingredients:
1 cup baking soda
½ cup citric acid (I used Fruit Fresh. Citric acid, when combined with baking soda and placed in water, causes a chemical reaction that creates the bubbles!)
½ cup corn starch
Put all the dry ingredients in your Blendtec and pulse a few times until completely combined and smooth. (I ground up oats in my blender and added about 1/4 cup of that too. It gives the bombs a cool textured look AND it's good for your skin as well.)  
Wet Ingredients:
2 ½ tablespoons almond oil (sunflower or another light oil would work too)
¾ tablespoon water
20 drops lavender essential oil
¼ teaspoon Vitamin E oil (optional, but recommended – an antioxidant which preserves the oils)
¼ teaspoon borax
Mix all of the wet ingredients and the borax together in a small bowl.  
(A note on the Vitamin E oil – I haven't ever been able to find the straight oil so I buy Vitamin E gel capsules. Just snip off the end of the capsule and squeeze out the oil. It took about 3 capsules to get ¼ teaspoon.) Add to your Blendtec jar with the dry ingredients. Pulse a few times until combined. The mixture should look a bit chunky.
Pour the mixture into a bowl and pour some witch hazel into a spray bottle and spray your mixture 2-3 times. The mixture should start to hold together when pressed with your hand, like moist fine sand. If it's not sticking together, spray a little more witch hazel.  
Pack TIGHTLY into molds. I used this fun flower shaped silicone mold – but you can use just about anything! Even a small (1/4 cup) measuring cup would work. Using a flexible silicone model helps you slide the cubes out without breaking them. Let the bath bombs dry and harden overnight before you pick them up. The recipe made about 20 bath bombs that were 1 ¾ inches in diameter.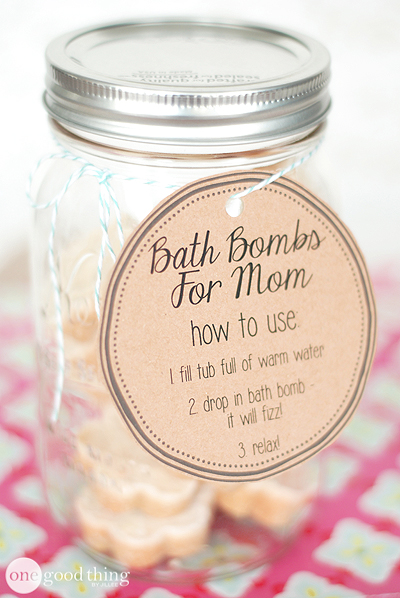 Now all you have to do is pack them up in cute container, write or print out a tag with instructions how to use them (you can download the one I made below), punch a hole in the top, thread the tag with ribbon or twine, and tie it around the jar!  
A simple Mother's Day gift that any woman is sure to love. Just be sure to give her the morning off so she has time for a relaxing bath. :-)  
  For more great tips and fun ideas, visit One Good Thing by Jillee.
---
8 comments
---
---