Anatomy of a Blender, Part 6
Let's dive once again into the inner workings of Blendtec blenders. This time, we're going to look at In which we examine a true masterpiece of engineering.
Feature #10: Steel-on-Steel Power
In a Blendtec blender, the power is transferred directly from the motor to the blade. All the intervening parts are steel and machined for a precision fit. This steel-on-steel approach results in lower vibration, reduced noise, and increased reliability.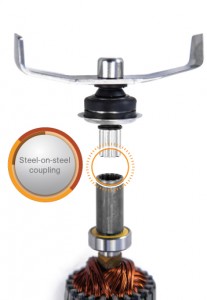 Blendtec's steel-on-steel power train is more reliable, lasts longer, and can transfer greater loads to the blade. In nearly all other blenders, the power goes from the motor through a breakable plastic coupling. The coupling is designed to break if the motor overloads, in order to protect the motor. Unfortunately, this design also limits blending power and decreases the life of the coupling.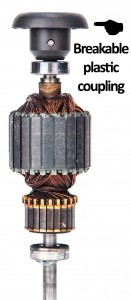 A typical blender motor includes a plastic breakable coupling, which limits power transfer from the motor and reduces jar life.[/caption] A Blendtec blender, on the other hand, automatically detects an overload condition and shuts down, eliminating the need for a breakable plastic coupling. Have you ever noticed whether your blender has a breakable plastic coupling? If so, now you know why! Share your thoughts in the comments section below.
---
17 comments
---
---