Whether you're choosing to adopt a vegan diet for personal health reasons, or your motivation is more morality centered, there are any number of benefits that go along with embracing the vegan lifestyle. However, hidden among the many advantages of being vegan, lies one glaring disadvantage: It can be difficult to find good recipes.
Seriously, sometimes it feels as though there isn't a dish in the world that doesn't contain some sort of meat, eggs, cheese, or other animal products. What can you do? Well, we suppose that you could resort to living a life spent munching on raw vegetables and drinking soymilk, but where's the fun in that? Instead, allow us to share with you seven of our most favorite 100% vegan dishes, complete with recipes so that you can whip them up in the comfort of your own home. So, sit back and relax, and get ready to have your saliva glands kick it into overdrive, while we take you through a week's worth of vegan meals.
7 Vegan Meals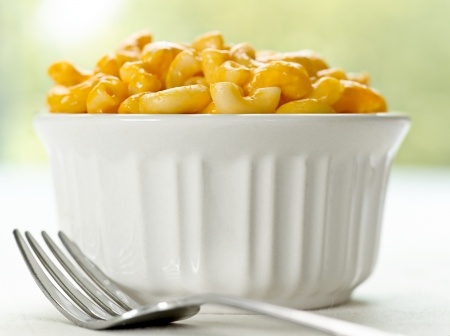 At seeing the name of this first dish, most of you should be having alarm bells go off in your head, because cheese isn't exactly vegan. But don't worry, not only is the sauce (and every other bit) of this dish completely animal-product free, but it may very well also end up being the best tasting mac' and cheese you've ever had. Special thanks go out to Allison Rivers Samson and VegNews.com for the recipe.
Ingredients
4 qt water
1 tbsp sea salt
8 oz macaroni
4 slices of bread (torn into large pieces)
2 tbsp  + ⅓ c non-hydrogenated margarine
2 tbsp  shallots (peeled and chopped)
1 cup red or yellow potatoes (peeled and chopped)
¼ cup carrots (peeled and chopped)
⅓ cup onion (peeled and chopped)
1 cup water
¼ cup raw cashews
2 tsp sea salt
¼ tsp garlic (minced)
¼  tsp Dijon mustard
1 tbsp lemon juice (freshly squeezed)
¼ tsp black pepper
⅛ tsp cayenne
¼ tsp paprika
Directions
Add your 1 t sea salt and 4 qt water to a large pot, and bring it to boil. Add your macaroni, and cook it until al dente (cooked but firm). Drain the pasta into a colander and rinse it with cold water. Set the pasta aside.
Using a food processor, combine your bread and 2 tbsp of margarine, and blend until the mixture reaches a medium-fine texture. Set the bread crumbs aside.
Preheat oven to 350°F (175°C).
Add your carrots, onion, potatoes, shallots, and 1 c water to a saucepan and bring it to a boil. Place a cover on the pan and allow it to simmer for 15 minutes or until vegetables have become soft.
Using a blender, combine the cashews, black pepper, cayenne, garlic, lemon juice, mustard, 2 tbsp sea salt, and ⅓ c margarine. Add the softened vegetables and water and blend until smooth. This will give you your cheese sauce.
Add the cooked pasta and the cheese sauce to a large bowl, and toss until the sauce completely covers the pasta. Spread the pasta into a 9 x 12 inch casserole dish and sprinkle your bread crumbs over the top of the mixture. Dust with paprika.
Bake the dish for 30 minutes, or until the cheese sauce begins to bubble and the top has turned a golden-brown color.
Serve and enjoy!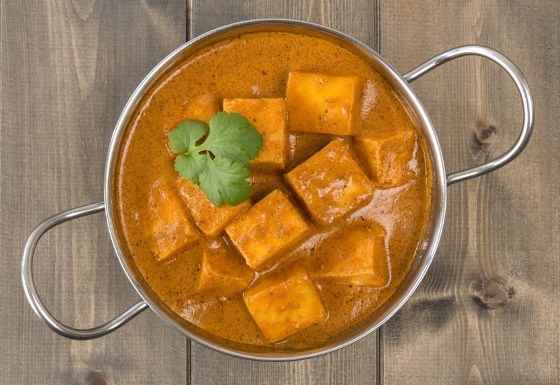 For many vegans, tofu is an absolutely vital part of a healthy diet. However, while many find the subtle taste and texture of tofu delightful, there are others who would just as soon avoid it. Kalyn at Kalynskitchen.com aims to convert those tofu detractors, by giving them a deliciously spicy and flavorful treat, in the form of Spicy Vegan Peanut Butter Tofu with Sriracha.
Ingredients
14–16 oz firm or extra firm tofu
1 tbsp peanut oil
Several large garlic cloves (sliced)
large piece of ginger root (sliced)
2–3 tbsp diagonally sliced green onions (for garnish)
3 tbsp soy sauce (reduced sodium is fine)
3 tbsp rice vinegar (not seasoned rice vinegar)
2 tbsp smooth natural peanut butter (use the lowest sugar peanut butter you can find)
1 tbsp agave nectar
2 tbsp vegetable stock or water
1 tbsp Sriracha Rooster Sauce (more or less to taste)
Directions
Using a colander, drain the tofu, and then place the tofu between double layers of paper towels and gently press down on the top paper towel to help absorb any residual liquid. Once you feel as though most of the liquid has been absorbed, cut the tofu lengthwise into strips approximately 1 inch wide. Place the tofu aside.
Using a wire whisk, combine your agave, peanut butter, rice vinegar, soy sauce, and stock or water. Add the Sriracha sauce to taste (Sriracha can be very spicy, and if you've never tried it before, you should probably start with a small amount and then add more until you reach your prefered spiciness level).
Heat a dry wok or heavy pan over high heat for approximately 1 minute. Add the peanut oil, and heat for approximately 30 seconds more. Add the sliced garlic and ginger, and cook for another 30 seconds or so (until they start to become fragrant). Remove the garlic and ginger and discard.
Add your tofu pieces to the oil, and lower the heat to medium high. Cook the tofu for approximately 7–8 minutes, turning it regularly until it is nicely browned (but not burnt) on both sides.
Once the tofu is browned, add the sauce and reduce the heat to low. Cook the mixture until the sauce thickens and coats the tofu pieces. Be careful not to cook the sauce for too long, otherwise it will become too thick to use. Remove the pan from the heat. Remove the tofu pieces and place them on a plate, and then pour the sauce over the top of them.
Garnish the dish with sliced green onions and serve hot.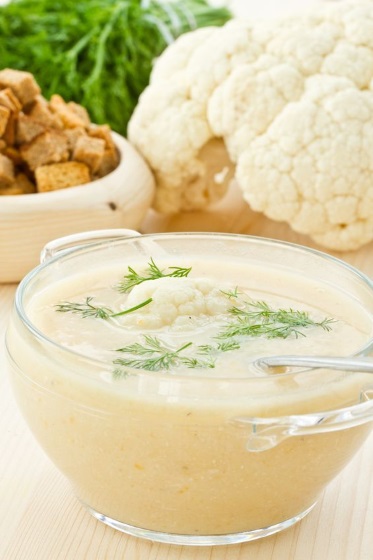 There are few foods as wholesome and comforting as soup, especially once the weather starts to turn cold, and especially when the soup in question is nice and rich. But while most creamy soups may be off-limits for those living the vegan lifestyle (what with the cream and all), Stephanie Moram at Goodgirlgonegreen.com has managed to create an exceptional recipe for a soup that will satisfy your hunger, warm your body, and tantalize your tastebuds.
Ingredients
1 head of cauliflower
1 large leek or 2 small leeks (chopped)
3 garlic cloves (chopped)
1–2 tbsp of coconut oil (for sautéing)
3–4 cups of steamed water
3 tbsp of hemp seeds
½ cup of cashews (soaked for 4 hours)
Himalayan salt and pepper to taste
Parsley or dill (for garnish)
Directions
Steam your cauliflower for approximately 10 minutes, or until it is soft. Do not discard the water (hereafter referred to as "steamed water").
Sauté your chopped garlic and leeks in coconut oil in a cast-iron pan, stirring constantly so as not to burn the ingredients. Once they have started to brown, remove them from the heat.
Once the cauliflower, garlic, and leeks have cooled, combine them in a blender and add 3–4 cups of your steamed water, as well as the cashews and hemp seeds.
Blend together until the soup reaches a creamy consistency.
Serve hot (reheating may be required)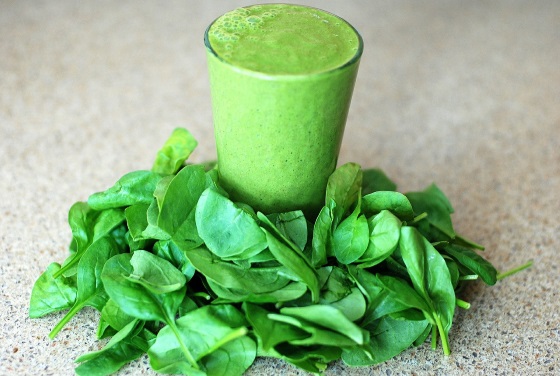 Sometimes you need your meal to be fast, easy, and capable of being eaten while on the go. For times like these, there are few options that are better for you than a nice green smoothie—or rather, in this case, a green thickie. This recipe will show you how to turn an entire meal's worth of vegan foods into a tasty drink that will empower your body, enliven your mind, and not disrupt your busy schedule. And best of all, once you get the hang of this basic recipe, you can start experimenting by adding other ingredients, because the only thing better than a nutritious and delicious smoothie, is a nutritious and delicious smoothie that has been tailored to your own specific tastes. Special thanks to Katherine Kyle at Greenthickies.com for this invaluable contribution.
Ingredients
2 cups water, dairy free milk, or freshly squeezed fruit/veg juice
2 cups spinach, chard, collard greens, lettuce, kale or other mild greens
1 cup oats, quinoa, buckwheat or sweet potato
¼ cup sunflower seeds, or any other plain seeds or nuts (unsalted and un-roasted)
¼ cup dates, date paste, or other dried fruit or healthy sweetener to taste
2 medium bananas or
2 small mangos (or 2–4 c of any other fruit—such as berries)
Directions
In a blender, combine your dry ingredients and your liquid. Blend together for a short time.
Add your greens to the mixture, and blend for a short time.
Add the rest of the ingredients, and then blend until the resultant mixture is smooth. This may take up to 10 minutes (for lower speed blenders).
By adding the ingredients at different times, you'll be able to fit all of your ingredients into the blender, as well as prevent your fruits from becoming too hot. If you want a thinner smoothie, simply add more water.
Drink up and enjoy the fact that you're getting an entire vegan meal's-worth of nutrients in the form of a refreshing smoothie!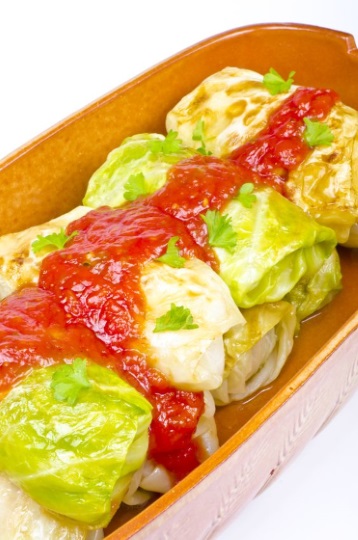 Enjoying old-world European dishes while adhering to a new-world vegan lifestyle can be tough. After all, the accepted "food pyramid" used to be a lot heavier in meat and animal products. Still, with a bit of creativity, you can turn almost any non-vegan dish into a totally vegan meal. Take these stuffed cabbage rolls, for instance, which come to us courtesy of a guest post by Jackie on Vegan Miam.
Ingredients
1 head of cabbage
1 tsp salt
2½ cups vegetable broth, hot
2 cup TVP (textured vegetable protein)
3 tbsp liquid aminos or soy sauce
1½ cups cooked green lentils
½ cup pecans
⅓ cup white onion, diced
¼ cup smoky sun-dried tomato slices
2 tbsp olive oil
½ cup rolled oats
¼ tsp salt
¼ tsp black pepper
2 cans of organic tomato sauce
¾ tsp Italian seasoning
½ tsp onion powder
¼ tsp garlic powder
¼ tsp salt
⅛ tsp black pepper
⅛ tsp crushed red pepper
Directions
Cut out the core from the bottom of the cabbage head and place it in a large pot filled with water. Add 1 tsp of salt and bring the water to boil over high heat.
Reduce the heat to medium an allow the water to boil for 15–20 minutes.
Mix the vegetable broth and liquid aminos, and soak the TVP granules in the mixture for about 10 minutes. They should soak up most of the liquid (if they don't, then leave them in the mixture for a bit longer).
Transfer your TVP mixture over to a food processor, and combine it with the lentils, olive oil, onion, pecans,  ¼ tsp salt and ¼ tsp black pepper, and sun dried tomatoes. Pulse the food processor until the resultant mixture has the texture of ground beef.
Remove the mixture, and fold the rolled oats into it. Set the mixture aside. This will be your filling.
After the cabbage has boiled for the allotted time, drain it in a colander. Allow it to drain and cool.
Carefully peel off the leaves from the cabbage so as not to tear them, and then cut the rib from off of each piece of lettuce so that the individual leaves are thinner and easier to roll.
Place approximately ½ cup of your filling into each cabbage leaf (depending on the size of the leaves). Tuck in the sides of each leaf, roll them completely, and place them loose-side down in a casserole dish. Continue until all of the filling has been used.
Preheat the oven to 375°F (190°C).
Place a medium saucepan on medium heat, and pour in your tomato sauce. Stir in your garlic powder, Italian seasoning, onion powder, ⅛ tsp black pepper, ¼ tsp salt, and tomato sauce, and allow it to heat until it begins to simmer.
Carefully pour the mixture over the cabbage rolls in the casserole dish, and then allow the rolls to bake in the oven for 20 minutes.
Allow your golabkis to cool for 5–10 minutes before serving.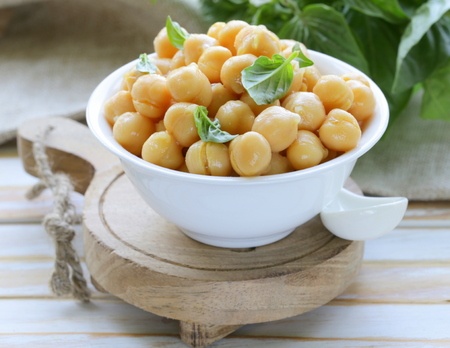 Breakfast is the most important meal of the day, and few of us can deny that dinner tends to get more than its fair share of attention, but who really has time to whip up a nice lunch? Most of us end up settling for a quick snack, a microwaved meal, or even fast food, but we could be doing better. These chickpea salad wraps—shared with us by Angela at Ohsheglows.com—might be the answer we're looking for. Easy to make, delicious to eat, and totally vegan, these wraps will have you enjoying your lunch time like never before.
Ingredients
1 15-oz can chickpeas (or 1.5 c cooked chickpeas)
½ cup celery (chopped)
2 tbsp red onion (chopped)
3 tbsp dill pickle (chopped)
1 tbsp fresh dill (minced)
1 garlic clove (minced)
½ tsp regular mustard
2 tbsp fresh lemon juice
¼ cups sunflower seeds (or pecans/walnuts)
Salt/herbamare and pepper (to taste)
Wrap, pita, bread, or crackers of your choice.
Directions
Preheat oven to 325°F (165°C). Toast your sunflower seeds for about 11 minutes
Place your toasted sunflower seeds in a bowl along with the other ingredients (minus the salt/herbamare and pepper), and mix it all together. Slightly mash the chickpeas with a fork as you do so.
Add salt/herbamare and pepper to taste.
Use as a filling for a wrap or pita, or eat it as a topping on crackers or even rice cakes.
This mixture keeps very well, so feel free to put it together ahead of time, and refrigerate it until you're in the mood for a healthy and easy lunch!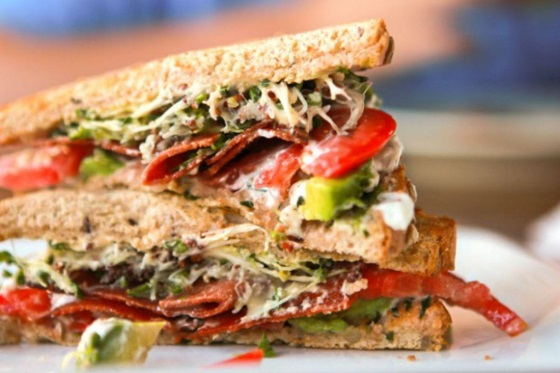 Speaking of lunch, here's one more tasty treat that can give the middle of your day the boost it needs. Of course, there's nothing wrong with a sandwich for dinner, either, and this particular sandwich is one that will satisfy your cravings at any time, day or night. Oh, and once you have the ingredients, you can whip the whole thing up in a matter of just a few minutes. How's that for an easy meal? Special thanks to Brook Lark at Cheekykitchen.com for the recipe.
Ingredients
⅓ cup Vegenaise
2 tbsp chopped fresh basil
½ lemon, zested
Fresh ground pepper (to taste)
4 slices good bread (toasted)
1 ripe tomato (sliced thin)
1 avocado (pitted, peeled, and sliced thin)
8 slices vegetarian bacon (cooked until crisp)
½ cup broccoli sprouts
Directions
Combine your basil, lemon, pepper, and Vegenaise together in a bowl and stir until properly mixed.
Place your avocado slices, broccoli, tomatoes, and vegetarian bacon on top of two slices of the bread.
Place a liberal amount of the Vegenaise-basil mixture on top of the other two slices of bread.
Put the slices together, and your sandwich is complete! Serve immediately so that the bread doesn't get soggy.
Enjoy your simple-yet-glorious meal, and be sure to have enough of the ingredients available so that you can do it all over again the next time your stomach is growling.
Do you have any favorite vegan recipes of your own? Post them in the comments section and share the love!
---
2 comments
---
---