Those who suffer from celiac disease or gluten-sensitivity aren't the only ones who are making a conscious decision to avoid foods that contain gluten. The gluten-free diet has been gaining acceptance recently among the general population, and as a result, more and more people are deciding to see what life is like beyond the world of gluten-heavy foods. If this sounds like something you might want to try, then we've got good news for you: You can enjoy amazing smoothies without having to give into gluten. Try our week's worth of gluten-free smoothies and see for yourself just how satisfying they can be. Just be aware that certain brands of certain ingredients might contain small amounts of gluten; always be sure to check food labels before assuming that something is totally gluten-free.
7 Gluten Free Smoothies
1. Orange Creamsicle Smoothie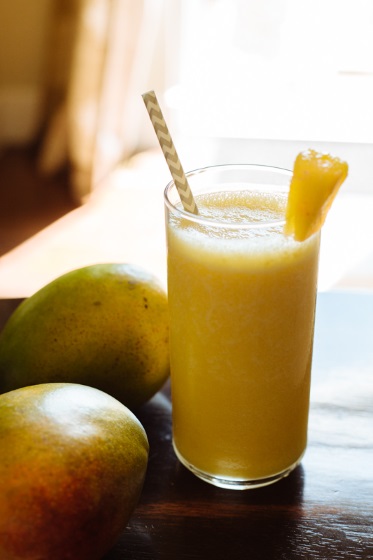 For a refreshing gluten-free snack that tastes good enough to pass for a milkshake (while still managing to remain healthy), give the Orange Creamsicle Smoothie a try. It's rich in calcium, contains several servings of fruit, and makes a great breakfast when you're in a rush.
Ingredients
¾ cup low-fat milk
6 oz light vanilla Greek yogurt
1 orange, peeled and halved
1 cup frozen mango cubes or canned pineapple
1 tsp vanilla extract
1 cup ice
Directions
Combine all of the ingredients together in a blender.
Blend together on high until smooth. Serve.
2. Raspberry Vanilla Smoothie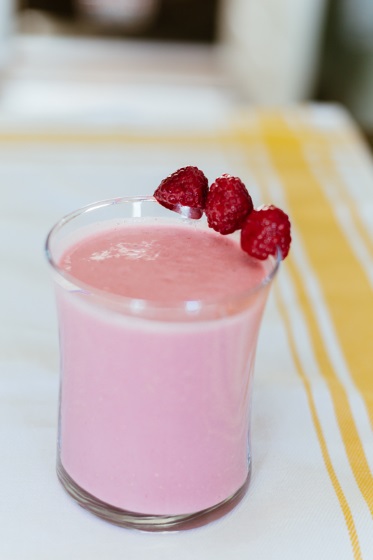 As the summer draws to a close, many of us are getting ready to gear up for the holiday season. Well, it's never too early to start preparing, and this particular smoothie seems as though it was designed specifically to compliment the color scheme of Valentine's Day. But aside from featuring an alluringly vibrant pink color, the Raspberry Vanilla Smoothie is also creamy, sweet, and low in calories.
Ingredients

½ cup unsweetened vanilla almond milk
6 oz vanilla Greek yogurt
1 cup frozen raspberries
Directions
Place all ingredients together in a blender.
Blend until the mixture becomes smooth. Serve.
3. Raspberry Mango Smoothie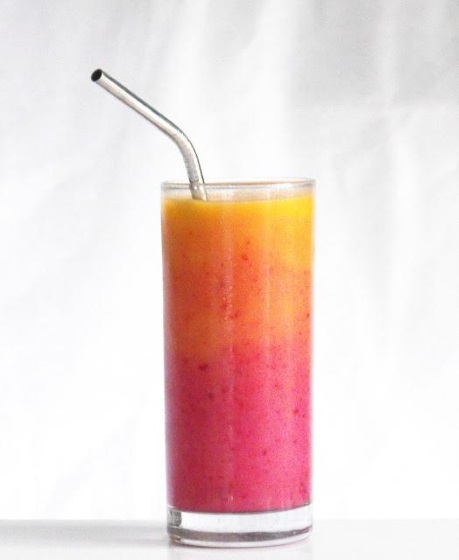 Adrienne at craftylittlegnome.com was kind enough to let us use this fascinating recipe.
Why is it that some of the best tasting, most nutritious smoothies are also the best looking? We don't know, but the Raspberry Mango Smoothie certainly fits the mold. The final product takes on a beautiful layered effect, that will have you wishing you could drink your smoothie and admire it too.
Ingredients
1½ cups milk or milk alternative
1½ cups orange juice
1 cups raspberries, frozen
1 cup mango, frozen
Directions
Combine the frozen raspberries and milk in a blender. Blend until smooth.
Set aside the blended mixture, clean out the blender, and then blend together the mango and orange juice.
Fill your glass (or glasses) halfway with the raspberry/milk mixture, and then slowly add the mango/orange juice mixture so that the end result achieves a nice layered appearance. Serve.
4. Minty Morning Green Smoothie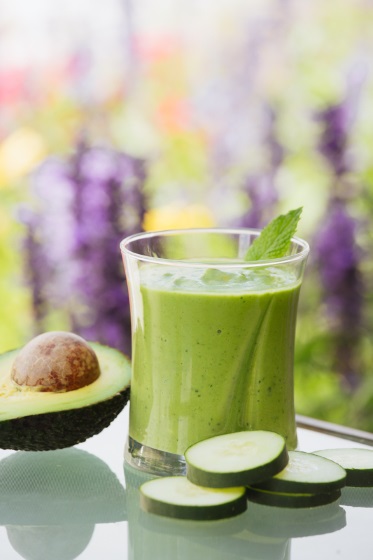 Emily over at
theurbanecolife.com
has developed a recipe that is sure to spark your interest.
A great way to start the day is with a healthy breakfast. But who says that you have to be able to chew it? The Minty Morning Green Smoothie gives you all of the nutrients you'll need to stay awake and healthy through the beginning of your day. And, as an added bonus, it also happens to taste really good.
Ingredients
½ coconut milk
½ water
½ lemon juice, freshly squeezed
½ banana, frozen and quartered
½ avocado, small
1 c baby spinach
½ raw zucchini or cucumber
1 tbsp fresh mint Honey or stevia to sweeten, optional
Dash of cinnamon, optional
Directions
Combine all ingredients together in a blender.
Blend until the mixture reaches the desired consistency. Serve.
5. Pumpkin Chai Smoothie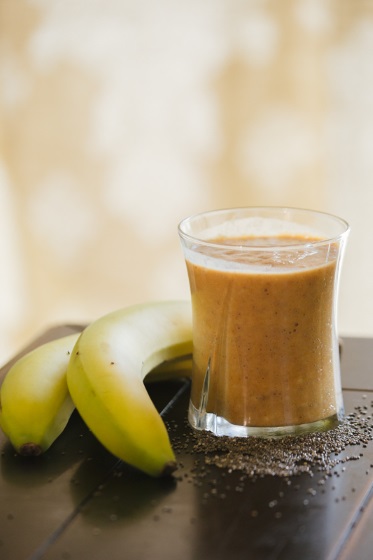 Just in time for the upcoming Halloween season, the Pumpkin Chai Smoothie is gluten-free, refined-sugar free, and potentially vegan (just leave out the honey and the milk), while also being easy to prepare and delicious to enjoy. And did we mention how healthy it is?
Ingredients
1 cup unsweetened milk or almond milk
½ cup organic pumpkin puree
1 organic banana, frozen and quartered
1 tbsp maple syrup or honey
1 tsp vanilla extract
¼ tsp cinnamon
⅛ tsp nutmeg
⅛ tsp ginger
Dash of black pepper
Dash of ground cloves
Dash of ground cardamom
Directions
Combine all ingredients together in a blender.
Blend until smooth and creamy. Serve immediately.
6. Mango Smoothie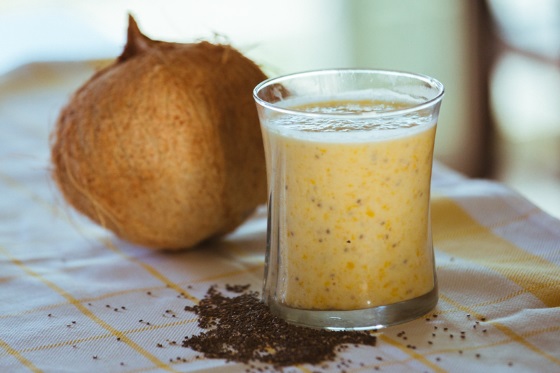 Heidi of
foodiecrush.com
shares with us this particularly flavorful concoction.
Bananas are an integral part of many smoothies. They're tasty, nutritious, and lend a creamy texture to your smoothies that can be otherwise difficult to come by. When combined with mangoes (and a few other choice ingredients), you end up with a special treat that can also help keep your body happy and healthy throughout the entire day.
Ingredients
1 cup nonfat milk
1 banana
1 cup chopped mango
1 cup Greek yogurt (plain, vanilla, or honey flavored)
⅛ cup unsweetened coconut
1 tsp vanilla
1 tbsp honey
Chia seeds, optional
1½ cups ice cubes
 Directions
Place all ingredients together in a blender.
Blend for about 3 minutes, or until smooth.
Sprinkle chia seeds on top (optional) and serve.
7. Banana Cinnamon Smoothie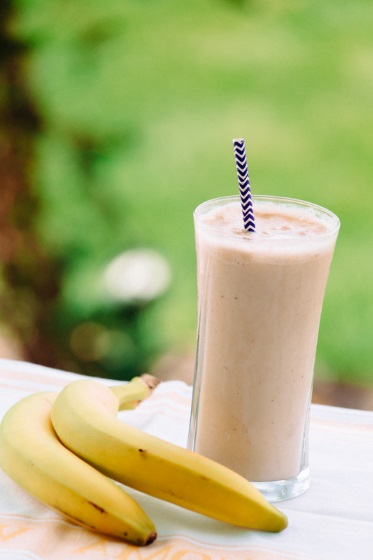 Light, refreshing, and deliciously chocolaty, the Chocolate Banana Smoothie is a gluten-free taste sensation that's just sweet enough to make you smile.
Ingredients
1 cup unsweetened almond milk
1 banana, ripe
1 tbsp natural cinnamon
1 tsp gluten free vanilla extract
1 tbsp organic honey
2 cups crushed ice
Directions
Combine all ingredients together in a blender.
Mix for about 1 minute, or until desired consistency is reached. Serve.
Do you have any favorite gluten-free smoothie recipes that we missed? Use the comments section to share them with the world!
---
4 comments
---
---