5 Thanksgiving Side Dishes
5 Thanksgiving Side Dishes
Thanksgiving is a time to recognize all that we have to be grateful for. It's a time to surround ourselves with friends and family. It's a time to rededicate ourselves to the cause of helping others. Unfortunately, for many it's also a time to lose their minds while stressing out over trying to prepare the perfect Thanksgiving dinner. No other meal throughout the entire year brings with it such high expectations, and as such, no other meal has as great of potential for ruin.
The problem is that many would-be chefs focus all of their attention on preparing the main course, only to inadvertently neglect the equally-important side dishes. However, with a little help, even the most amatuer culinarian can easily prepare a Thanksgiving feast—sides and all—which will have guests coming back for seconds (not to mentions thirds, fourths, fifths, etc.).
Here are five of our personal recommendations for easy-to-prepare side dishes, that also just happen to taste great.
1. Creamy Parmesan Garlic Mashed Potatoes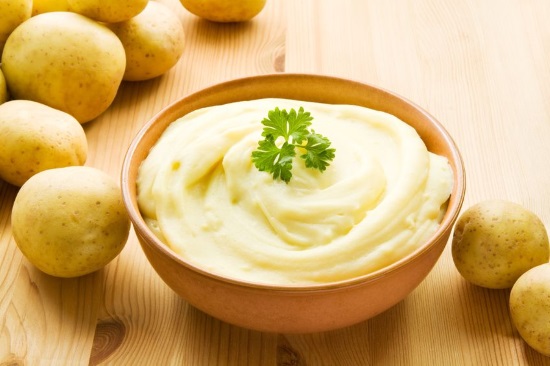 Aside from maybe the turkey, there isn't a food more closely associated with Thanksgiving than mashed potatoes. As an inexperienced or hurried host, you may be tempted to just whip together some instant mashed potatoes and call it good, but to really wow your visitors, try your hand at Creamy Parmesan Garlic Mashed Potatoes—recipe courtesy of Laurie at Simplyscratch.com.
Ingredients
3–3 ½ pounds Yukon Gold potatoes (peeled and quartered)
½ tbsp kosher salt
2 cups half-and-half milk
4 tbsp butter (unsalted)
3 cloves fresh garlic (pressed through a garlic press)
½ cup Parmesan cheese (freshly grated)
Salt and black pepper (to taste)
Directions
Fill a large pot with cold water, and then add potatoes and ½ tbsp kosher salt. Cook until soft (a fork should be able to easily pierce the potato).
In a saucepan, combine pressed garlic and 4 tbsp butter. Saute the garlic on medium heat until the garlic is soft. Add 2 cups milk, and then reduce heat.
Drain cooked potatoes, and place them in a large blender, along with the the garlic-milk mixture from the saucepan. Pulse blend until there are no lumps in the potatoes (warning: if you overblend, the potatoes may end up overly tacky and thick, rather than creamy, so be as gentle as possible. You may even choose to simply mash the potatoes by hand with a fork or a potato masher, though you'll probably be left with more lumps).
Add parmesan, and then season with salt and pepper to taste. These can be served with or without gravy.
2. Blender Batter Cornbread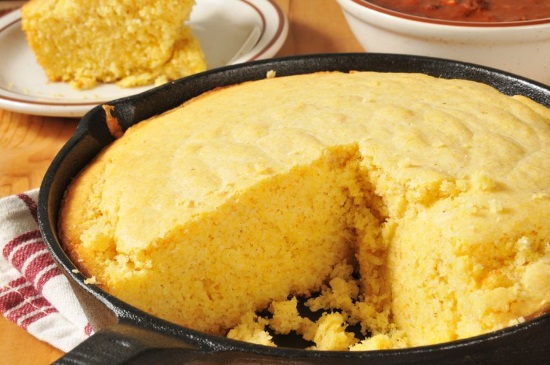 Buns, rolls, and biscuits are all well and good for regular occasions, but for a truly American meal, you need cornbread. After all, corn is a grain native to the Americas, so there's no better way to recreate your own Pilgrim feast than by including it in your Thanksgiving dinner preparations.
This recipe, adapted by Alyss at Realfoodmyway.com from Sue Gregg's Whole Grain Baking cookbook, delivers the undeniably delicious taste of homemade cornbread, at a fraction of the difficulty.
Ingredients
⅔ cup coarse ground polenta
1 cup kefir, buttermilk, or thinned yogurt
¼ cup butter (melted)
2 eggs
2 tsp baking powder
1 tsp salt
1 cup white flour (unbleached)
Directions
The evening before you plan on making the cornbread, combine the polenta and kefir in a bowl. Stir until mixed, and allow to sit out at room temperature overnight.
The next day, pour the polenta-kefir mix into a blender, and blend it. Start slowly, and make sure that the mixture is blending evenly.
Add eggs. Blend.
Add melted butter. Blend.
In a separate bowl, combine flour, baking powder, and salt. Add the mixture from the blender, and stir until combined. Don't attempt to completely mix away all of the lumps, or the finished product may be too tough.
Preheat oven to 350ºF.
Pour the batter into a greased baking pan. Cook in the oven for 25–30 minutes. Test the bread by inserting a toothpick into the center (if it comes out wet, the bread will need to be baked longer).
Serve with butter and honey.
3. Cinnamon and Ginger Cranberry Sauce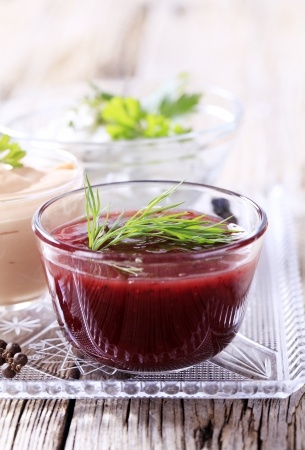 While most Thanksgiving foods generally fall into the 'salty' category, cranberry sauce compliments the rest of the meal by providing a touch of tart sweetness. But to really set your cranberry sauce apart from the Jello-like blob that can be purchased in cans, you should try this unique recipe for Cinnamon and Ginger Cranberry Sauce, courtesy of Chow.com.
Ingredients
4 cups cranberries (fresh or frozen)
1 cup water (filtered)
½ cup orange juice (fresh squeezed)
½ cup raisins
½ cup dried cherries
4 tbsp agave nectar (or more to taste)
1 tbsp orange zest
1 tsp fresh ginger juice (grate fresh ginger and squeeze out the juice) or more to taste
1 ½ tsp cinnamon (more or less depending on taste)
Directions
Place the water, raisins, cherries, cranberries, and orange juice together in a pot. Bring to boil.
Reduce heat and simmer until some of the cranberries begin to burst (about 10 minutes).
Add agave nectar, ginger juice, orange zest, and cinnamon. Simmer for a few more minutes.
Remove from heat and allow to cool.
Use a blender or stick blender to smooth out consistency.
Allow the mixture to chill in the refrigerator for several hours. Serve cold.
4. Turkey Gravy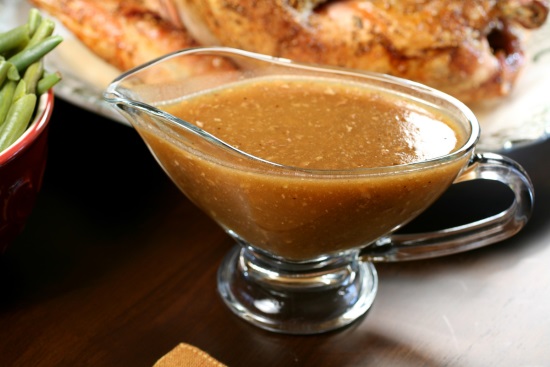 Gravy. It's the all-purpose topping of the Thanksgiving meal. With the possible exception of cranberry sauce, gravy can (and should) be poured over every main course and side dish throughout the entirety of the dinner. But while it's a fairly simple task to whip up gravy from a packet, the results are generally less-than stellar. Instead, consider this recipe for easy homemade Turkey Gravy. Special thanks to Andrea at Foodembrace.com for coming up with it.
Ingredients
Extra stock for the gravy (as needed)
Juice from the roasting pan (as much as is available, you can remove some of the fat if you like)
3–4 pieces roasted onions
1–2 pieces roasted carrots
2 cloves roasted garlic
3 tbsp flour (either all-purpose or white whole wheat)
Extra seasonings to taste (salt, pepper, garlic powder, poultry seasoning, etc.)
Directions
In a blender, combine roasted onions, carrots, and garlic.
Add juice from roasting pan.
Add flour. Blend until smooth.
Pour mixture into saucepan and heat until it begins to simmer.
If the gravy is getting too thick, add some of the extra stock to thin it out.
Allow mixture to simmer for 5–7 minutes.
Add additional seasoning to taste.
Serve hot.
5. Ultra Smooth Homemade Hummus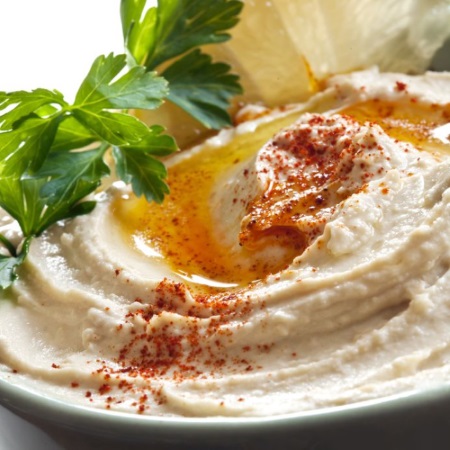 Rounding out our easy Thanksgiving side dishes is this heavenly tasting hummus recipe, which comes to us from Courtney at Neighborfoodblog.com. As those who've tried homemade hummus before can probably attest, there's often just something off about the taste and texture of hummus that you blend yourself. Well, more often than not, this is because the garbanzo beans/chickpeas used haven't been skinned before being tossed into the blender. This recipe corrects that error, resulting in deliciously-smooth hummus worthy of holiday celebration.
Ingredients
1 (15 oz) can chickpeas (skinned)
½ cup tahini paste
Juice of ½ a lemon
2 small cloves garlic (roughly chopped)
¾ teaspoon salt (or more to taste)
Reserved chickpea water from the can
Olive oil, parsley, paprika (for serving, to taste)
For directions, please visit Neighborfoodblog.com
---