The 4th of July is in three days! This is a great time of year. It's a chance to remember the wonderful history of our country and how far we've come. It's a time to remember those great men and women of the past and present who fought and still fight for the privileges and freedoms we get to enjoy. It's a time to enjoy family, friends, food, and fireworks! To make this time even more enjoyable for you, we've put together five delicious Blendtec recipes for you to enjoy. Try one, or all five, and if these ones aren't what you're looking for, we have hundreds of other blender recipes you can try.
Happy 4th of July!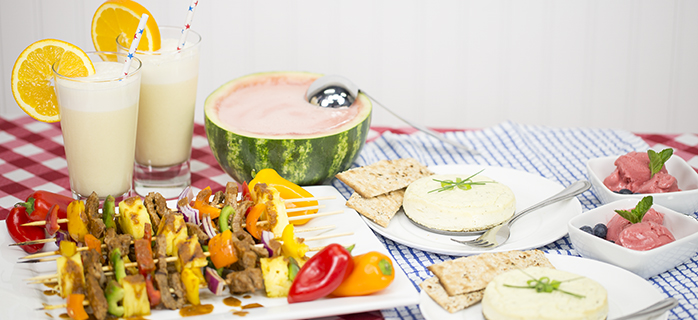 This savory cheesecake is a great way to enjoy fresh vegetables or crackers.
1 slice whole wheat bread, toasted and quartered
1 large egg
3 large egg whites
4-(8 oz) pkgs Neufchâtel cheese, quartered
6 oz artichoke hearts packed in water, drained
2
green onions, trimmed and roughly chopped
1 clove 
garlic, roughly chopped
½ tsp dried basil
Preheat oven to 325°F. Butter toast and add toast to WildSide jar. Secure lid and press "Pulse" 4–6 times or until desired crumb size is reached. Press crumb mixture onto bottom of 9-inch springform pan. Add egg, egg whites, and Neufchâtel cheese to jar. Secure lid and "Pulse" 4–6 times. Add artichokes, green onions, garlic, feta cheese, oregano, and basil. Secure lid and "Pulse" 3–5 times. Pour blend over crust, and bake 35 minutes or until center is nearly set. Cool on rack for 30 minutes. Cover and chill at least 4 hours before serving.
6 c watermelon chunks, seedless
1 c 
fat-free vanilla yogurt
juice of ½ lemon
1 tbsp agave nectar
pinch of ginger
pinch of nutmeg
Add ingredients to WildSide jar in order listed and secure lid. Select the "Soups" setting and chill for at least 2 hours before serving.
1½ c vegetable juice
⅓ c balsamic vinegar
¼ c Worcestershire sauce
¼ c olive oil
1 tbsp black pepper
1 tbsp kosher or sea salt
6 cloves garlic
1 yellow onion, roughly chopped
1 tsp dried thyme
Add ingredients to WildSide jar in order listed. Select Speed 5 and run for 10 seconds, then stop the cycle. In the refrigerator, marinate your favorite roast overnight or your favorite steaks for 1 hour, then cook how you normally would.
Dairy-Free Strawberry Ice Cream
¼ c coconut milk
2½ tbsp granulated sugar
½ tsp fresh lemon juice
8 oz frozen strawberries, approximately 1½ rounded cups
Add ingredients to Twister jar in order listed then place Twister lid on jar. Hold Twister lid and with other hand, select "Speed Up" to Speed 7. Run for 40-50 seconds or until smooth, turning Twister lid counter-clockwise during blending.
4 fl oz vodka
1½ c orange juice
1 tbsp agave nectar
1 c vanilla ice cream, reduced fat
1½ c ice cubes
Add ingredients to FourSide or WildSide jar in order listed and secure lid. Select "Sauces" and serve.