5 Baby Food Recipes You can Make in Your Blender
When your baby gets to be about 4–6 months old, you may notice her beginning to show an interest in food other than milk. She may seem unsatisfied after nursing or finishing her bottle, and might even try to grab food from off of your plate! When this happens, it might be time to begin to introduce certain soft solid foods into your baby's diet. But before you rush off to the grocery store and start dropping money on tiny jars of pureed fruits and veggies, ask yourself this one simple question: Do you really need to buy baby food, when you could be making it yourself?
Store bought baby food generally contains more sugar, more sodium, and less fiber than the equivalent amount made at home from the same ingredients. Additionally, in order for store bought baby food to be able to retain a shelf life of approximately two years, the food itself must be sterilized—a process which also has been known to reduce the amount of vitamins and other nutrients in the food itself, as well as have a negative effect on flavor. Oh, and let's not forget about the price. Most store bought baby food costs two to three times as much as the same amount of baby food prepared at home.
So, if you have a blender and a few spare minutes, why not give making your own baby food a try? Here are five easy-to-make baby food recipes to get you started:
*Be sure to check with your pediatrician before making any changes to your baby's diet. Also, try your baby on individual ingredients before you include them in any baby food recipes, so that you can identify any potential food allergies.
5 Baby Food Recipes
1. Apple A Day Puree
Christen at Nurturebaby.com offers this appleicious baby treat.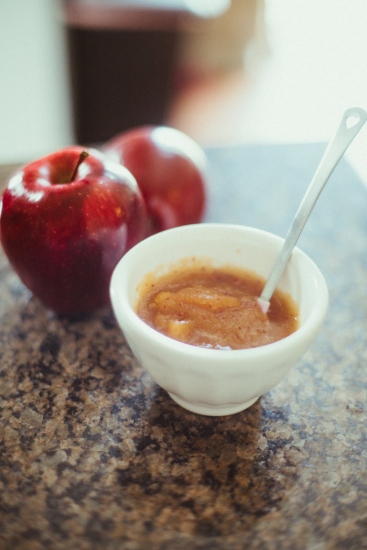 Ingredients:
½ c water
3 medium sized apples (red or golden delicious, peeled and chopped into 1 inch cubes)
⅛ tsp cinnamon

Combine all of the ingredients in a saucepan and allow them to simmer for approximately 12 minutes, or until the apples have become tender. Transfer all of the contents of the saucepan directly into a blender, and then puree until it reaches the desired consistency. You may add more water if necessary.
Serve the puree as is, or place it into an ice cube tray and allow it to freeze, for a refreshing summer treat that baby will love (especially if she's teething).
2. Raspberry Banana Puree
We can thank Catherine at Weelicious.com for this delicious and vibrant treat.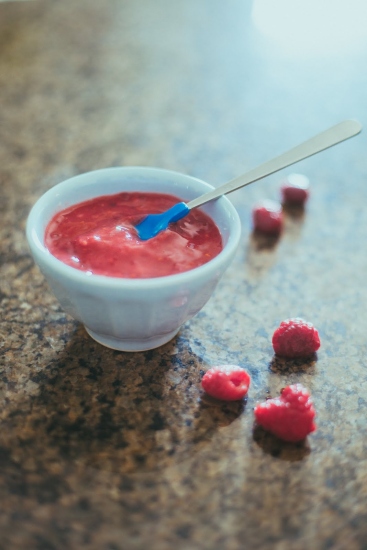 Ingredients:
1 banana
½ c raspberries (rinsed)
Place the ingredients together in a blender and puree until the mixture reaches the desired consistency.
This recipe is one that is great for the whole family. Adults and older children can enjoy it over ice cream or Greek yogurt, while babies will be able to appreciate the smooth texture and natural sweetness. Just make sure you have a bib handy; this bright red/pink treat could make a real mess once baby gets her hands into it!
3. Baby's Fruity Fiesta Breakfast
Here's another delicious baby food recipe from Homemade-baby-food-recipes.com.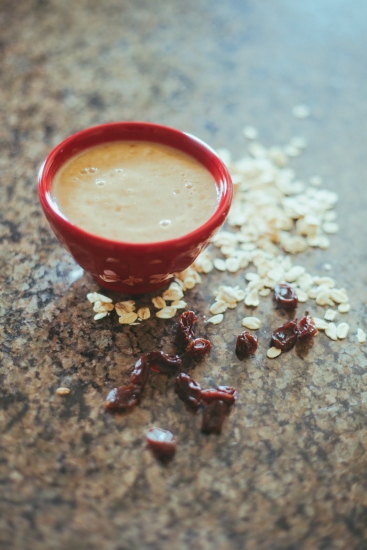 Ingredients:
⅜ c water
1 tbsp oats (non-instant)
1 tbsp raisins (chopped)
½ small banana (very ripe, mashed)
1 small pear (peeled, cored, and diced)
½ tsp milled flax seeds (optional, to help relieve constipation)
Combine all ingredients in a saucepan and bring to boil over a medium heat. Reduce the heat to low and then cover, allowing the mixture to simmer for approximately 10 minutes. Transfer entire contents of saucepan to a blender, and puree until the desired consistency is reached.
This recipe is particularly helpful when dealing with a constipated baby. However, even babies who don't need any help with digestion will benefit from this meal, thanks to the fact that it's full of nutrients and vitamins, while still being free from added sugar. Older children may enjoy it as well when it is served non-pureed.
4. Baby's Chickpea and Vegetable Puree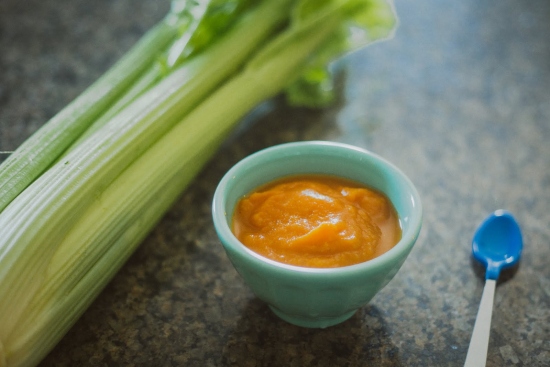 Ingredients:
1 c low sodium chicken stock ¼ c milk (whole, breast, or formula) 1 c chickpeas (drained and rinsed) ½ small onion (chopped) 1 carrot (peeled and chopped) 1 celery rib (cleaned and chopped) 1 garlic clove (chopped) 1 bay leaf 1 large pinch dried thyme
Boil all of the ingredients except for the milk and thyme together in a large saucepan, then reduce the heat and allow it to simmer partially covered for about 10 minutes, or until everything is tender. Drain the stock and keep it for later use. Remove and discard the bay leaf. Add the milk and thyme, and allow it to warm for 5 minutes. Transfer to a blender and add back some of the stock (how much you add will determine the final consistency of the mixture). Blend together until pureed.
The end result will be a deliciously flavorful and enticing meal for your baby, and also provide her with plenty of vitamins minerals, and protein.
5. Veggie, Eggs, & Rice Puree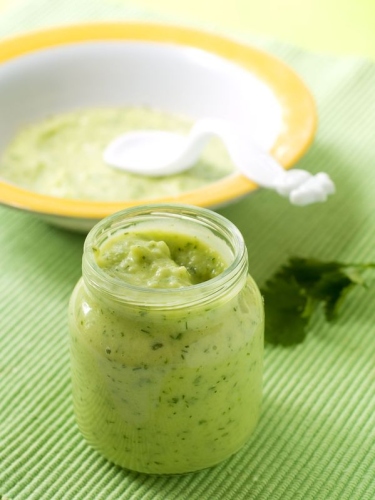 Ingredients:
1-2 egg yolks (hard boiled)
1 c cooked brown rice
¼ c soft cooked vegetables of your choice (diced)
Combine all ingredients into a blender/food processor and blend until desired consistency is reached.
If you don't want to use egg yolks, just blend the cooked rice and vegetables together.
Although conventional wisdom has long held that one shouldn't feed eggs to babies,
recent studies
have shown that there are certain benefits to introducing children to eggs as young as four months. This is good news, because eggs are highly nutritious for small growing bodies. However, as with any foods, be sure to consult your doctor before you include eggs in your baby's diet, and be aware that your baby may be allergic.
---
3 comments
---
---