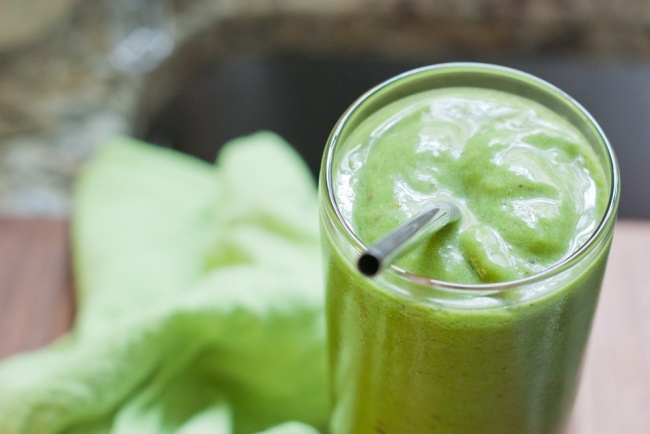 By Brittany Mullins of Eating Bird Food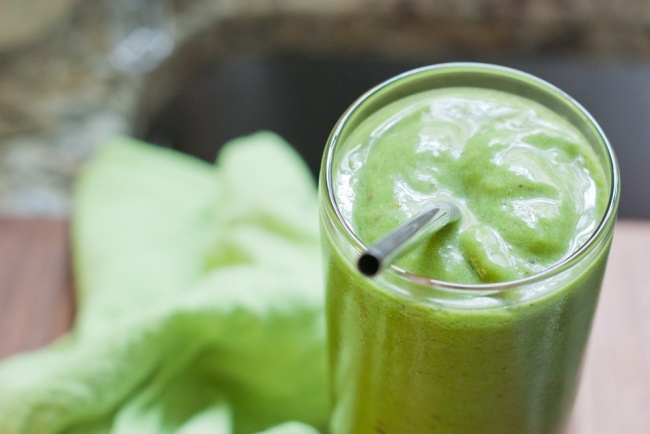 Green smoothies are all the rage. And for good reason—dark leafy greens are one of the most, if not THE most, nutritious foods that you can ingest. They're high in calcium, magnesium, iron, potassium, phosphorous, zinc and vitamins A, C, E and K. They're also crammed with fiber, folic acid, chlorophyll and many other micronutrients and phytochemicals.
One of the easiest ways to get dark leafy greens into the diet is to add them to a daily smoothie. If you're just getting started with green smoothies, here are my tips:
Start by adding a handful or two of baby spinach into your smoothies then work your way up to adding a larger amount of spinach or different greens that are a little more pungent, like swiss chard, collards and kale.
Use frozen fruit! Frozen bananas and mango add a nice sweetness, great texture and hide the "green" taste really well.
I recommend using a high-powered blender like Blendtec. If you don't, you'll most likely end up with pieces of un-blended greens floating in your smoothie—not so appetizing.
Remember that green smoothies don't have to be green. When you include other colorful fruits (like berries), the color can vary. Often, the most disgusting-looking smoothies taste the best!
Be sure to switch up the types of greens you use, as they each provide different nutrients that your body needs. Don't limit yourself to spinach and kale—try bok choy, collards, swiss chard, broccoli, beet greens, romaine lettuce, parsley and dandelion greens.
Now for the recipe. Enjoy!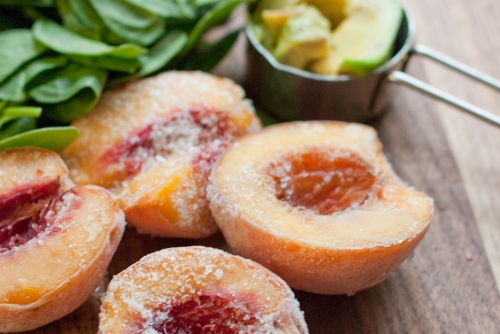 Peachy Green Smoothie
1 cup almond milk
2 peaches, sliced and frozen
¼ of an avocado
2 large swiss chard leaves (or a big handful of spinach)
1 scoop of vanilla protein powder (optional)
1-2 drops of liquid stevia (to taste, if needed)
Add all ingredients (except stevia) to FourSide jar in order listed and secure lid. Select "Ice Crush." Once blended, taste and sweeten with stevia if needed.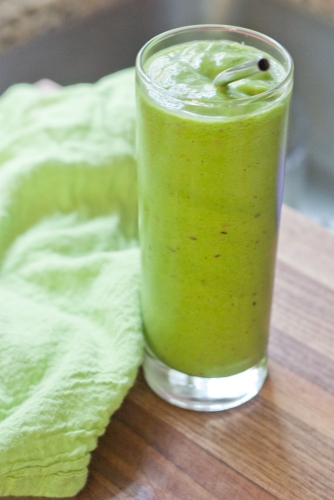 Brittany Mullins is a holistic health coach, certified NASM personal trainer and has been blogging about healthy living since 2008. She is a lover of all things food, nutrition and fitness. Through her blog, eatingbirdfood.com, she proves that maintaining a healthy lifestyle doesn't have to be a challenge by sharing recipes, fitness activities and tips. On a daily basis she inspires and motivates others by showing that small changes can create long-lasting health and happiness.
Feel free to check out her blog and follow her on Facebook, Twitter, Pinterest and Instagram.