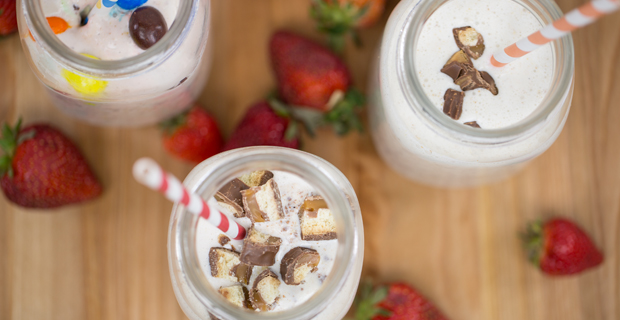 Thick Milkshake [Recipe Video]
Thick Milkshake
Get the full recipe on the Blendtec Recipes page.
Enjoy this deliciously thick milkshake on a hot summer day. It's a great treat for friends and family to enjoy, and there's endless possibilities with what you can create. You can use vanilla ice cream and mix-in different syrups, your favorite candy bar, gummy bears, fruit, or whatever else you can think of. You can even try using a different ice cream flavor. Strawberry ice cream with real strawberries and graham crackers sounds delicious! YUM! So have some fun experimenting and coming up with your favorite flavor combination, and share with us in the comments below or on Facebook or Instagram.
 [youtube CyFCw3LkR20]
Ingredients
1½ c vanilla ice cream, approximately 3 scoops
2 tbsp milk, optional
Directions
Add milk, ice cream, and half of candy bar to Twister jar; push ice cream down to blade and place Twister Lid on jar. Hold Twister Lid and with other hand press "Speed Up" to Speed 4, turn Twister Lid counter-clockwise during blending and run until nearly smooth. Press "Pulse" to stop blender and add other half of candy bar. Replace lid and press "Pulse" until candy bar reaches desired texture and consistency.
Note: Milk may be omitted; it requires only slightly more blending time. The brand of ice cream can affect the thickness of the milkshake.