Posts tagged:
blender soup recipes

With fall on its way, I thought it would be helpful to post our five most popular blender soup recipes. So without further ado: 1. Broccoli-Cheddar Blender Soup 2. Butternut Squash Blender Soup 3. Hearty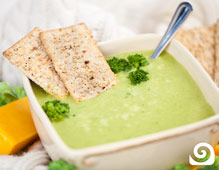 Do you love cheesy broccoli soup, but not all the calories that go with it? Try this lighter version, and garnish with chopped walnuts. Get the full recipe on the Blendtec Recipes page.

January tends to be a pretty cold time of year in the US and just happens to be National Soup Month, so what better time to share some great blender soup recipes? Below are the most popular soup recipes on the Blendtec recipes page. Okay, technically speaking the Herbed Vegetable Broth Powder isn't a soup recipe, but our