Posts tagged:
blender soup recipes

Our five most popular blender soup recipes are Broccoli-Cheddar, Butternut Squash, Hearty Vegetable Chowder, Velvety Spinach, and Tomato Basil. With fall approaching, you'll have plenty of time to try all of these delicious soups.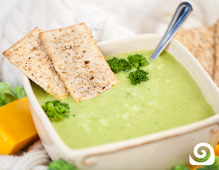 This weeks Recipe of the Week is this Broccoli-Cheddar Soup. This lighter version without all the calories is best topped with chopped walnuts. Enjoy!

Is it cold where you live? It's freezing here in Orem, Utah where the Blendtec headquarters are located. We also love soup here and thought we'd share our favorite recipes with you, in case you're looking to warm up too.