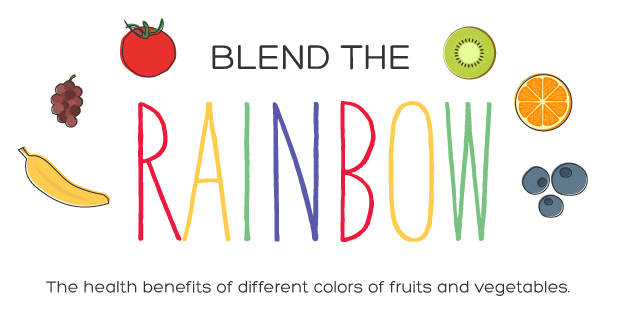 Health Benefits of Fruits and Veggies
Eating healthily can be a complex and time-consuming endeavor. Think about it, between counting carbs, avoiding sugar, limiting fat intake, and generally placing everything you eat under a microscope's worth of close inspection, it's a wonder that we don't all just give up and wallow away our days in a family-sized tub of ice cream. Wouldn't it be great if food were color coded for your convenience? Well, in a way, it is.  The colors of individual fruits, vegetables, and certain other ingredients often say a lot about what kind of health benefits those foods promote. So, it's time to brush up on your culinary color wheel, and see exactly what the hue of your food can mean for you.

Now pick your favorite fruits and veggies from above, combine them in your Blendtec blender with some liquid, and blend to create a delicious smoothie or whole juice.