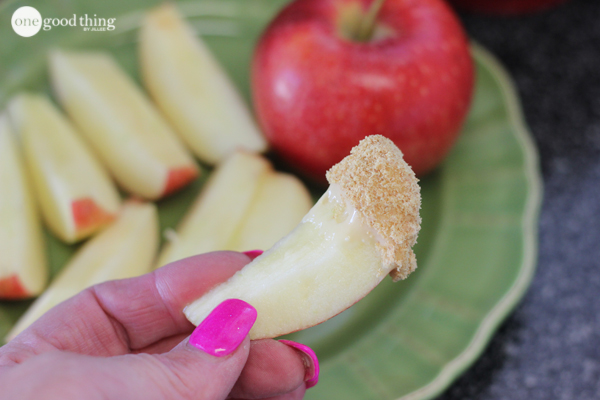 Jillee's 5-Minute Caramel Cheesecake Apple Dip
Has fall got you thinking about caramel apples? Or is that just me? Caramel apples are one of my favorite things, but it's not always practical to whip up a batch, so my fallback treat is caramel apple DIP (with some "cheesecake" thrown in!) Caramel cheesecake is another of my faves so I decided to combine the two in this quick and easy dip! It literally took me less than 5 minutes with the help of my Blendtec!
Caramel Cheesecake Apple Dip
adapted from Cooking Classy
Ingredients
2 containers whipped cream cheese
1 jar caramel ice cream topping (approximately 1½ cups)
1 package graham crackers

Directions
Put package of graham crackers in your Blendtec and blend until it turns to fine cracker crumbs. Pour in a bowl.
Rinse out your jar and then add the cream cheese and caramel topping to it and blend until smooth and fluffy, about 30 seconds. Pour in a bowl.
Tada!  You're done. Now comes the fun part. Dip apple slices into dip and then into the graham cracker crumbs. I swear you will think you are eating a little bit of caramel apple cheesecake!  So good!
You can store the dip in refrigerator for up to one week.
Makes a great last minute treat for a fall party!
Let us know what you think of Jillee's delicious fall treat on Facebook or in the comments below!