Total Blender Classic WildSide
The Total Blender Classic® is the iconic original that took the blending world by storm!
Package includes:
Total Blender Classic motor base
Brand new WildSide+® jar OR FourSide&trade jar
Vented Gripper™ lid
Fresh Blends recipe book
Owner's manual
Certified Refurbished means these blenders have passed inspection and meet the stringent standards we hold for all our machines. With a full 7-year warranty, these discounted reconditioned blenders will perform and delight for many years to come!

Powerful, Versatile, Easy to Clean
The Total Blender Classic introduced all of the power and features that made Blendtec the choice of professionals.
Features include:
1560 watt, 3.0 peak horsepower motor
Fully sealed, push-button controls
Preprogrammed cycles: Smoothie, Batters, Hot Soup, Whole Juice, Ice Cream, Ice Crush
10 speeds + Pulse
Illuminated LCD timer displays remaining time on blends
7 Year Warranty
Commercial Quality
For years, blending professionals have used Blendtec machines in the best coffee shops, juice bars, and eateries around the world. The Total Blender Classic delivers the same great results in your own home!
Blend Cycles
The Total Blender Classic features six preprogrammed cycles: Ice Crush, Smoothie, Hot Soup, Ice Cream, Whole Juice, and Batters. This exclusive blend cycle technology creates the perfect blends with the touch of a button.
Plenty of Power
Care to crush ice? The Total Blender Classic has a 3.0 peak horsepower motor that turns ice to snow in mere seconds.
Features include:
3.0 peak horsepower motor
10 incremental speeds + Pulse
Molded plastic finish
Colors: Black, Red, White
Touchpad interface for easy cleaning
Preprogrammed cycles: Smoothie, Batters, Hot Soup, Whole Juice, Ice Cream, Ice Crush
Illuminated LCD timer displays remaining time on blends
Dimensions: 7" wide x 15" tall x 8" deep
Weight: 7.28 lbs
1560 watts, 13 amps, 120 volts
8 Year Warranty
Total Blender Classic WildSide
is rated
4.7
out of
5
by
325
.
Rated

4

out of

5
by
Kabs
from
Great smoothies, but surprisingly noisy
I'm very happy with the quality of smoothies. However, this blender is extremely loud - more noisy than anything I've seen before. Also it leaves stains on a white surface because it has a black base.
Date published: 2014-06-23
Rated

4

out of

5
by
Spamone
from
Almost perfect
First review I've ever written.. This blender is amazing. However,.. water will leak out of it.. so you MUST clean it and pour water out.. NEVER let water stand in it (clean it right after using it!). Also, if it is on the base while water is in it, the water will leak down through the base. When this happened to us, I called and they sent me a new base (how was I to know that the thing was not 'water tight'?) just in case the water damaged something in there.. and then they coached me on NOT letting water stand in it.. So, 2000 uses later (averaging 2 cycles per day for almost 3 years), and still with the original cannister (that water ran through) the seal in the cannister goes bad - the noise changed - which warned me. I'm literally eating black rubber in my smoothie,.. Again, I call Blendtec and the are sending me a new cannister.. and again they coached me on maintenance,.. saying that I should manually spin the blade before loading with food, to get the oil flowing.. and also to NOT push down on top of the blender while it's blending - which i had done a few times to stabilize. I might add.. never let water stand in there which no doubt runs through the cannister and out the bottom..and takes some of the 'lube' with it.. Having said all that.. Great customer service, incredibly easy to use and clean.. and if you load it correctly, it works perfectly EVERY time. I could not be happier.. Whether soup or smoothie or ice creamm.. this thing is worth every penny!!! and did I mention that it is the easiest food processor / blender to clean in the world! ?
Date published: 2014-08-26
Rated

5

out of

5
by
TheJuicer
from
Amazing power, surprisingly quick
I bought this bledtec total blender about a month ago and it works great! This blender is amazingly powerful and can be used to blend household objects as well! Get rid of that pesky son/daughter in 15 seconds flat, and forget about trips to the dump! Used my blendtec to get rid of an old piano lying around! It really added space to the front room and we needed it no longer! Boom! 37 wood chopping seconds later on the whole juice cycle and I had gotten rid of more problems than tiger woods when he divorced his wife! I highly recommend this product to any juice enthusiast or violently homicidal citizen!
Date published: 2014-08-24
Rated

5

out of

5
by
Caroline
from
Best Blender Ever!
I've had my Total Classic Blender for over a year and love it. I use it daily to make a smoothie or whole juice. I even make delicious sorbet in it a less than 60 seconds. It's fast, super easy to use and clean.
Date published: 2014-05-07
Rated

5

out of

5
by
BLFin
from
Blendtec compared to a Ninja
I bought my wife a Ninja Blender a couple of years ago. We thought it did a good job of blending things together to make smoothies. Then we got to sample smoothies made in a Blendtec brand blender and there was no comparison. The Blendtec smoothie was much smoother and easier to drink. There were no small chunks or seeds left in the container. We like the Blendtec product.
Date published: 2014-10-21
Rated

5

out of

5
by
Jessatree
from
Best small appliance ever!
I got this blender for Christmas (the four side) and absolutely love it. I have used it multiple times almost every day since I got it. It takes a little time to figure out the logistics of ingredient amounts and which settings to use, but it still only takes a couple of minutes to prepare anything. I have used it to grind grains, make muffins, pancakes, smoothies, ice creams, sips&sauces, peanut butter, it's so awesome! I live in a basement with low ceilings and low clearance under the cabinets, but this still fits!! Such a plus to me. (My KitchenAid mixer does not fit, the blender is an inch or two shorter.)
Date published: 2017-02-06
Rated

5

out of

5
by
Tracey
from
LOVE my Blendtec!
I dreamed, hoped, planned, saved for over 2 years for a professional level blender. I thought I wanted a Vitamix but then researched more and discovered Blendtec. Finally a few months ago we were able to purchase one. I LOVE IT more than I even thought I would! I was afraid it would just "sit" like my old blender did, but no so! I use it almost everyday for smoothie but now I'm also using for chopping foods to make in other recipes, guacamole, peanut butter, soups, etc! I used it 3x in one day recently! It's a great kitchen tool addition. I heard someone say it's more like an appliance - as useful as your microwave or refrigerator - and I totally agree! LOVE my new blendtec!
Date published: 2015-08-22
Rated

5

out of

5
by
Hoofer16
from
Super Smoothie Maker
I've only had my Blendtec for a few weeks and so far I'm very pleased with it. At this point, all I've used it for is making smoothies. It definitely whips up a great smoothie. Plenty of power to handle whatever I throw in there. It's simple to operate and very easy to clean, too. A good purchase!
Date published: 2017-05-23
Rated

5

out of

5
by
KMah
from
Great blender!
My husband researched blenders extensively prior to this purchase. We actually had to return our first blender; but upon exchange, which went smoothly, our current blender (same models) has been perfect. The first use of our first purchase resulted in melted corners of the jar and base where they contact. Upon receipt of our new blender we realized how much louder the first blender was than our current. We had no point of reference for noise with this being our first Blendtec purchase and demos were in Costco, a loud open warehouse. I expect noise...it's a blender! We just didn't know how much.
Date published: 2015-09-07
Rated

5

out of

5
by
iloven
from
Classic Blender
I love my blender so much that i have not stopped using it. I love making smoothies and green juices for my family. The time it saves me from clean up is amazing. It is worth every penny. I bought it at Costco and the demo was great, Tori answer all my questions and was so helpful that she called me when i had more questions. I love this blender, another bonus, it's made here in the USA!! Iloven, San Diego, Ca, 1
Date published: 2014-10-11
Rated

4

out of

5
by
goddess
from
Overall, a great buy!
This blender works, as advertised, with the multitude of food products I've experimented with, fresh, frozen or dried, as well as grains. I love the compact size compared to others in its class, especially. It's easy to remove food around the blades and to clean. My one beef is the lid. I wish it were more 'sealed' so that I don't have powder coming through the top when I pulverized herbs/spices, and that it was more securely fitted to the jar to prevent leaks, etc. It arrived at my home as shown, with not a scrap of paperwork, so you better have a reliable internet connection!
Date published: 2017-02-03
Rated

5

out of

5
by
Schatje
from
Could not be happier
After much research between the Blendtec and the Vitamix, I decided to purchase the Blendtec. I could not be happier with my decision. Although it's rather loud, the end result is amazing and my smoothies are extremely smooth. I've no regrets, it's hands down an awesome machine. One key feature that also sold me on the product, was it's automatic presets, which makes it very user friendly. I'm looking forward to learning about all the features my Blendtec has to offer. Ps. I was able to convince my girlfriend to return her Vitamix and replace it with the Blendtec -:)
Date published: 2017-05-05
Rated

5

out of

5
by
Ewess
from
A Kitchen Essential
My sister had one of these and I thought, "it's just a blender...." after using it I thought it was pretty cool but still not totally convinced. Long story short my sister bought me (and my husband) one for our wedding. We were shopping at Costco one sunny day when we saw BLENDTEC rep Kiersta Bailey doing her thing. She showed us so many cool ways to use the blender and even shared recipes she made herself with us! I can honestly say we use this everyday in our household. I used to always think we needed a standing mixer to complete our kitchen but honestly, who needs a standing mixer when you have a BLENDTEC?! We decided we loved it so much we bought one for my father in law for Father's day. Best. Gift. Ever.
Date published: 2016-07-14
Rated

5

out of

5
by
jackkie
from
The BEST blender Ever!
This blender is all I needed : fits on my counter, has a big jar, easy to clean, easy to use, compact, the food doesn't get stuck in it, makes every smoothie or sauce or whatever you want very easily. The only thing you need to do is keep your hand on the lid for the first few seconds, then you can let it go. Remember, its not a bread maker, its not a juicer, all people that couldn't knead dough-buy a bread maker! This is the "bestest" of all blenders and it does a wonderful job.
Date published: 2014-11-04
Rated

1

out of

5
by
Sylvana
from
Disapointing
I purchased this couple of days ago was very excited after making couple of smoothies I wanted to make biscuit Dough ,it suddenly stopped, showed signs of overheating even though, I followed the recipe and their suggestions it completely stopped. I called customer service,they told me I should add water, because it was too dry, how can you make a wet dough .butt in any event this is going back to Costco, I need to use the mixer for other thing than just smoothy,NO WAY Sylvia
Date published: 2014-12-15
Rated

4

out of

5
by
sylvia0214
from
I created the puree I hoped to be able to create!
A friend recommended this machine. I had given a Vitamix to my daughter in law, read the comparisons on-line, and decided to get a Blendtec for myself. I have not used it enough to conclusively report: what I know is that I have produced gazpacho that is second to none. It is silken. I also made hummus, with which the machine had difficulty. My Cuisinart would have done a comparable job with less work on my part. (stopping the machine to push down the ingredients) So, the jury is out...I make delicious smoothies, which is a good thing. I will continue to experiment.
Date published: 2015-08-30
Rated

5

out of

5
by
clanmclean
from
Fantastic addition to the kitchenI
I bought this 7 weeks ago - and I've used it 140 times (it gives you a read out of how many cycles it has done). That's an incredible 20 times a week. I thought I'd use it but never thought I'd use it that much. I'm a convert to green smoothies for breakfast and feel great on it. The recipe book is good and there is an enormous variety of smoothie recipes available online. I've made soup, brownies, power snacks, ice cream and it's a great way to make yorkshire pudding and pancake batter. This weekend I'm going to try pizza base. This item was so worth every penny.
Date published: 2015-11-13
Rated

4

out of

5
by
AnaMaria T
from
powerful machine!
I bought mine less than a month ago. Came rather later. But when I started using it, I forgot about that inconvenience... It's a powerful machine. Very noisy though... To be honest I am glad I haven't spend more money on a more powerful one. Because there is enough power there... Just the base can get a little slippery sometime, when it deals with strong root vegetables/plants.So I hold the glass or the top to stabilize it. Other than that it works just fine. I think in the future Blendtec should try to make the base more stable/heavier or something to avoid this type of Problems. Overall happy to have bought one! I used it daily for smoothies and soups, and all sorts of vegan yummy Gourmet things. So far, it works great!
Date published: 2014-11-10
Rated

5

out of

5
by
Rwalk
from
Great investment!
This product just as advertised, all the functions are self explanatory. I use it daily for juicing, and very undecided about spending this kind of money a blender. Well, I tell you what, I'm glad I made the purchase. This blender can do it all, and it is well designed and put together; not a cheap looking blender. This blender is great for any occasions, such as hosting party's and making drinks or smoothies, or adding it to your daily nutrition of juicing and getting all your nutrients. This blender is quick and easy to use for on the go people. I can go on and on about how good it has been for me. I would recommend the total blender classic to anyone. This blender has commercial durability, and the eight year warranty is what sold me on this blender. If you follow the usage guide you will never have a problem. So far a great investment.!
Date published: 2014-12-07
Rated

5

out of

5
by
Miklos
from
Best Blender Ever
We have been married 34 years and have had six different blenders and all were disappointments until we bought a Blendtec four years ago. After 1767 uses it works the same as when we bought it; perfect! Blendtec is by far the best blender, no sharp blades, preprogrammed buttons to meet every need. My wife and I use it every morning for our healthy shake. A bit expensive but there are no better blenders out there; Well worth it!!
Date published: 2014-12-01
Rated

5

out of

5
by
Healthnut
from
Another breed of blender
Wow. This is more than just a blender. I do a raw/frozen fruit/veg smoothie every day and this blender is nothing less than impressive. Everything is blended consistently in only one or two cycles or less than 5 min. Even chia and flax seeds are not visible in the final product. IMPROVE YOUR NUTRTION AND YOUR HEALTH with a Blendtec blender. I'm able to eat things I wouldn't dream of before if it is blended in a smoothie.
Date published: 2014-11-21
Rated

5

out of

5
by
SammamishSteve
from
Consistent performance
I just purchased a second Blendtec after 3 years of daily use of my first. It still works great but is now used by my daughter. The new one I think works even better as far as consistent performance. Daily smoothie of fresh fruit and frozen Costco berries. Prepare the night before and crank it every morning. Love that while the blades devour whatever I put in it, they are not sharp on your fingers so cleaning is safe and easy. You will not cut yourself as you multitask over the kitchen sink. Also leftover ice cream with Amaretto is spectacular.
Date published: 2016-08-04
Rated

5

out of

5
by
Eno75
from
Impeccable product support.
This review came from an automated request following my last transaction with Blendtec that involved a warranty issue. We noticed that there was black fluid dripping out of the bottom of the container and immediately notified warranty assistance. Within about 20 minutes someone had emailed me and said a new container was on the way. It showed up in about 3 business days as promised. Among the best product support I've ever experienced. If I had one complaint about the Blendtec it's that the slowest setting isn't quite slow enough for some of the things we use it for. It spins too fast for the contents and they just sit there and require constant stirring. Another speed setting or two lower than the current pulse would be ideal.
Date published: 2016-12-06
Rated

5

out of

5
by
Kimykali
from
Gets the job done!
I bought this blender completely on faith that it would work as advertised...and it does. Needed something to assist me in a soft food diet after oral surgery. *Good features: comes with large square jar, small round jar, and special spatula. Also had recipe books included. Easy to use, and easy to clean. The blades are not sharp, so don't cut your fingers while washing out jars, unlike other blenders. Preset cycle buttons. *Bad features: Loud. Everyone has complained, but it's fast, so not unbearable. Small jar's lid has to be held on jar during cycle. (I found out the hard way while making almond butter, and it turned into an almond explosion all over the kitchen! Haha.) Over all am very pleased with this blender and the price I paid.
Date published: 2015-09-30
Rated

5

out of

5
by
kitty
from
does what it claims
Love it. Does what it says it does. Most powerful blender i have used. Easy to clean too.
Date published: 2014-06-19
Rated

4

out of

5
by
luces728
from
3 horse power
It has excellent power and it is very easy to use.
Date published: 2014-06-19
Rated

5

out of

5
by
ChrissyZ
from
AMAZING!
My husband and I had blender envy for a long time and finally purchased this blender a couple months ago. This blender lives up to the hype and then some! I make a smoothie every morning for breakfast now and it always comes out perfect with no chunks. The recipe book included is great too - it gives a lot of cool ideas. I started making my own almond milk, and even my own nutella. You should absolutely invest in this blender. The blender is loud, but it isn't advertised as being quiet. I will trade the noise for the quality any day.
Date published: 2016-03-23
Rated

5

out of

5
by
Kasia
from
The best blender I ever had!
I bought the blender about a month ago due to changing my diet to paleo. Since the diet is full of home made food I needed a good blender. I have tried many blenders before and was never happy. I kept changing blenders regularly due to the fact that I couldn't make simple dishes. I have burned one on trying to crush nuts. I never thought I could spend money on something like blendtech till I have visited my friend. Everything she tried to make was fast and easy. Today Blendtech is my best friend in the kitchen:) recommend to anyone.
Date published: 2016-04-11
Rated

5

out of

5
by
Charles C
from
Easy to use and excellent kitchen appliance
I bought this to replace a regular juicer. I love the fact nothing is wasted when you "whole juice" and I can do all kinds of other things with the blendtec. I've been juicing alot of veggies and fruits together (more veggies though) to add to my diet. Ever since then, My recovery from work outs are faster and I don't get sick as often especially with a toddler around. Definitely a great investment with no regrets. Is it loud yes but what blending appliance isn't? I like the fact it fits in between my counter and cabinet too.
Date published: 2016-03-20
Rated

5

out of

5
by
The apple lady
from
Love those programed speeds
I just love my Blendtec and all of its special programed speeds. I've had it since 2012 and use it almost everyday. I never use my Vitamix anymore and recently gave it to my daughter in law. When I serve special frozen desserts or drinks to company they are in awe and ask how I made them. I tell them I use my Blendtec..
Date published: 2014-11-11
y_2017, m_5, d_24, h_21
bvseo_bulk, prod_bvrr, vn_bulk_1.0.0-hotfix-1
cp_2, bvpage2n
co_hasreviews, tv_18, tr_307
loc_en_US, sid_TB-621-25, prod, sort_[SortEntry(order=RELEVANCE, direction=DESCENDING)]
clientName_blendtec
bvseo-1.0.1.1
bvseo-p
bvseo-CLOUD
bvseo-13ms
bvseo-REVIEWS
bvseo-PRODUCT
bvseo-getContent
bvseo-1.0.1.1
bvseo-p
bvseo-CLOUD
bvseo-ms
bvseo-QUESTIONS
bvseo-PRODUCT
bvseo-getContent
bvseo-msg: HTTP status code of 404 was returned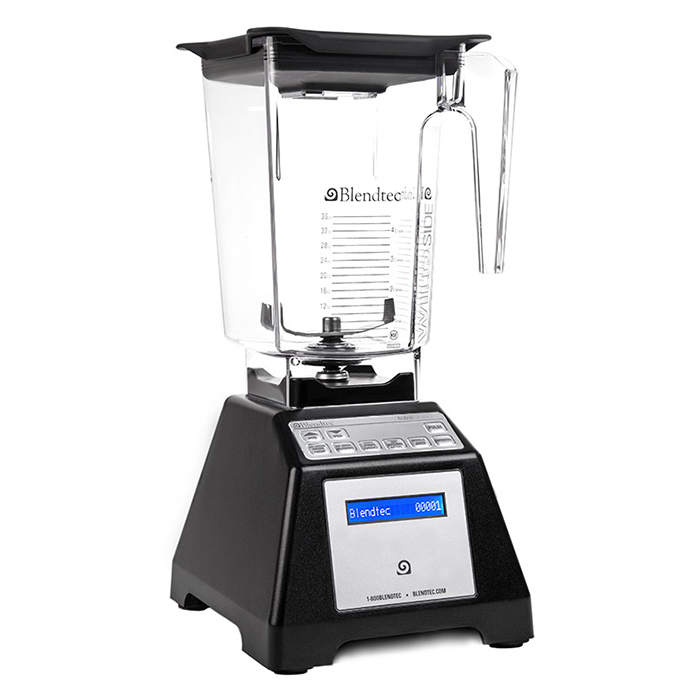 Easy Monthly Payments
Provide your basic information. Get instantly approved. Pay over 3, 6, or 12 months. Rates from 10-30% APR.
Flexible Payments
Simply pay your monthly bill using a bank transfer, check or credit card at affirm.com/pay
Just select Financing with Affirm at checkout
Available to select locations within the United States.
Click here for details.
* Based on the advertised purchase price of $ at 10% APR for 12 months