Sriracha Mayo | Recipe of the Week
Sriracha (pronounced see-rotch-ah) is all the rage these days. This paste-like sauce is bright red and is a type of hot sauce or chili sauce made from a paste of chili peppers, distilled vinegar, garlic, sugar, and salt. This hot sauce is gaining popularity as a street-food condiment and is being used more and more in cooking (here are 25 of the best sriracha recipes out there). 
There's even a movie about the popular sauce that was supported by over 1300 people on Kickstarter - see more about the documentary here. The hot sauce can actually be a healthy choice - greatist.com says that studies suggest that chili peppers can speed up metabolism and suppress appetite. They compiled a list of 50 Healthy Meals Made Even Better With Sriracha Hot Sauce.
We wanted to get in on the sriracha craze so we decided to create a sriracha mayo that can be used for dipping (we loved it with sweet potato fries!), spreading or as a dressing. What would you eat with this recipe? Do you want to see more sriracha recipes? Let us know in the comments below!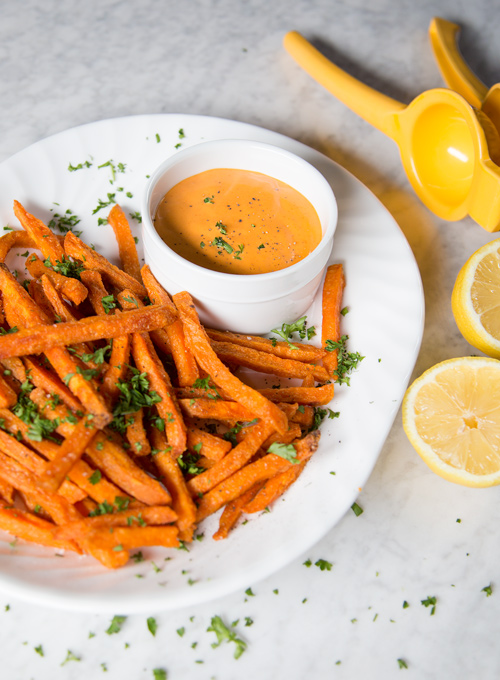 Sriracha Mayo
Ingredients
1 cup mayonnaise
⅓ cup sweetened condensed milk
⅓ cup sriracha sauce
Instructions
Add ingredients to Twister, FourSide or WildSide+ jar, and secure gripper lid.
Blend on a Low speed for 10 seconds.
Get nutrition information and full recipe on the Blendtec Recipes page.  
Sources
http://www.thrillist.com/eat/nation/14-things-you-didnt-know-about-sriracha-including-its-proper-pronunciation
http://www.bonappetit.com/recipes/slideshow/best-sriracha-recipes-ever/?slide=1
http://greatist.com/health/healthy-sriracha-recipes
---