Pumpkin Pancakes with Maple Syrup
By Allyson Zea of Domestic Superhero
Hey y'all! I am super excited to be sharing this delicious fall recipe with you today. After experimenting a little with it, I have finally perfected these 5-Minute Pumpkin Pancakes with Warm Maple Syrup. At my house, I have a four-year-old who is an insanely picky eater, and a one-year-old who will pretty much act like a garbage disposal if we let him. My picky son hates fruits and vegetables, so I am always looking for easy ways to sneak them into his favorite foods on the down-low.
I wasn't sure how these pumpkin pancakes would go over, but he LOVED them. My one-year-old did too, as well as my husband and me. It was a festive fall breakfast with these yummy pumpkin pancakes! Using a Blendtec, this recipe is super easy. Essentially just add the dry ingredients to the Blendtec, mix, add the wet ingredients, then mix again. I pour the batter directly from the jar onto my hot griddle, making for super easy cleanup.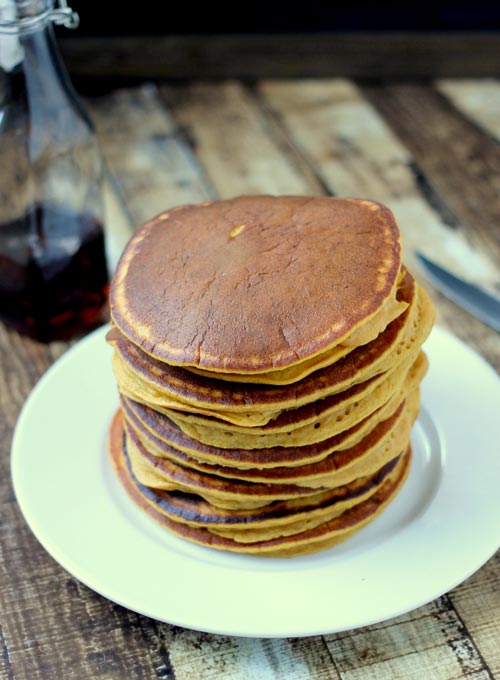 Pumpkin Pancakes with Maple Syrup
Ingredients
¾ cup all-purpose flour
¾ cup whole wheat flour
2 tsp baking powder
1 tsp cinnamon
½ tsp nutmeg
¼ tsp cloves Dash of salt
¾ cup pumpkin puree (not pie filling)
1½ cups milk (any type should be fine)
¼ cup vegetable oil
2 eggs
Maple syrup for serving
Directions
In your Blendtec jar, add flours, baking powder, cinnamon, nutmeg, cloves, and salt; pulse to combine. Add pumpkin, milk, vegetable oil, and eggs, and pulse for at least 10 seconds to combine. At this point you can scrape down the sides and pulse again, or if it looks fully mixed, just go from there.
Preheat a skillet over medium heat. Spray lightly with nonstick spray, or grease with butter. Pour batter onto griddle and cook for approximately 2 minutes on each side (the second side may have a shorter cooking time).*
In a small sauce pot, add maple syrup. Heat over low heat stirring frequently until pancakes are done cooking. Serve alongside pancakes.
*When the first side starts bubbling, you'll know it's time to flip over. Makes about 10 pancakes Enjoy!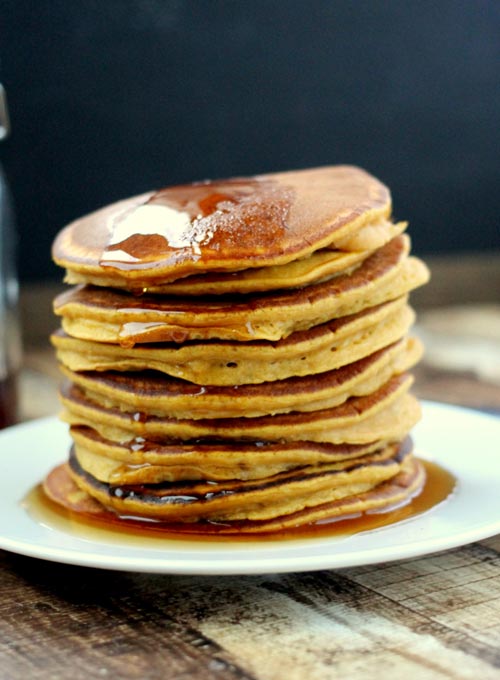 About the Author For more delicious recipes, head over to my blog, Domestic Superhero, where I share lots of easy, home cooked meals. You can also follow me on Pinterest, Facebook, or Instagram for some major food inspiration!
---
1 comment
---
---