By Anita Fowler of Live Like You Are Rich
Have you ever craved a salad? If not, you need to try this one—it's simply amazing. Its genius mixture of flavors ranges from tangy to sweet to salty, and it's full of textures that are smooth, crispy, crunchy, and juicy. And the homemade dressing is super smooth and light. This Pear Avocado Salad is a powerhouse of healthy ingredients with a delightful combination of flavors.
Did you know that pears have been shown to decrease the risk of both type 2 diabetes and cancer? They also provide nutrients that should be a staple in all of our diets. Avocados support cardiovascular health and have been shown to provide a wide variety of antioxidant and anti-inflammatory nutrients. Mustard seeds are an excellent source of selenium as well as omega-3 fatty acids and manganese.
Those are just three of the many nutritious ingredients found in this salad. Increase your health while satisfying your appetite with this delicious Pear Avocado Salad.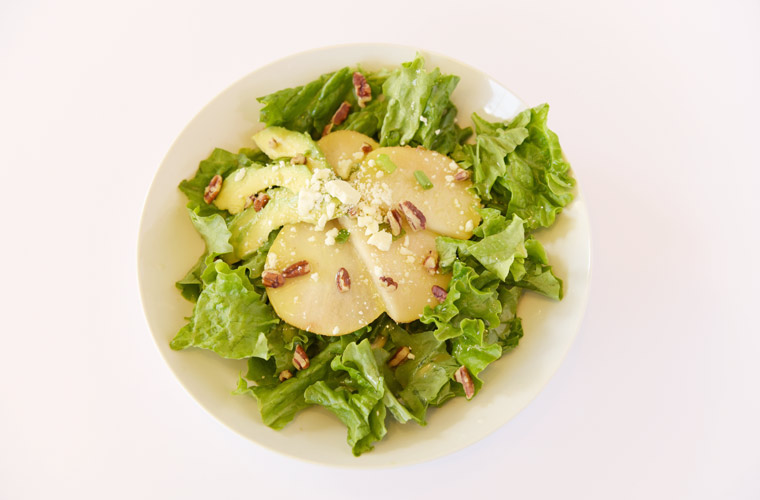 Pear Avocado Salad
Ingredients
Serves: 6
Prep Time: 20 Minutes
Ready in: 20 Minutes
Salad
1 head leaf lettuce, chopped
2 avocados, peeled, pitted, and diced
3 pears, cored and sliced or chopped (depending on presentation)
5 oz feta or blue cheese
½ cup green onions, thinly sliced
½ cup pecans, chopped
Fresh ground black pepper to taste
Dressing
⅔ cup olive oil
6 tbsp red wine vinegar
3 tsp white sugar
3 tsp prepared mustard
¼ tsp garlic powder
1 tsp salt
Directions
Put dressing ingredients into your Blendtec.
Press the "Dips/Batters" button. If your Blendtec doesn't feature these buttons, blend on a Medium to Medium-Low speed for 30 seconds. Set aside.
Toss lettuce, pecans, and onions in a large bowl.
Shortly before you serve the salad, slice the pears and dice the avocados.
Layer them on the salad, pour dressing over the ingredients, and sprinkle it all with feta or blue cheese.
Note: Pears and avocados brown quickly, which is why I recommended adding them right before serving. Serve at room temperature or cooler (whichever you prefer).  
About the Author Anita is a resourceful wife, mother of two, and author. On her website LiveLikeYouAreRich.com she writes about how to create a rich life on any income. Her blog features a lot of money-saving tips, which include family-friendly, healthy, and gourmet recipes.
---