By Kelly Pfeiffer of Nosh and Nourish
Nothing screams summer more than... popsicles on the patio! And what flavor combo screams childhood more than PB&J?! These uber creamy, peanut butter and jelly creamsicles will whisk you back to childhood --- when summer days were long, filled with adventure, soaked with laughter, and delightfully care-free. We live for summer days around here. Sunshine. Pool splashing. Strawberry picking. Popsicle devouring. When it's hot outside, a frozen treat hits the spot. And it's even better when it's packed with good-for-you, simple to pronounce, nutrient-dense ingredients.
These PB&J creamsicles are filled with fruit, nuts, and unsweetened cashew milk (though you could sub in your favorite kind of milk - regular dairy milk or almond milk would work too!). They make a perfect afternoon treat, or even a fun summer breakfast! Why not?!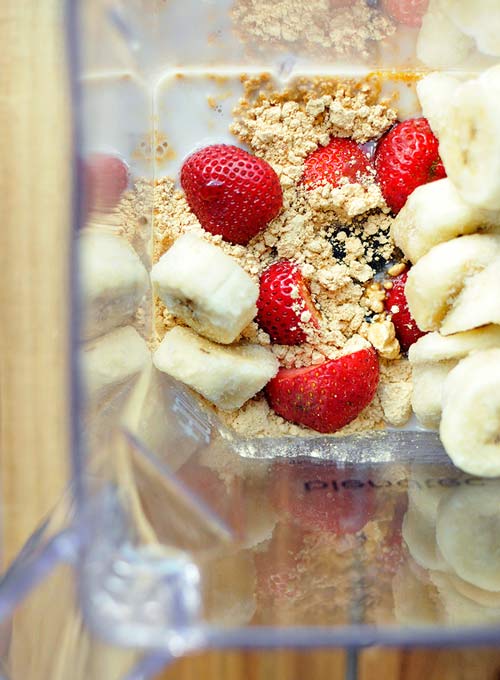 I lightened things up a bit by using peanut powder, instead of peanut butter. Have you used it yet? It has all the flavor of peanut butter, but with less fat and less calories. And the only ingredients? Roasted peanuts. It's great:
Blendtec
 makes it super easy to make these tasty treats. The hardest part is waiting for them to freeze - torturous, but worth the wait!!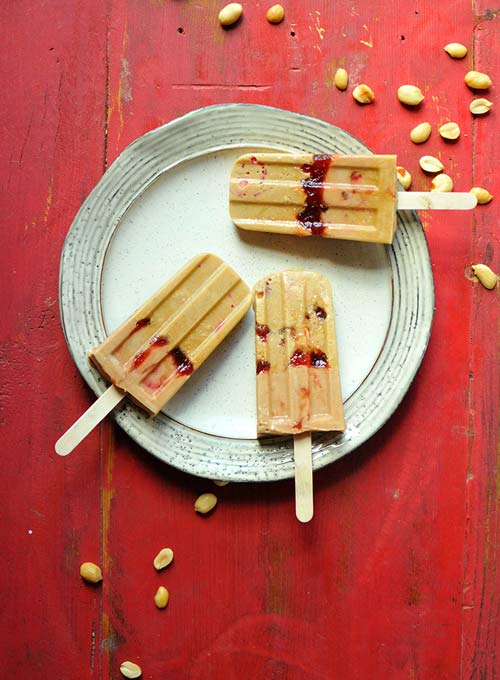 PB&J Creamsicle
Ingredients
9 strawberries, divided
1½ cup vanilla unsweetened cashew milk (or sub your favorite milk)
1 cup dry peanut powder
1 frozen banana
1 tbsp dark amber maple syrup (optional)
¼ cup organic strawberry jam
1 peanut butter cookie, coarsely chopped (I used the Nature Valley Biscuits with Peanut Butter)
Instructions
Finely dice 3 strawberries and place them evenly in the bottom of the popsicle mold (mine makes 10 popsicles).
In your Blendtec, combine the remaining 6 strawberries, the cashew milk, the peanut powder, the frozen banana, and the maple syrup. Use the Smoothie setting and blend until smooth, or blend on a Medium speed for 40-50 seconds.
Fill the popsicle holders about halfway, then freeze for 20 minutes. Put the leftover blended mixture into the refrigerator.
After 20 minutes, take the popsicles out and add a layer of crumbled cookie followed by a teaspoon (dollop) of organic strawberry jam. Then, pour the remaining blended mixture to the top. Add in sticks, then freeze for 2-3 hours.
Enjoy!
Yields: 10 creamsicles
What are your favorite popsicle/creamsicle flavors for summer? Let us know in the comments below.  
About the Author
Kelly Pfeiffer is a recipe developer, food stylist and photographer, and author of two cookbooks: Superfoods at Every Meal and Superfood Weeknight Meals. She shares nourishing, whole-food, family-friendly recipes over at Nosh and Nourish. See more of her beautiful eats on Instagram: @noshandnourish.
---